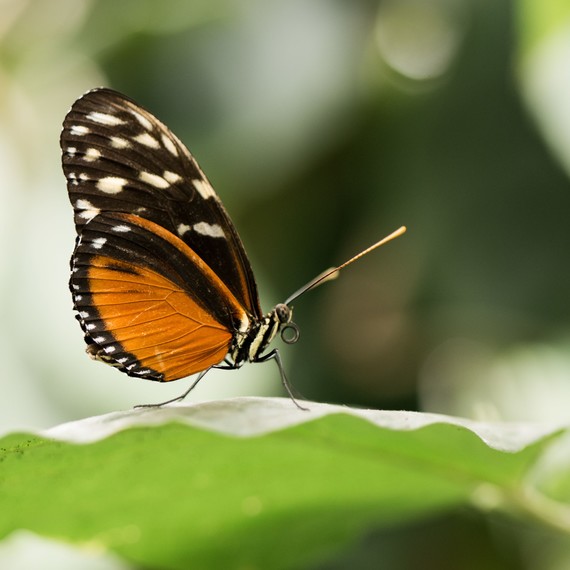 While research has shown that various factors—from hunting to deforestation—have had a negative impact on the butterfly population, a recent study is adding one more cause to the list: intensive agriculture. Led by the Technical University of Munich, the study, published in Insect Conservation and Diversity, found that fields surrounded by "high-intensity agricultural" areas were home to fewer butterfly species than those near nature preserves. Intensive or high-intensity agriculture typically includes farms that use large amounts of chemical pesticides, insecticides, and fertilizers on crops, or provide low-quality living conditions for livestock.
Researchers first looked at butterfly species in 21 meadow sites near Munich, with 17 of these sites near agriculturally-used areas and four near nature preserves. The findings? In the meadows near agriculture areas, butterfly numbers were down by a two-thirds with an average of 2.7 butterflies spotted per visit here, compared to 6.6 near nature preserves. 
And while these numbers may seem startling, the authors were not too surprised. "Our results show an obvious trend: in the vicinity of intensively cultivated fields that are regularly sprayed with pesticides, the diversity and numbers of butterflies are significantly lower than in meadows near less used or unused areas," explains the study's lead author, Jan Christian Habel, of the Department of Terrestrial Ecology of the Technical University of Munich. 
Once home to 189 recorded different butterfly species, Germany is now facing serious declines in the populations of these winged creatures. A whopping 99 of these species are listed on the International Union for Conservation of Nature's (IUCN) Red List, a comprehensive inventory of the world's plant and animal conservation status. Five of the butterfly species have already gone extinct and twelve more are currently threatened. 
The solution? More sustainable agricultural practices. Thomas Schmitt, Director of the Senckenberg German Entomological Institute in Muencheberg in Brandenburg and fellow lead of the study says: "Our study emphasizes the negative impact of the conventional, industrialized agriculture on the butterfly diversity and shows the urgent need for ecologically sustainable cultivation methods. Additional field studies may aid in identifying individual factors responsible for the insect die-back and in implementing appropriate countermeasures."