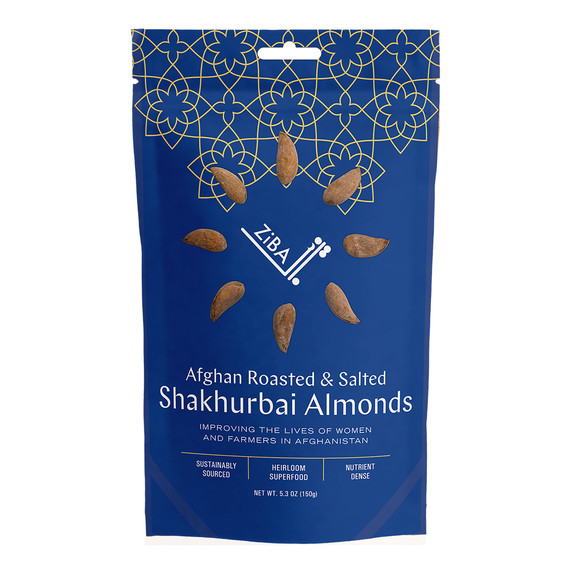 There's no denying it—almonds have earned a health halo as one of the best snacks to incorporate into a balanced diet. They're rich in natural monounsaturated fats, which aids cardiovascular health by boosting levels of good cholesterol (known as HDL cholesterol), and also provide strong sources of fiber, protein, and essential nutrients like vitamin E, selenium, zinc, calcium, and magnesium. Whether they're incorporated into your favorite baked goods or simply snacked on every day, almonds are one of the best nuts to have on hand.
That is why our ears perked up when one of our test kitchen editors mentioned that she'd found a brand that offers delicious almonds and also has a strong corporate social mission. The almonds in question are grown and harvested in Afghanistan by Ziba Foods.
"[The almonds] have the purest, deepest flavor," says Lindsay Strand, assistant food editor. Ziba's Shakhurbai almonds are grown by Afghan farmers in a region known for rich tree nuts. Ziba's mission goes beyond hyperlocality, as they focus on employing and empowering women throughout Afghanistan.
Founded in 2015 by a small team of Afghan and American professionals, Ziba Foods has since grown to offer a selection of local dried fruits and nuts in specialty food markets around the world. In a blog post published by Mirzam chocolate makers, Ziba executives say they're focusing on creating a "tangible, positive impact for the women we employ and for the farms from whom we buy our raw materials." The company's workforce is 100 percent Afghan and upwards of 90 percent female, the blog states, and Ziba professionals say they "will continue to employ women wherever possible."
While the brand's online shop isn't live just yet, you can find Ziba Foods' Shakhurbai roasted almonds in specialty food stores, priced at $11 for a 5.3-ounce package.