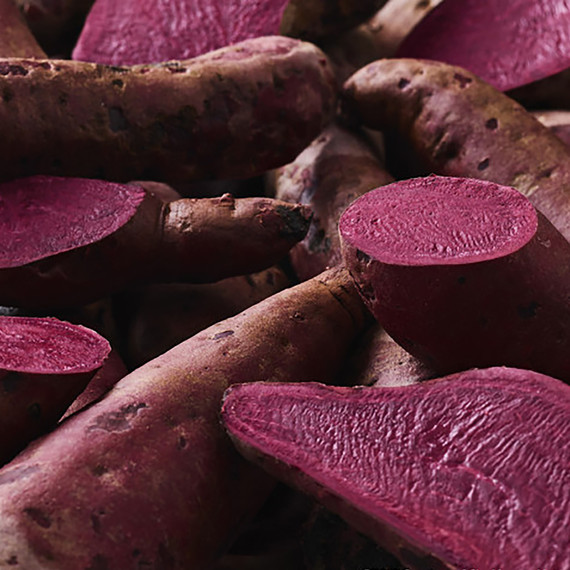 A global bioscience company based in Denmark has created a brand-new sweet potato variety that will soon enter markets across the globe. Unlike other popular commercial potato products, this variety doesn't rely on synthetic food coloring or carmine (crushed cochineal insects) to achieve its brilliant shade of magenta, an eye-catching alternative to the red and orange-hued varieties you know and love.
While many shoppers might be interested in the new potato due to the fact that it doesn't rely on animal products for coloring purposes, executives at Chr. Hansen say the product is also a reflection of current trends in the food industry. "Strawberry red is a popular shade for food products—from cakes to confectionary to milkshakes," Jakob Dalmose Rasmussen, vice president of commercial development at Chr. Hansen Natural Colors, told Food Navigator. "But, until now, it has been nearly impossible to make a fire-engine red color with no risk of off-taste without using carmine."
Rasmussen says scientists at the company created the new sweet potato using selective breeding that capitalizes on non-GMO methods—they simply boosted an existing pigment in traditional sweet potatoes to create the vegan-friendly "brilliant red" sweet potato itself.
If you're hoping to do more with this gorgeous veggie than simply cook it, you'll be happy to hear that executives say that their potato will be able to withstand traditional baking methods, and should be fine to use in any of your favorite baking recipes.
"Our Hansen sweet potato is more heat stable than beet colors, for example," Pernille Arskog, a senior manager of marketing at Chr. Hansen, said. "Like beet, it provides a bright pink color on its own in cake because of the white or yellow background color. However, when mixed with an orange pigment like paprika, beta-carotene or orange carrots, then it provides a nice stable red shade that can withstand the baking process." Hansen's deep-red shade will also hold up when exposed to high pressure, Food Navigator reports, which means the potato could be used in common household appliances like the Instant Pot.
The company says it has plans to enhance the natural pigment in other foods as well, including cookies, crackers, cereals, fruit fillings, milkshakes, sponge cakes, jelly gummies, and even pet food products. The process allows the food to become visually enhanced without actually altering the flavor profile, executives say. "The benefit of our Hansen sweet potato is that it doesn't create an off-flavor over time like radish does, and it's more red than other sweet potato types in the market," Arskog said.
Chr. Hansen has trademarked their new potato variety, and while it's unclear as to when the Hansen sweet potato will reach supermarkets in the United States, the company has already met EU requirements for coloring foodstuffs, Food Navigator reports.