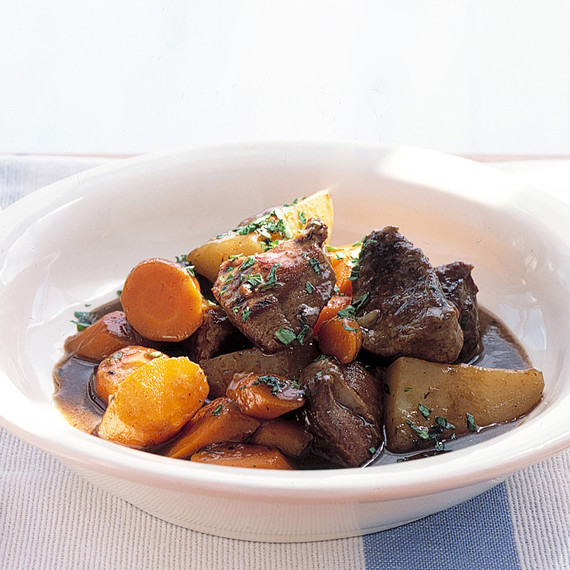 There are about as many recipes for Irish stew as there are Irish home cooks, and every last one of them likely has a strong—and differing—opinion about exactly how to make a proper Irish stew. "A hug in a bowl" is how Irish celebrity chef Neven Maguire describes this elemental dish, and that seems to be an apt description for all the many versions out there.
Originating more than two centuries ago, Irish stew, a hearty dish made with mutton and cooked for hours over an open fire, was born of necessity. Why mutton? Because sheep were kept mainly for their wool and milk, it was only the oldest animals that made their way to the stew pot. 
Some modern-day purists will insist that the only ingredients in a true Irish stew are mutton, potatoes, onions, and water. You can still find Irish stew made with mutton, but as mutton is not easy to find these days, it's more common to find the stew made with lamb shoulder, neck, or even shanks. Beef is not traditional in Irish stew, but because beef stew is made in kitchens across Ireland today, there are beef stews that are considered Irish—especially if Guinness or other stout is added during cooking.
Most cooks expand on the stew's simple foundations by adding more vegetables and aromatics in the form of carrots, celery, turnips, leeks, pearl onions, thyme, rosemary, and parsley. Some add pearl barley and diced slab bacon, too. In place of the original, humble base of water, most contemporary Irish stews utilize lamb, chicken, or beef stock and sometimes also add stout beer or even a splash of wine or sherry. 
Most—but not all!—Irish stew recipes begin by searing the meat in a hot pan, and then sautéing the onions, bacon, and other aromatics. Then, the ingredients are layered into the soup pot or Dutch oven with the meat on the bottom, vegetables in the middle, and potatoes on top, and placed in a low oven to simmer away for a couple of hours. This layering method ensures that the meat stays moist and tender, and the more delicate potatoes maintain their shape while the stew cooks. Now, all that's left to do is open another Guinness while the stew fills the whole house with its tantalizing aroma. Looking for something to do while you wait? You could always make a loaf of  Irish Soda Bread or Treacle Brown Bread to enjoy alongside your meal.