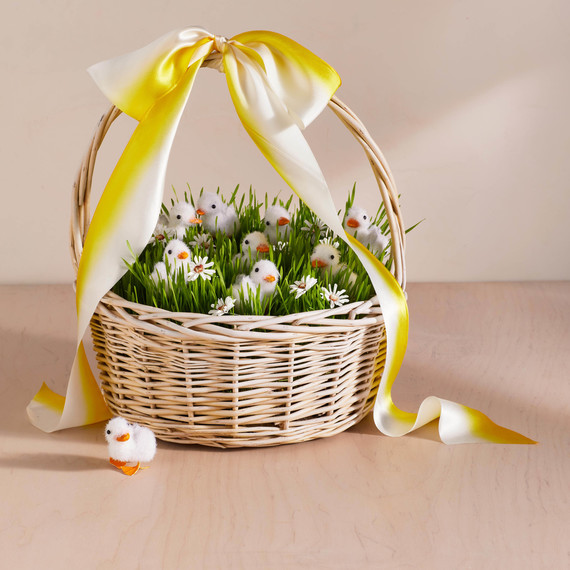 As you're decorating eggs for the ultimate egg hunt this spring day, consider going green—and we're not talking about egg dyes. In fact, an eco-friendly Easter basket is a great way for little ones to not only celebrate a beloved Easter bunny, but its nature-filled home too. While store-bought baskets wrapped in cellophane can be quick gift solutions, pause to reconsider what's inside. Homemade alternatives are not only more heartfelt, but can be more sustainable since they save on packaging and other single-use waste. Here, we share some of our favorite ways to make your Easter basket more eco-friendly from the basket to the eggs, stuffers, and grass.
The Eggs
These colorful little contraptions may be fun for stashing sweets, but they're not always the most fun for the planet. Even though they are technically plastic, they're often not recyclable everywhere. Chances are, once little ones outgrow the thrill of the hunt, they even end up in the trash. 
And while reusing them each year is one solution, consider switching to a more sustainable option from the start, like wooden eggs (get them hollowed here) or these papier-mâché alternatives. These eggs are not only sturdier than plastic, but also perfect for painting and dyeing. These dyeable ceramic eggs and heirloom wool eggs are another great option, especially for crafters looking to preserve their masterpieces for years to come. And if you're looking for a greener version of the classically colorful, fillable eggs, eco eggs makes plant-based alternatives that are completely compostable at your nearest compost facility. Plus, they come with the same snap closure as most conventional plastic eggs and they're available in two sizes and a variety of bright colors. 
The Dyes
If you can, skip the artificial colorings that come in most pre-packaged dye kits and opt for what's already in your kitchen. Not only is it budget-friendly, but it's also a great way to get another use out of ingredients before composting them. Plus, if you're working with hardboiled eggs and do crack them while decorating and let coloring leak in, you'll know for sure the dyes are safe to eat.
For reds and pinks you can use chopped red cabbage and beets; for yellow and oranges, try turmeric and onion skins. Try soaking eggs in more than one dye to experiment with creating more hues. Plus, you can play around with different dipping methods and boiling times for even more colorful results.   
The Stuffers
Looking for an eco-alternative to plastic tinker toys and individually-wrapped candies? Try opting for a theme to help inspire your basket-filling ideas. Our charming gnome-garden basket features charming wooden toys, craft miniatures, and hidden charms wrapped in clever crepe paper "carrots." Or, turn brown paper packaging mesh into surprise crackers, sure to delight giftees of all ages when filled with their favorite small goodies. Tucking gift cards, homemade coupons, or a sweet love notes into these paper envelopes and sealing them with our clever fabric-stickers also make for perfect finishing touches. 
The Grass
When it comes to stuffing your Easter treat bags and baskets, trade conventional plastic grass for more eco-friendly options like paper. It's an ingenious way to recycle wrapping, construction, or kraft paper: Feed leftover sheets or scraps through an electric shredder for colorful strips to use as basket grass. Desktop paper shredders are available at office-supply stores. To transform flat strips into spirals, crumple them in your hands, or curl with scissors. Feed the short side of rolled papers through shredder to retain the curl. And after the day's festivities are over? Pack up your paper "grass" into a bag and add it into your recycling bin. 
Want to go even greener? Opt for something reusable as your basket filling like assorted fabric scraps or bits of leftover yarn and ribbon. You can even go completely natural by filling your basket with real grass—wheatgrass, that is. Any giftee will love having this nutrient-packed superfood nearby to add to smoothies and juices. 
The Basket
Crafting your own basket is not only more heartfelt, but can be treasured for spring seasons to come. It's easy to wind basket made from pussy willows (Martha's favorite sign of spring)—all you need is a glass vase as the base and a bit of sheet moss. Otherwise, transform a ball of hemp cord into an all-natural woven basket that be used around the house long after Easter has passed. If you have any empty yogurt tubs or plastic take-out containers lying around, our crepe paper rose basket is a fun way to upcycle them; plus, they make for festive party favors when filled with chocolates. 
Finally, a simple way to tie your basket together? Skip the cellophane and plastic film wrappings and polish things off with a beautiful bow. Our dip-dyed ribbon can help you turn a plain roll into a rainbow of colors.