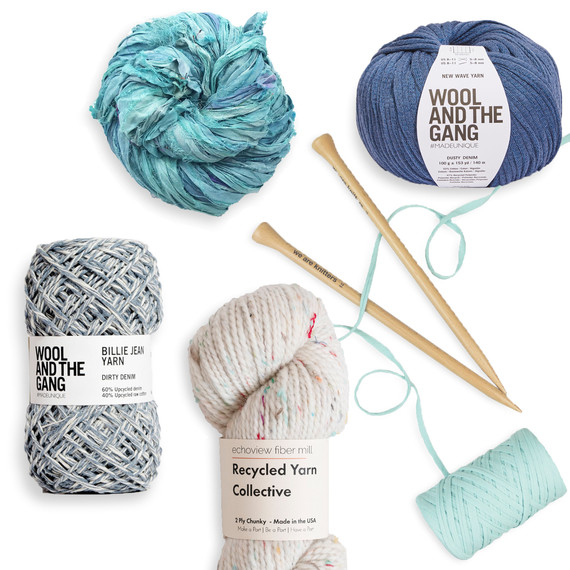 If you walk into your local crafts store, what do you see? Row upon row of bundled yarn in bright colors and soft materials. But upon closer inspection (and a quick eye-scan of the label) and you'll notice a disheartening truth about the most common types of yarn: Acrylic fibers are synthetic, low-quality, and toxic to the people who make it, craft with it, and wear it as completed pieces. Nylon and polyester are both energy-intensive, not biodegradable, and colored with chemical dyes that break down into millions of tiny plastic microfibers and wreak havoc on our wildlife, our planetary health, and your health at home.
If you're looking to join the slow knitting movement, the brands listed below offer some quality natural, biodegradable, and non-toxic yarns to help you feel good about the output of your craft. Look for natural fibers, ethical sourcing, upcycled waste, and organic labeling. 
Echoview Fiber Mill
This spinning mill based in Weaverville, North Carolina, has always been dedicated to sustainability. Founder Julie Jensen has made many conscious decisions to produce quality yarn using natural fibers like wool, alpaca, and organic cotton. (In fact, her facility is Gold LEED certified.) In this new variety of chunky yarn, the super-soft merino wool is speckled with colorful scraps of yarn waste from pom-pom making collaborators Reunion Yarn Co. and Loome.
Wool and the Gang
Wool and the Gang works hard to connect their global "knitwork" of crafters with natural, renewable, and biodegradable sources of yarn. The Billie Jean Yarn is made using upcycled denim that will wear as well as your favorite pair of jeans (and saves 20,000 liters of water per kilogram of upcycled material in the process.) And the New Wave yarn packs three whole recycled plastic bottles into each ball.
We Are Knitters
We Are Knitters' yarn is made from recycled cotton and leftover T-shirts, and that's not all—their handmade needles are made from beechwood, and their plastic bags are recycled and recyclable. (You can see how we used The Tape for our crocheted clutch.) They have an assortment of kits for every skill of knitter along with supplies, patterns, and video tutorials.
Manos del Uruguay
Since 1968, this non-profit organization has provided jobs for rural craftswomen living in Uruguay and throughout the world. All of their yarn is certified by the World Fair Trade Organization. Handspun and hand painted, this 100-percent merino wool comes in many colors and each one is named after an accomplished woman in history.
Darn Good Yarn
As its name implies, this online store is committed to sourcing yarn that is ethical, sustainable, and natural (including harder-to-find vegan fibers like banana, hemp, and nettle). They salvage vintage silk saris headed for the landfill to be upcycled into colorful yarn. And best of all, it's done by hand (torn, dyed, and sewn) by women in India who work in safe conditions and are paid fair wages.