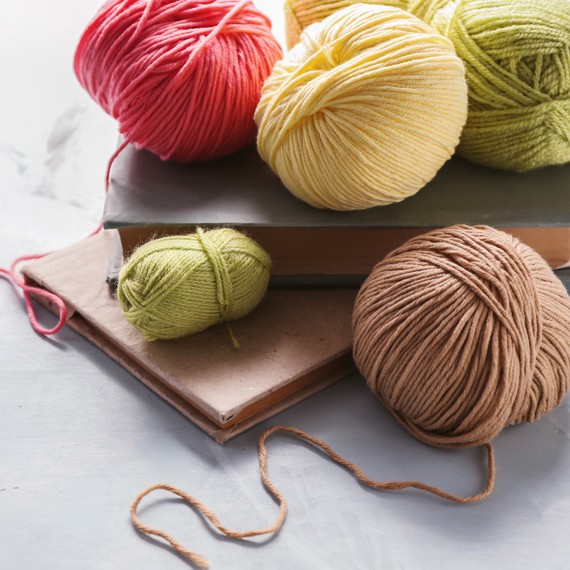 We keep journals for our daily thoughts, our goals, our upcoming projects and plans. We've praised it before: The practice of journaling is a great way to stay organized and keep a record of important details. For those same reasons, you should consider keeping a knitting journal, especially if you regularly work with needles and yarn.
What Is a Knitting Journal?
"A knitting journal is a record, start to finish, of a project," says Cindy Michael, the owner of Harps and Thistles Yarn Emporium in Cuyahoga Falls, Ohio. "You can use a physical journal and list the needles and yarn that you use, gauge for the swatches, and any other details you need for the pattern."
It contains pages with prompts for what to record such as the source for the pattern; the brand, type, and color of yarn; yardage; gauge; needles; modifications; and more. You can even insert samples of the yarn that was used or photos of the finished project. Instead of having to start from scratch with a project, you can have all of the details on hand and a plan for how to get started. "And you don't have to keep it in an actual book," Michael clarifies. "You can get on Ravelry.com and input your yarn, needle and gauge details, and any other information you want. Put up pictures of your projects, add your knitting books to your online library, and search for a particular pattern. It's also a network so you can connect with other knitters."
Including Swatches
Some knitters also keep a swatch book, which is similar to a knitting journal but not exactly the same thing. When you knit a swatch, you are testing out the gauge you need for your project. This will help you answer crucial questions: Is this the right yarn that you need? Are the needles the right size? Are you knitting with just the right tension? Swatches help you figure that out.
Unlike the knitting journal, a swatch book contains the actual swatches for your projects. In it, you have a visual record of the yarn used and a quick reference for your current project's gauge. This way, you don't have to create a new swatch for projects that you repeat on a regular basis—sweaters, scarves, mittens, and so forth. "People often have a go-to yarn that they use for projects," Michael says. "And they may already have a swatch on hand in their swatch book."
Knitting journals and swatch books are both great options for keeping a record of your knitting projects that you can revisit time and time again. In many cases, you can combine them into one.
How to Make One
You can purchase a planner at local crafts shops and online—in person, a knitter will guide you through the process of recording your projects. At her shop, Michael offers a knitter's notebook including space for 31 projects that you can purchase. But there is no rule that says that you can't make your own knitting journal.
To start, all you need is a notebook. In it, you can jot down everything you need to know for completing a project. A journal from Fringe Supply Co. comes with knitter's graph paper (which is modified to elongated knit stitches and expansive designs). The inside front cover includes a drawn ruler, needle checklist, and guides to both yarn-weight and fabric-care symbols; the inside back cover contains a knitting symbols cheat sheet. A project portfolio from Coco Knits comes with inserts and elastic bands for securing everything from patterns to swatches and loose-leaf papers. A paperback knitter's notebook simplifies notetaking with prompts for details like gauge, needle size, and even a section for extra notions. Combining your notetaking with swatches? Opt for a spiralbound portfolio, so that you can flip the pages with ease and fit more knit fabric samples between the inserts. A large enough book could serve as a knitting journal and swatch book combination. The key is finding a method that works for you. Start here: Download our printable template and begin your next project.