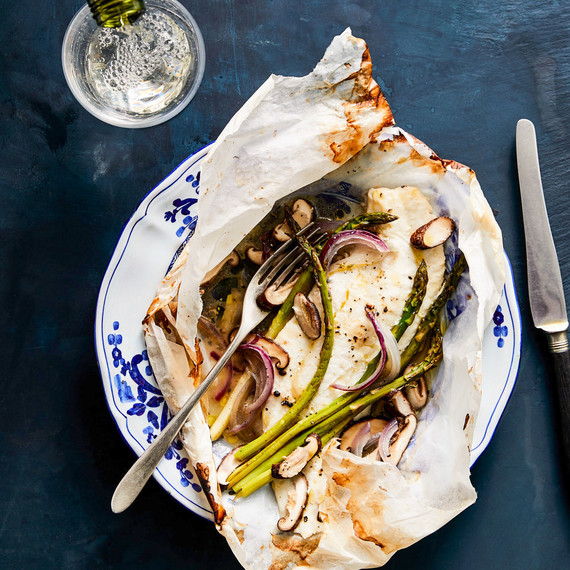 Fish is much easier to cook than you might think—and there are so many mouthwatering options in the sea (and lake, and river). If you're stuck in a rut with seafood cookery, take a swim here and discover some new-to-you techniques for filets, whole fish, and more.
Steam
Let us make the case for cooking fish en papillote (the fancy term for steam-roasting in parchment paper): The result is deeply flavorful, since the steam created by the wine and butter and the fish's own moisture stays in the parchment packet. It's a cinch on weeknights, but also excellent for dinner parties. Everyone gets her own pretty parcel of entrée and vegetables—just add crusty bread to sop up the juices.
Get the Flounder in Parchment with Asparagus and Shiitakes Recipe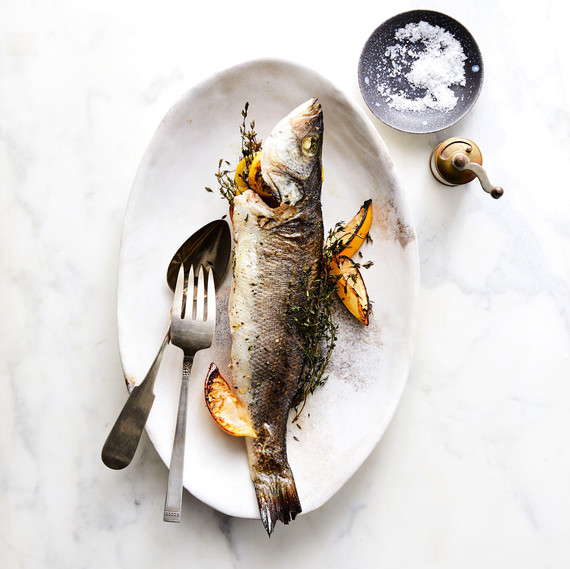 Roast
Approach a whole fish the same way you would a whole chicken. Rub it with olive oil, sprinkle it with salt and pepper, stuff the cavity with lemon and herbs, and it's ready for the oven. But here's the winning difference: Fish is done in less than half the time. This beauty is a branzino, a widely available type with mild, flaky white flesh. You can substitute almost any one-to-three-pound variety you want, including snapper, sea bass, or trout.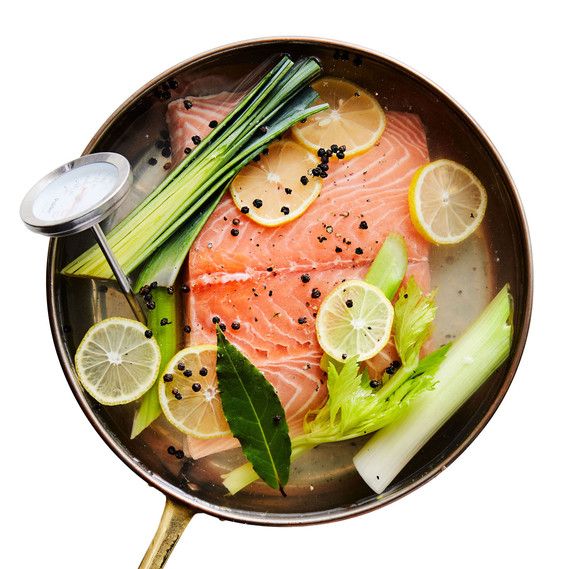 Poach
This technique is a hit with home cooks who love to entertain for good reason: It produces tender flesh that's delicious warm or at room temperature, so you can make it long before guests arrive. We prefer cold-poaching, which means letting the liquid and fish come up to temperature together (rather than dropping a fillet into hot liquid), because the fish doesn't "seize up" (get tough) and remains silky. Also, skin-on fillets are preferable: The fat adds flavor, and laying them in the pot skin-side down prevents the pieces from sticking. 
Use water as the poaching liquid when you want to infuse a fish with aromatics while it cooks. For this salmon, we added lemons, leeks, celery, peppercorns, and bay laurel.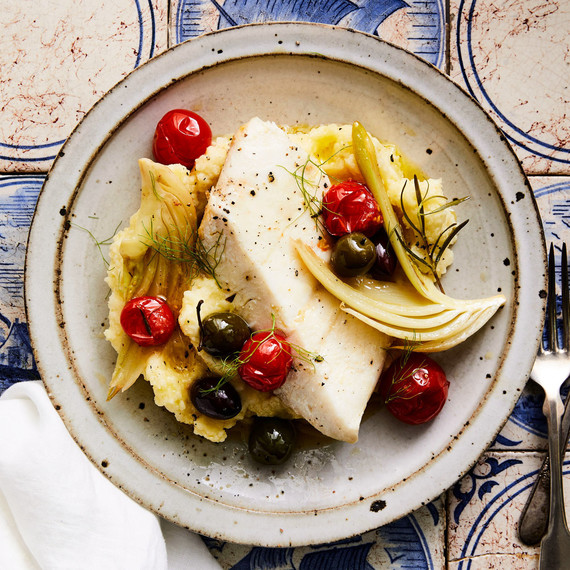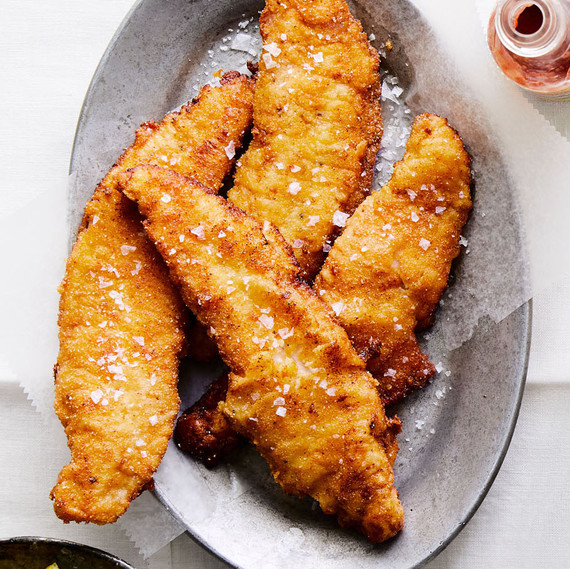 Fry
The magic of this method is how it elevates the flavor of freshwater fish. Our favorite is catfish, which some skip because it's a bottom-feeder and can taste muddy. But a buttermilk brine balances the cloudiness with clean acidity. (It does the same for tilapia, another great fish for frying.)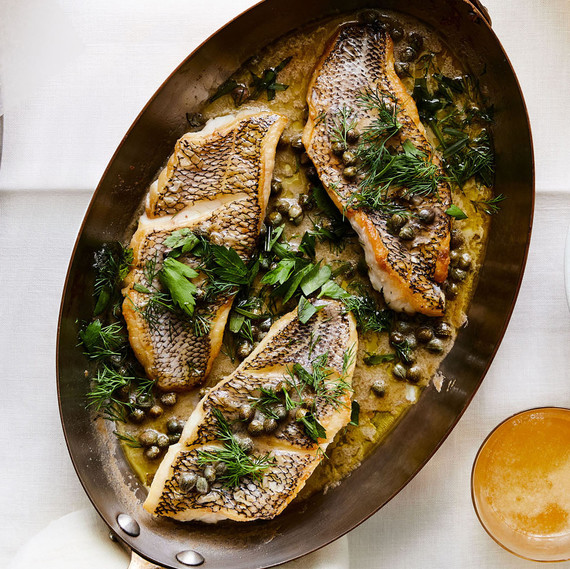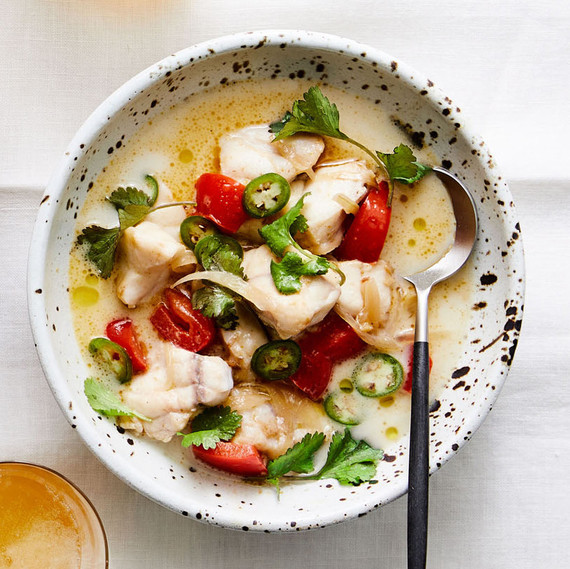 Braise
With meat or poultry, a braise calls for browning (aka dry heat) then adding a small amount of liquid to finish the cooking (wet heat). Braising fish often skips the browning, streamlining and speeding up the process. Firm fish like halibut, haddock, rockfish or monkfish are good in a braise. Their dense texture holds up well, and you don't need to worry if you cook them a few extra minutes.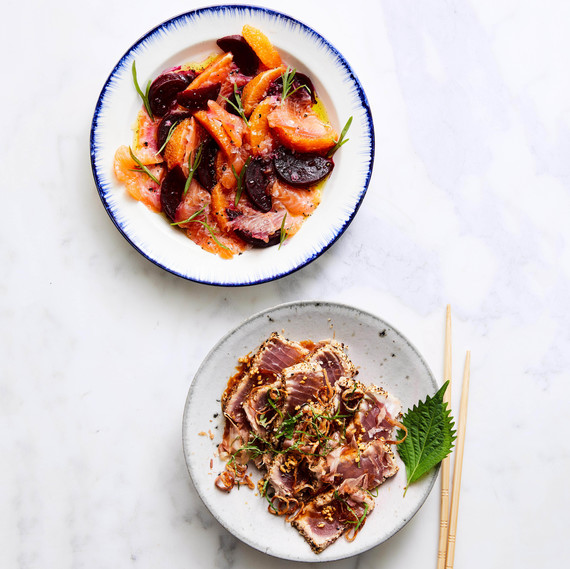 Sear
Using high heat to get a good sear on fish is like cooking a steak rare. The high heat also keeps the fish from sticking, which eliminates the need for any fat in the pan and makes this an exceptionally healthy entrée.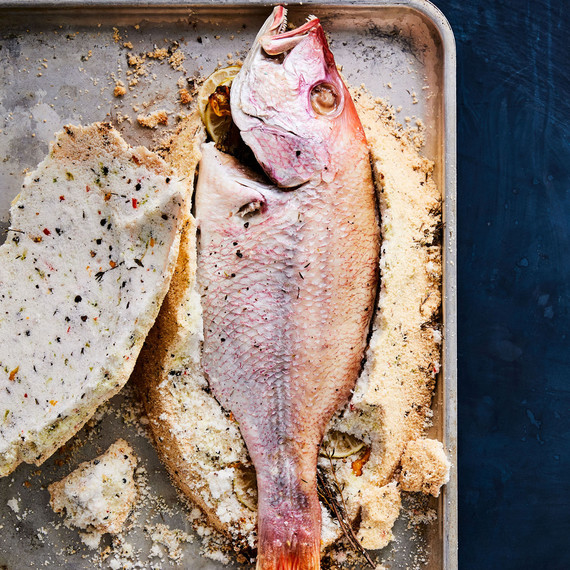 Bake in Salt
Encasing a whole fish in two pounds of salt sounds outrageous but this time-honored method ensures moist and flavorful flesh that doesn't taste overly saline, thanks to the barrier of the skin. It also makes for an exciting presentation: There's nothing quite like bringing the tray to the table and cracking open the salt shell with the back of a spoon or a knife.
No Cook (Let Acidity Do the Job)
Carpaccio is thinly sliced raw fish that you drizzle with lemon juice, vinegar, or another acidic ingredient to "cook" it (i.e., firm up the flesh as heat would) in minutes. We like it with Arctic char, a milder, delicate cousin of salmon, it's buttery and rich, and pairs well with the sweetness of beets and oranges. Fluke, sea bass, and snapper are other good choices for carpaccio.