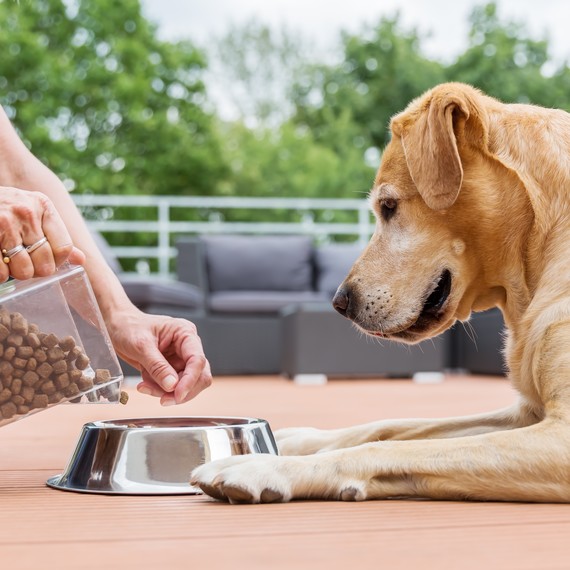 The Food and Drug Administration has expanded a recall on multiple popular dry dog food products after several owners reported their dogs experienced vitamin D toxicity. The presence of vitamin D in dog food is normally beneficial, but excess amounts—like those found in the following products—can lead to serious health complications, including kidney failure, and even death.
The FDA reports that sample testing on the following brands show that products contain about 70 times the standard amount of recommended vitamin D. For that reason, they're asking pet owners to immediately discard the dry food or to bring it back to a point of purchase for a full refund.
[PET HEALTH: Here's How Often You Should Be Cleaning Your Pet's Bowl]
There are eight different brands included in the FDA's recall, with multiple products being recalled from single manufacturers in some cases. Here are the dog foods being recalled due to excess vitamin D:
Kroger: Abound Chicken and Brown Rice Recipe Dog Food
Lidl: Orlando Grain-Free Chicken & Chickpea Superfood Recipe Dog Food
Sunshine Mills: Multiple varieties.
ANF: Lamb and Rice Dry Dog Food
Nutrisca: Chicken and Chickpea Dry Dog Food
Elm Pet Foods: Multiple varieties.
Ahold Delhaize (the parent company of Stop & Shop, Giant, Food Lion, and Hannaford): Multiple varieties.
For a full list of product UPC codes and dry food bag weights, view the list provided by the FDA here.
[MAKE: These Healthy and Delicious Homemade Dog Biscuits]
If you have purchased one of these products and have recently fed your pet, the FDA says there are a few symptoms you should keep an eye out for: vomiting, loss of appetite, dehydration, excess urination, drooling, and rapid weight loss. Reach out to your veterinarian immediately if you notice any of these symptoms, especially if you're worried about a potential vitamin D overdose.
This is the not the first time the FDA has warned pet owners about excessive vitamin D, and the federal safety agency says that list of recalled products could grow in the future. We'll update this page with any new information as soon as it becomes available.
This post originally appeared in CookingLight by Zee Krstic.