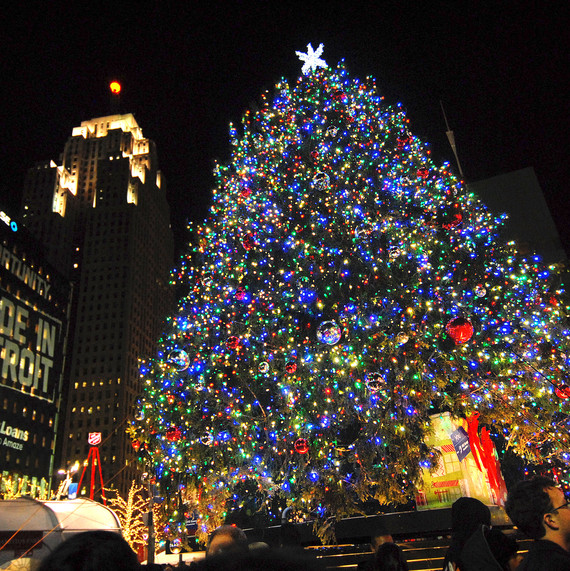 If you're visiting Detroit this holiday season, you won't want to miss the Christmas tree that just arrived at Campus Martius Park in the city's downtown neighborhood. The locally sourced Norway Spruce—which measures to be 60 feet tall—was erected in its place of honor with some help from a crane on Monday morning.
While the public introduction of the tree signifies that the holiday season is well underway, there's still a little work to be done to get the holiday tree lit up in all of its festive glory. Once the prep work finished, the Detroit News reports that it will boast more than 19,000 lights and ornaments. 
If you're looking for a heartwarming story to fight that late fall chill, we've got that for you, too. It wouldn't be a true Christmas tree without some help from the community: the Downtown Detroit Partnership and DTE Energy Foundation invited some special guests to help deck out the tree. Students from 15 local schools got to join in on the fun by bringing homemade ornaments to be displayed on the tree's boughs. This was the first year that students from around the city have been asked to make and hang their own ornaments on the tree (and we surely hope it's not the last).
[SEE: What Detroit's Christmas Tree Looked Like Last Year]
The official tree lighting will happen on November 16 with live streaming courtesy of Light Up Beacon Park for those who can't make it to the event in person. The event will feature musical performances and Olympic skating duo Maia and Alex Shibutani.
Still planning your holiday travel? Here's a bucket list trip: Visit all of the best Christmas trees around the country. You can read all about the trees in Boston and New York City this year, in case you need some more inspiration.
Feeling inspired? Watch how to decorate a Christmas tree from top to bottom: