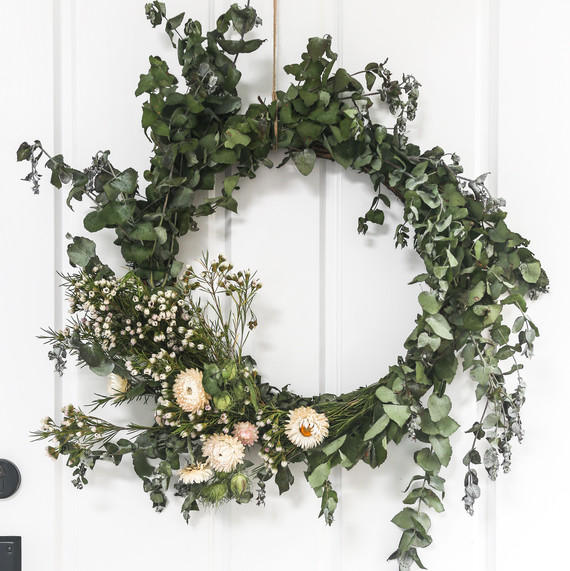 A wreath is a lovely way to welcome guests into your home. Unfortunately, for as festive as wreaths are, figuring out how to hang them can quickly dampen the holiday spirit.
If you'd rather skip creating hole in your handsome door, we have shoppable and DIY tips for you.
Use a Wreath Hanger 
Ideally, you want to avoid making a permanent hole in your door. Over-the-door wreath hangers are the obvious choice, and they can be a great option. If you do decide to go with a hanger, buy an adjustable one so you can fine-tune the placement of your wreath.
However, wreath hangers prevent some doors from closing properly, and the extra hardware could clutter your look. 
Shop Now: Haute Decor Adjustable Length Wreath Hanger, ($10.98, amazon.com).
[GET FESTIVE: Search Through Some of Our Best Wreath Projects]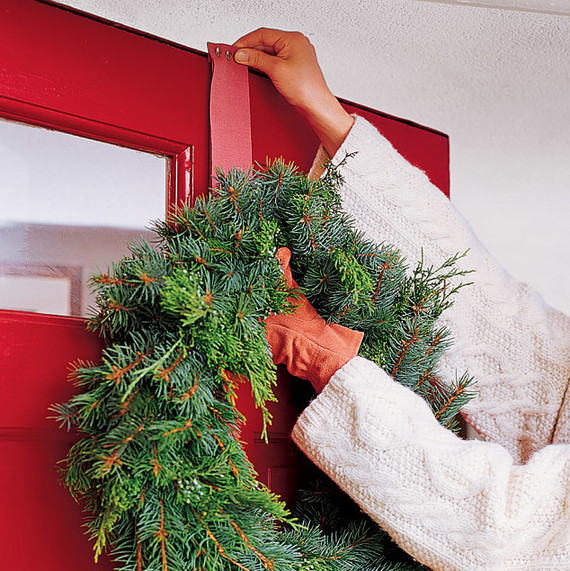 For a Wood Door: Use Some Ribbon
Cut a 3-inch-wide satin or grosgrain ribbon long enough that, when doubled, will hang your wreath at the desired height from the top of your door. Loop the ribbon through the wreath, join the ends, and fold them over each other 1/2 inch. Then, secure the ribbon to the top of door with a few flat thumbtacks.
You're done. Seriously. Go enjoy some eggnog.
Shop Now: The Hillman Group Brown Flat Tacks, ($4.48, amazon.com)
For a Metal Door: Use a Magnetic Hook
If you have a metal door, thumbtacks won't do the trick. However, you can still use the ribbon method with a slight modification.
On the back of your door, near the top, place an upside-down magnetic hook (or, if your door isn't magnetic, a removable adhesive hook, such as one from Command). Be sure to check the weight restrictions. There are plenty removable hook options out there these days, but if can't find one that matches the color of your door, simply paint it.
Measure your ribbon from this point to the spot on the front of the door where you'd like your wreath to hang. Loop the ribbon through the wreath and tie it. Then loop the tied end of your ribbon under your upside-down hook; drop the wreath over the top of the door so it hangs down in front.  
Shop Now: Bullseye Magnetic Wreath Hooks, ($13.95 for two, amazon.com)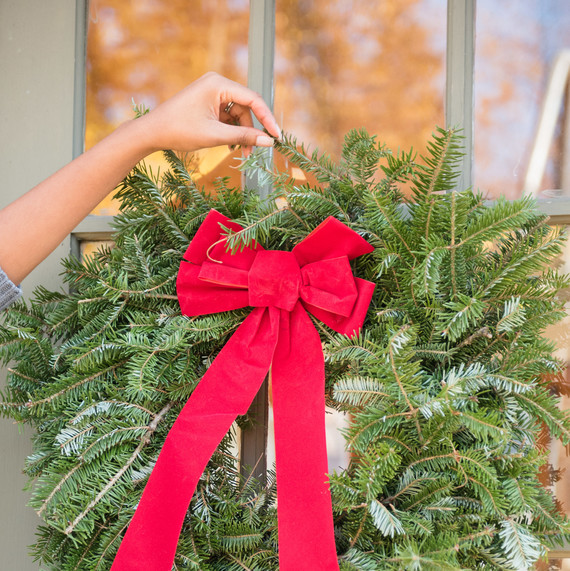 For a Glass Door: Use a Clear Hook
For doors that are either entirely or mostly glass, it's more difficult to hide wreath hangers and tricks. As for more elaborate doors with glass cutouts or detailing, even a pretty ribbon may be too distracting.
For these doors, consider hanging your wreath directly on a clear plastic adhesive hook or a suction cup wreath hook. If you select one small enough and strategically arrange the branches or decor of your wreath around it, it shouldn't be noticeable.
Shop Now: Simple Living Innovation Suction Cup Wreath Hook, ($2.99, Target.com)