Though it looks like a root vegetable, kohlrabi is actually cabbage's leggy cousin. It has the texture of a turnip and flavor reminiscent of a mild radish, and one cup provides a full day's worth of vitamin C and five grams of fiber.
Look for baseball-size bulbs with smooth, waxy skin—white and purple ones taste the same. You can keep kohlrabi in the fridge for up to two weeks, and don't discount the greens: They're delicious when braised like collards or kale. As for the bulbs, they're crisp when chilled and raw, or tender when warm and roasted—either way, they deserve a spot on your dinner table. Try kohlrabi in the two scene-stealing side dishes below.
Get Our Other Kohlrabi Recipes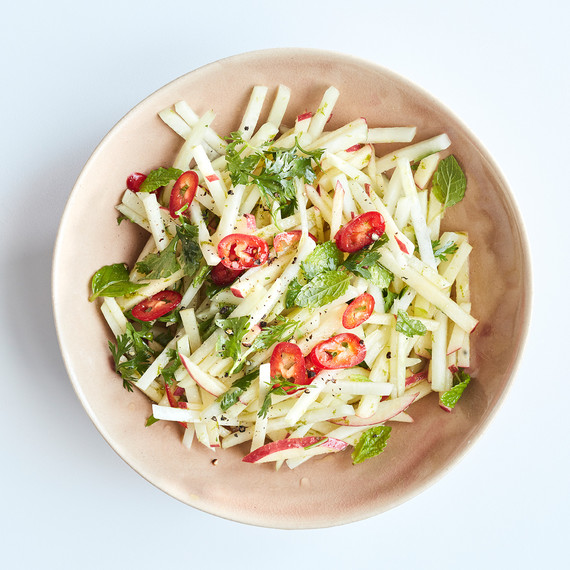 Kohlrabi, Apple, and Mint Slaw
A serving of this minty-fresh salad will give you about 20 percent of your daily fiber. The combination of julienned kohlrabi and Fuji apple delivers a satisfying sweet-and-savory crunch.
Get the Kohlrabi, Apple, and Mint Slaw Recipe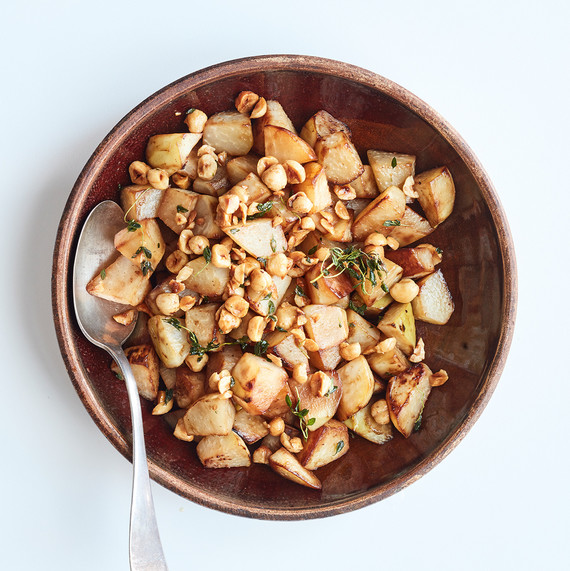 Roasted Kohlrabi with Buttered Hazelnuts
Kohlrabi is a great stand-in for potatoes, but has a third of the calories. Here, it's given a turn in the oven, then tossed with golden, thyme-scented hazelnuts and dressed with apple-cider vinegar and maple syrup.
Get the Roasted Kohlrabi with Buttered Hazelnuts Recipe