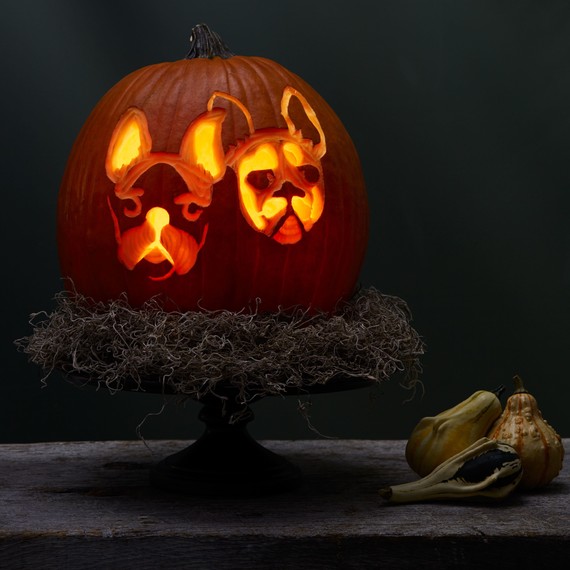 Carving pumpkins is about as quintessential as fall activities get, but we challenge you to take your creation to the next level this year with a personalized touch. (Hint: It has to do with your pets.)
"Dog-o'-lanterns," what we've chosen to loving call these pumpkins showcasing a hand-carved portrait of your pup, are setting up to be the biggest trend this Halloween. The best part? It's still going to make house guests and trick-or-treaters "ooh" and "ahh" no matter your art skill level. (Hey, it's the thought that counts.)
If you're searching for some real inspiration, we can help with that. We carved a pumpkin of our own portraying the faces of Martha's pups, Creme Brûlée and Bete Noire. After you've got the stencil created and transferred to your pumpkin, you'll cut out a few major shapes from your pet's portrait.
[MAKE IT: Martha's Dog-o'-Lantern]
Check out this timelapse video Andy Manoloff made of a pumpkin carving he did of his Pomeranian, Sophie:
For other details, you'll scrape away bits of the pumpkin skin, but not cutting all of the way through, you get a portrait depth that's perfect for your adorable dog's pout. Even if you don't have your own pup to inspire a pumpkin carving, you can find all kinds of animal stencils online.
These pet owners perfected the trend:
If Halloween costume parties aren't your thing, clear a weekend afternoon for making the perfect pumpkin among friends. Gather your fellow pet enthusiasts and head to the pumpkin patch. Find the perfect pumpkin and head back to a big table, carving tools and materials, and mulled wine or spiced cider for a pumpkin-carving party. If sending everyone home with their own custom pet jack-o'-lantern isn't the best party takeaway, we really don't know what is.
For more inspiration, scroll through the #dogolantern hashtag on Instagram. You won't regret it.
Feeling inspired? Watch how to carve a pumpkin like a pro: