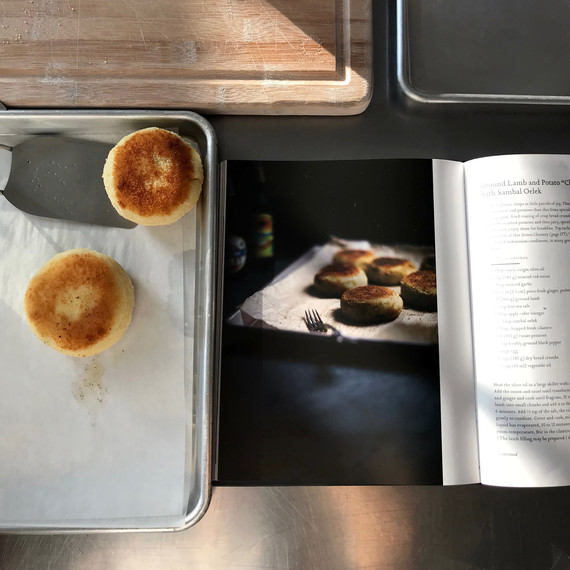 Find out what's been happening in the world of 42 Burners, aka our test kitchen, with our weekly series.
Nora Ephron once wrote that there's "nothing like mashed potatoes when you're feeling blue." While our food editors are inclined to agree (they've developed more than 100 different recipes over the years), lately there's another comfort food angling for first place: the potato "chops" (more on the name later!) from Nik Sharma's debut cookbook, "Season: Big Flavors, Beautiful Food." The base is none other than mashed potatoes, but they're filled with fragrant, spiced ground lamb and encrusted in golden breadcrumbs. Sharma stopped by the test kitchen to chat about his book and his cooking style—and he made the chops for us.
Get the Ground-Lamb and Potato "Chops" with Sambal Oelek Recipe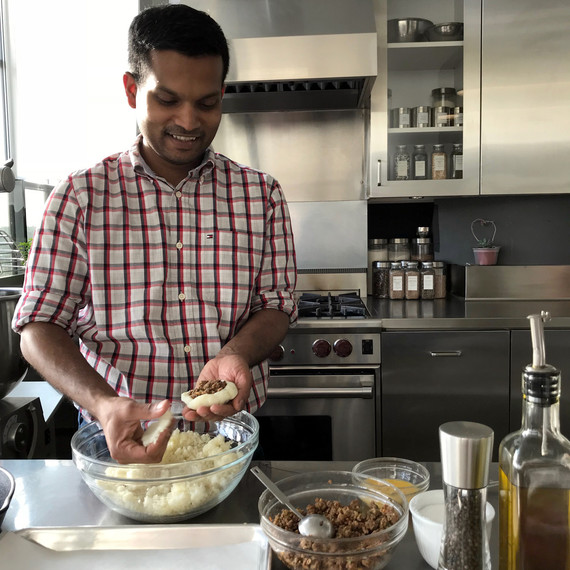 Just as compelling as the 100 recipes Sharma developed and photographed for the book is the story he tells throughout of his nonlinear path to a career in food. It begins in Mumbai (which will forever be Bombay to Sharma) and takes him to Cincinnati, where he studied molecular genetics; Washington, D.C., where he started his award-winning blog A Brown Table while working as a medical researcher; and the Bay Area, where he now lives with his husband and writes the column A Brown Kitchen for the San Francisco Chronicle. In the introduction to "Season", Sharma describes his approach to cooking as "influenced not only by my childhood in India, but also by how I was shaped by my experiences while I acclimated to my adopted new home in America using food as a tool to communicate."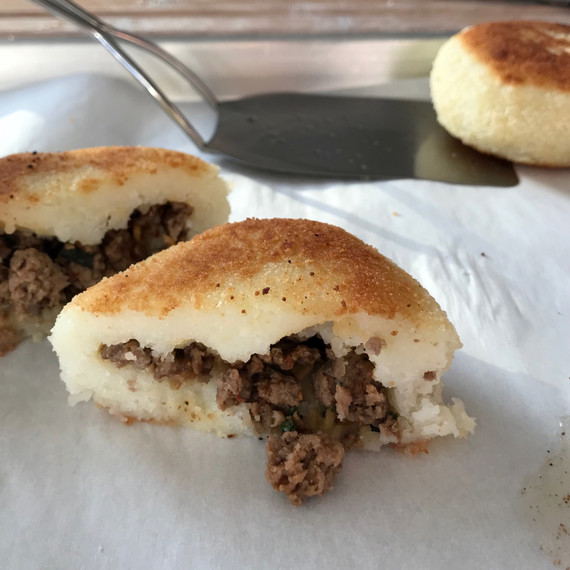 It's an approach that's very much apparent in his recipes; Sharma's favorites from the book include jaggery ice cream, an elderflower and ghee cake, and of course, the ground lamb-potato chops. It's a recipe from his mom's side of the family in Goa, a former Portuguese colony. "I wanted to give a shout-out to my heritage but also show a new side of the dish," says Sharma. "I don't know why it's called chops; neither does my mom or the people I've asked in the community in India. Turns out it's just a name!" He points out that just about every culture seems to have mashed potatoes and meat in some form; he likes to think of chops as portable shepherd's pies.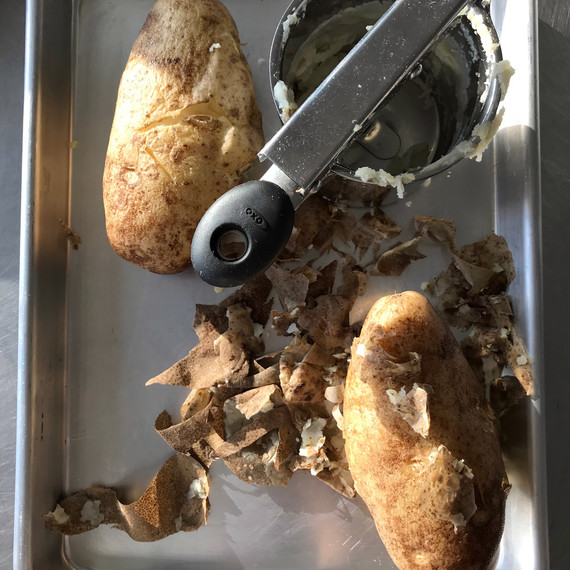 As Sharma was molding the patties, editor at large Shira Bocar asked why he didn't add any fat to the mashed potatoes. The key is to use russets, which hold their structure well when cooked. The filling is more versatile: lamb can be swapped out for ground chicken or turkey, or if you're vegetarian or vegan, soy chorizo or firm tofu (with all the liquid squeezed out). When Sharma's mother and grandmother would make chops for him growing up, they would flavor the meat with coconut vinegar or cane vinegar, but since those are hard to find in the U.S., he opts for apple-cider vinegar. He says, "Cooking with vinegar is common in Goa because the Portuguese brought vinegar to all the countries they colonized. Here, it adds to the aroma and helps the meat change texture as the acid cooks with the protein." Sharma also switches out the traditional mix of spices for the Indonesian hot sauce sambal oelek, which he adores because it's a condiment you can use like a spice and because it stands in well for fresh chiles.
Check Out 14 Ways to Use Sambal Oelek
Another pro tip: use a pastry brush for the egg wash. "I used to have a problem when recipes called for coating something in egg," says Sharma. If you go the dunking route, "you end up losing so much egg, and it drips all over the place. The brush makes it really easy." He's also partial to red onions in this recipe because they have less water content than the yellow and white varieties (and thus cook faster), and because they have more bite.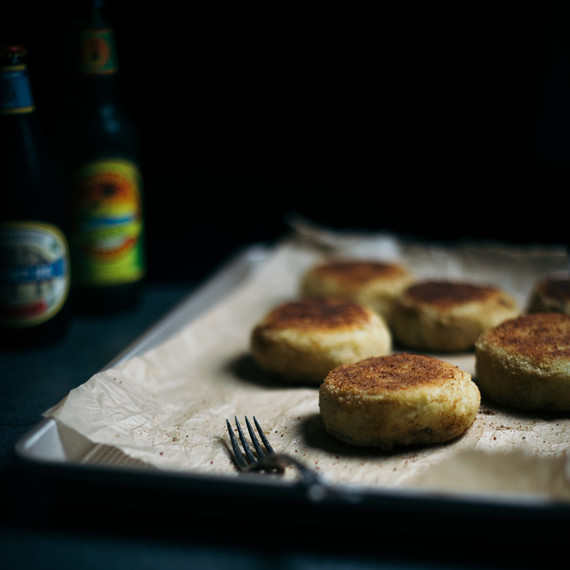 And how to serve the chops? Sharma is used to eating them with ketchup—specifically the Indian kind, Maggi's Hot & Sweet. They would also pair well with the hot green chutney from his book (or this spicy cilantro number from Madhur Jaffrey). Or add a fried egg, and you've got breakfast. Or as the 42 Burners team can attest, they're delicious on their own—once Sharma was done cooking, the chops were divvied up and gone in mere seconds.
Get the Ground-Lamb and Potato "Chops" with Sambal Oelek Recipe