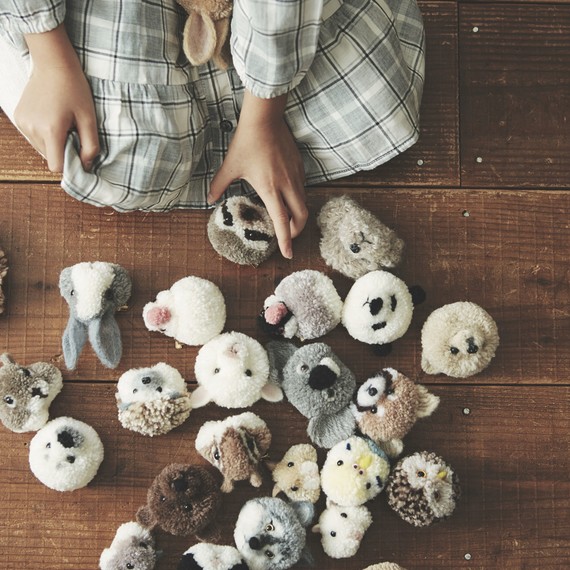 "Heartwarming. Happy. Adorable." Three words that come to the mind for Japanese maker Tsubasa Kuroda, a.k.a. trikotri as she goes by online, in thinking about her craft of specialty: pom-pom animals.
Take a peek at her Instagram, and you'll see the collection of her charming critters—plump little parakeets, fluffy hedgehogs and house cats, and smiley Shiba Inus. And whether they're bundled in a basket or artfully pinned to a sweater lapel, the appeal of those furry faces is irresistible. What's more, they're soft-to-the-touch and meticulously detailed with eyes, nose, and needle-felted ears—making each one wearable as a brooch, too.
[MAKE AND WEAR: Our 10 Best Handmade Brooches and Pins]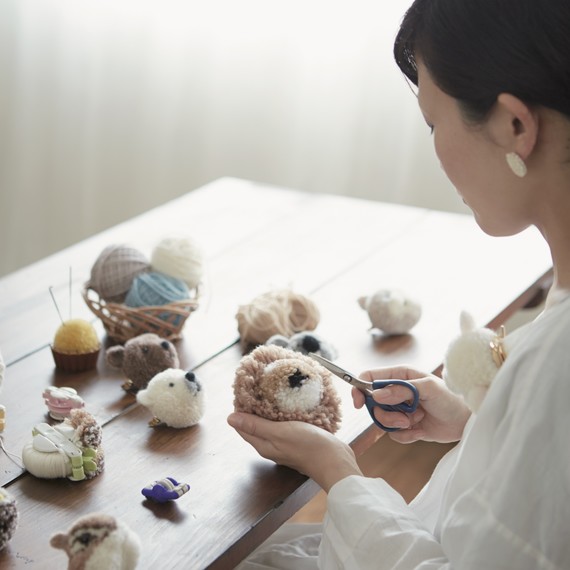 In the past five years, she's created hundreds of them. (Too many to count, as she tells us.) Over 40 varieties are highlighted in her debut book, "Pom Pom Animals: 45 Easy and Adorable Projects Made From Wool."
"I started creating pom-pom works as samples for workshops and shelf decorations when I worked for a hobby shop," says the 37-year-old. "I was more into it as I thought about how to better wrap the yarn or introduce the techniques from needle-felting." Then, she crafted a miniature menagerie—animals such as squirrels, rabbits, and owls, all while honing her craft.
[[START HERE: The Ultimate Pom-Pom Yarn Glossary with Tips and Tricks]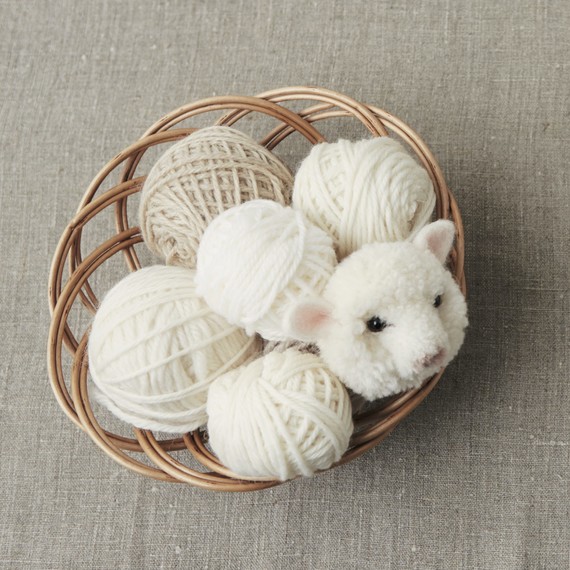 Having the right tools on hand certainly helps. Her go-to? "I use super pom-pom makers from Clover," she says. They come in a range of sizes, but all work the same: A maker tool unfolds into two arms, both of which are fully wrapped in a length of yarn to the ends, then closed, and snipped with scissors to create the fluffy fullness of a single pom-pom. "You need to cut the thickly-wrapped yarn," she explains. "I stick to Cutwork Scissors 115 also by Clover." Another length of yarn is then wrapped around the circumference of the tool several times and tied together with a secure knot. Open the tool, and you have a fully formed pom-pom ready for decorating. 
With a snip here and a trim there, they come to life—chubby cheeks for hamsters and elongated snouts for dogs. Kuroda says a felting needle and mat helps to craft the smaller details like rabbit ears and bird beaks. And even smaller features—like eyes and noses—are formed from toy parts that are sold at art-supply stores.
[MAKE: A Pom-Pom Red Panda Brooch]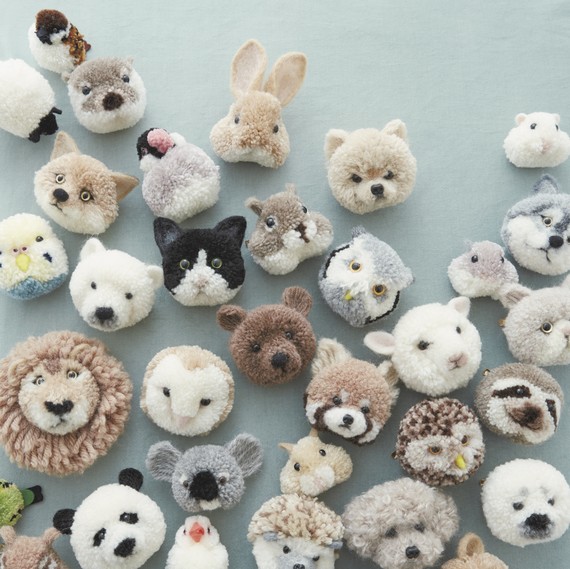 As for picking out her favorite pom-pom animal? Easier said than done: "Chipmunk, sparrow, rabbit, owl... I have my own attachment to each of the animals in this book." But if you're asking us? Definitely the red panda.
Feeling inspired? Watch how to use a pom-pom maker tool: