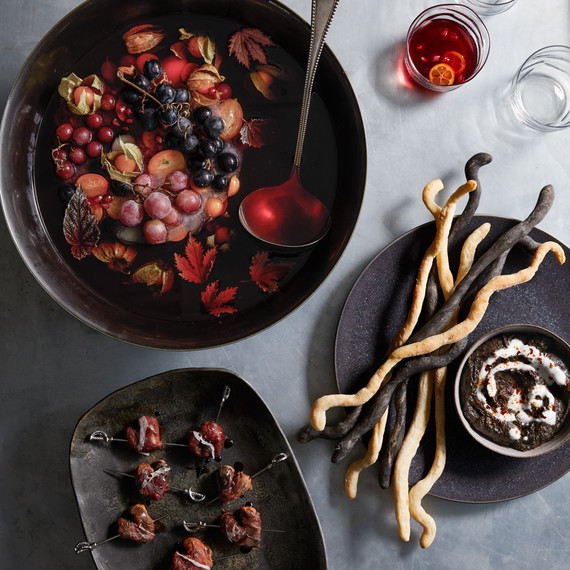 Persephone ate only a few pomegranate seeds in the whole time Hades had her trapped on his side of the River Styx. If only he'd served treats as tempting as our underworld-inspired appetizers! This macabre selection—a black Mediterranean dip, squiggly grissini, pierced "hearts," and a what-lies-beneath punch made with (bwahaha) pomegranate juice—will tempt your guests to stay put.
Garden-of-Evil Punch
Deeply colored frozen fruits—kumquats, husk cherries, red grapes, and pomegranate seeds—float atop a brew of dry sake, plum wine, and pomegranate juice, surrounded by edible hibiscus and begonia leaves.
Get the Garden-of-Evil Punch Recipe
Medusa's Hair Grissini + Dark-Night Dip 
Black tahini transforms creamy baba ghanoush into bubbling tar. Serve it with grissini "snakes": Divide ready-made pizza dough in two, add a little squid ink to half, and roll and bake it into crisp breadsticks.
Get the Medusa's Hair Grissini Recipe
Telltale Hearts
Notched dried figs stuffed with goat cheese, wrapped in prosciutto, drizzled with balsamic vinegar, and skewered with decorative picks invite your guests to eat their you-know-whats out.
Get the Telltale Hearts Recipe