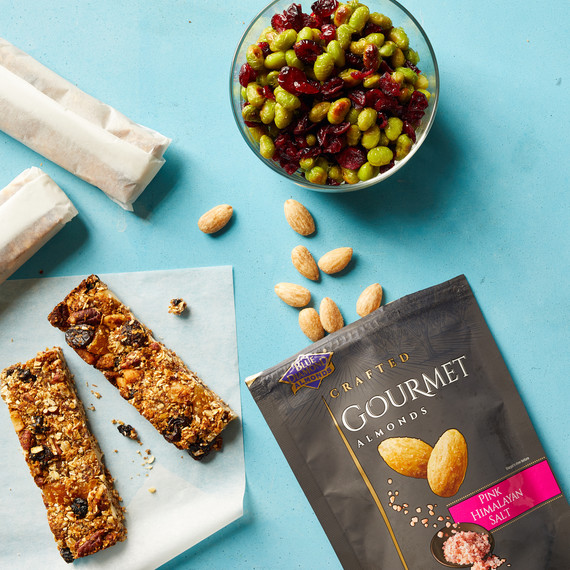 It happens: your morning routine hits some snags, and you head to work without breakfast. Afternoon meetings stretch into lunchtime. Or the kids have a soccer game and the only thing to eat while you watch on the sidelines are those gummy fruit bites you swipe from the team's snack supplies. There is a better way!
Hangry No More
It takes just a little bit of time to practice a whole lot of self-care in the form of packing healthy, go-anywhere snacks you can tuck into any purse, desk drawer, glove compartment, or gym bag. Choose from a combination of store-bought and homemade tidbits to ensure you never get the low-blood-sugar blues again.
Grab and Go
Select a few of your favorites from our list of go-to grocery-store snacks to stash for when the hunger pangs strike.
Seasoned roasted almonds (we like Blue Diamond Crafted Gourmet Almonds)
Jerky or all-natural meat sticks
Fruit and nut bars
Coconut oil- or olive oil-popped popcorn
Dried fruit
Whole-grain pretzels or crackers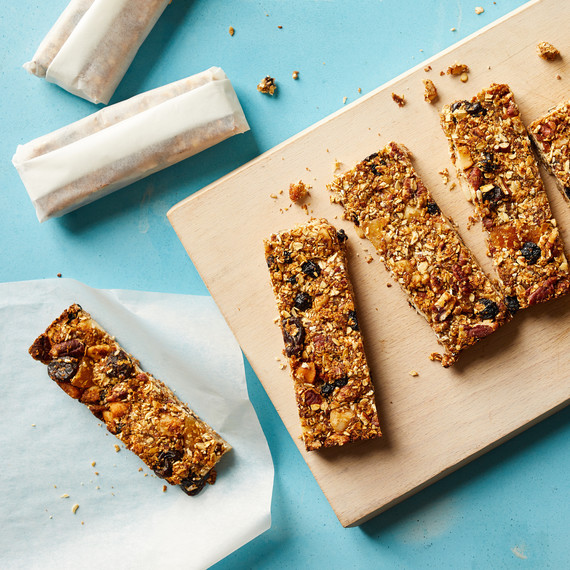 DIY Snack Packs
When you have a little time to spend in the kitchen, here are some of our favorite homemade bites for portable snacking. Pack them in individual servings to parcel out or stash the whole batch in your desk or trunk so you're well supplied when hunger strikes. 
Vegan Granola Bars
These chewy bars are packed with a cornucopia of whole grains (oats, quinoa, wheat germ, and oat bran), nuts (macadamias and pecans), and dried fruit (dates, blueberries, cherries, and papaya). Customize each batch to your taste by switching up the nuts and fruit if you like.
Get the Vegan Granola Bar Recipe
Baked Sweet Potato Chips
Wafer-thin slices of sweet potato are tossed with cumin, paprika, and just a smidgen of olive oil for a savory, craveable, and vitamin- and fiber-packed snack.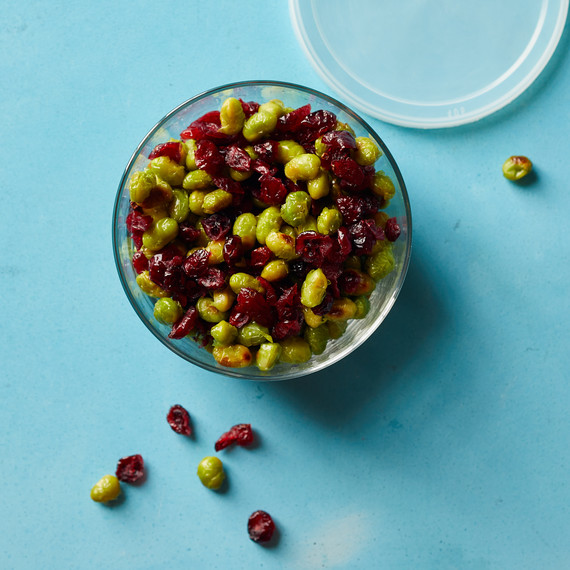 Dry-Roasted Edamame with Cranberries
Not your typical trail mix, this combo of super-crunchy home-dried edamame and chewy cranberries is the ultimate in satisfaction.
Get the Dry-Roasted Edamame with Cranberries Recipe
Apple Chips
We give you the fruit and nothing but the fruit! These addictive apple chips are always in season. 
With your nutrition arsenal fully stocked, you can sidestep the vending machines forever more, saving money and avoiding empty calories.