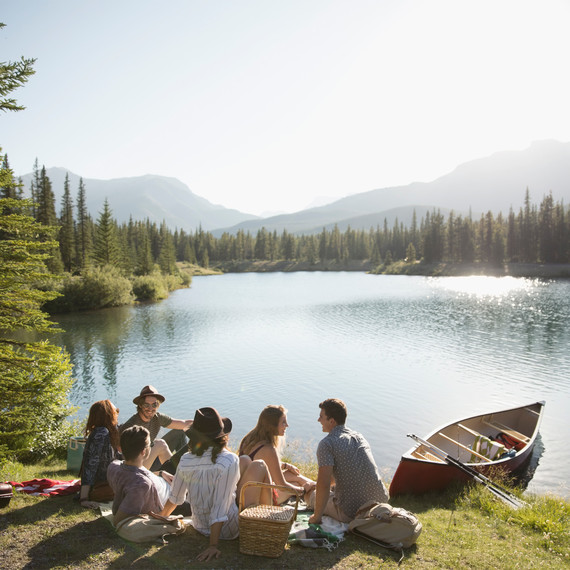 Who says summer camp is just for kids? It's time to recapture the carefree feeling of exploring the wilderness and bonding 'round the campfire with your besties. With our grown-up games and crafts, mouthwatering fireside recipes—and cocktails!—you'll be sure to create new magical memories.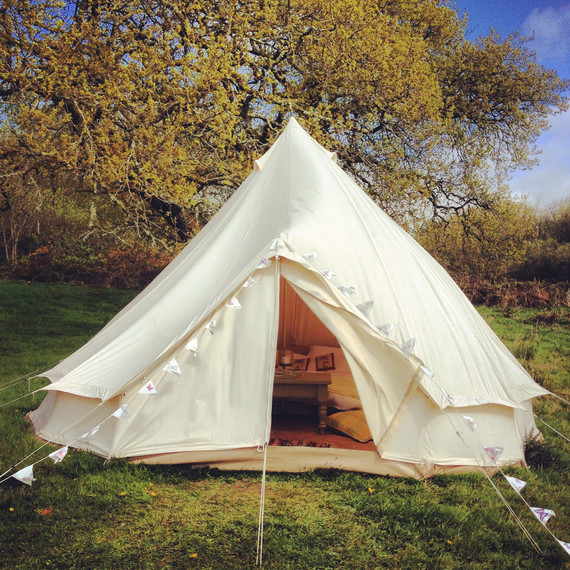 Destination: Glamping
Choose your own adventure based on just how much you and your friends like to rough it. Opt for good old-fashioned tent camping if that's your speed. But if you swore you would never willingly sleep on the ground as an adult, you have plenty of options there too! Choose a campsite that has platform tents with cots and mattresses; cabins with bunks; or go super-glam and rent a house. No matter whether you're sacked out in a sleeping bag or on 500 thread-count sheets, these activities and recipes will dial up the fun on your wilderness experience.
Check out GlampingHub.com for a wide variety of unique camping experiences around the world or UnderCanvas.com for luxury camping in some of our most breathtaking national parks.
If you've got a tent and you're not afraid to use it, search campgrounds by state on Camping-USA.com.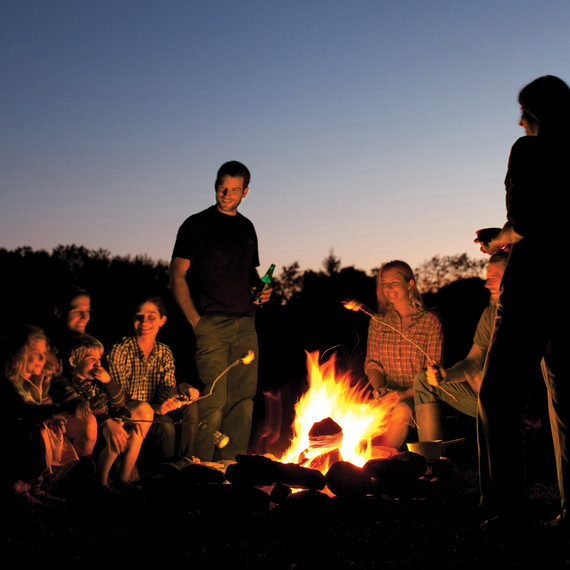 It Only Takes a Spark
It's not a campout without a campfire! Get the fire going with our Fire Building 101 tips. Once that fire is crackling, it's time to break out the s'mores fixings.
See How to Trick Out Your S'Mores This Summer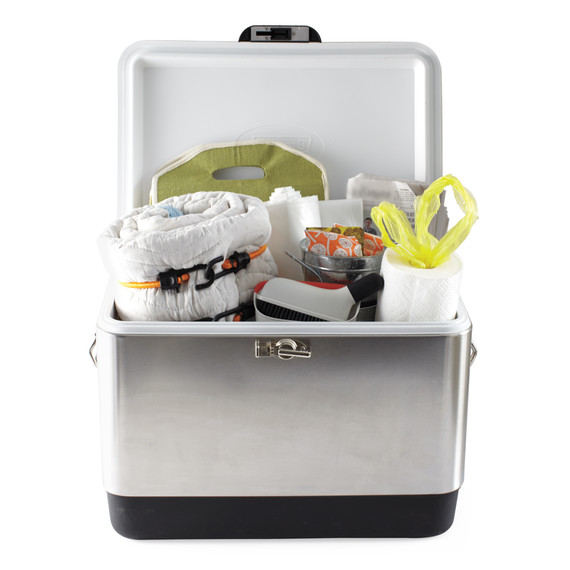 Make a List and Check it Twice (Really)
It's mighty hard to run to the drugstore when you're in the middle of the woods or even a lake house, so make comprehensive lists of everything you will need for a fantastic and safe time, including kitchen gear and cooking ingredients, toiletries, bedding, hiking gear, games and activities, first aid kit, and more. Read our 10 Essentials to Pack for a Day Outdoors for inspiration.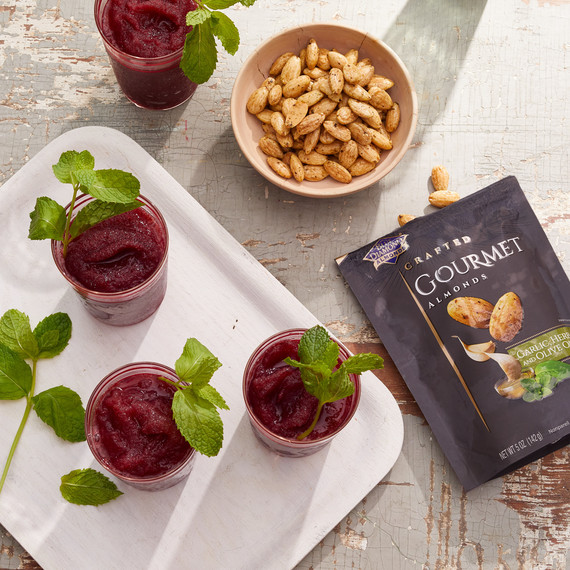 A Menu to Beat the Mess Hall
It may be true that everything tastes better eaten around a campfire, but we can still do a lot to improve on the summer-camp cafeteria fare from days of yore. This menu can be prepared over a campfire, a propane stove, or a regular home stove.
Blackberry Mint Julep
Keep your eyes open during your hikes; you may be able to forage both blackberries and mint along the way, making this the ultimate camping cocktail. If you're roughing it (aka, no electricity) you can skip the blender—these drinks are fabulous just poured over ice. Serve in mason jars, enameled mugs, or even glasses if you have them, with a bowl of Blue Diamond Garlic, Herb and Olive Oil Crafted Gourmet Almonds to add just the right touch of sophistication.
Get the Blackberry Mint Julep Recipe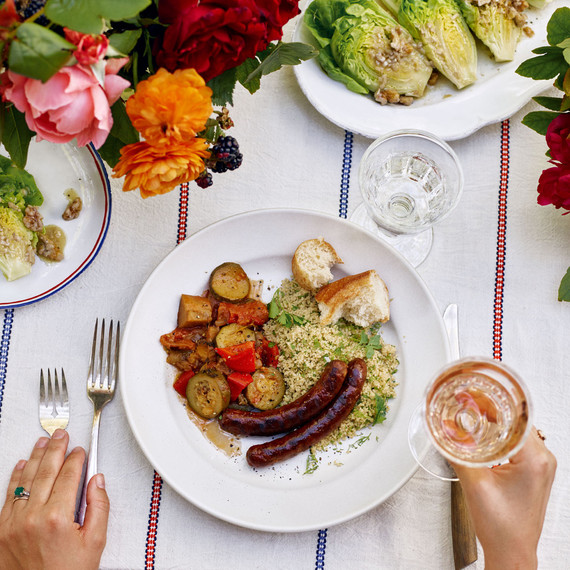 Grilled Merguez with Herbed Couscous and Ma Belle Mere's Ratatouille
Charred, spicy lamb sausages on a bed of couscous may sound complicated for camping, but everything cooks super-quickly, making the dish an ideal choice. The ratatouille needs longer to simmer, so it's a perfect candidate to be cooked in a Dutch oven, banked in the coals. If you want to get dinner on quickly, you can even make the ratatouille at home, pack it in jars, and just heat it up right before it's time to eat. Oh, and tablecloths are optional!
Get the Grilled Merguez with Herbed Couscous Recipe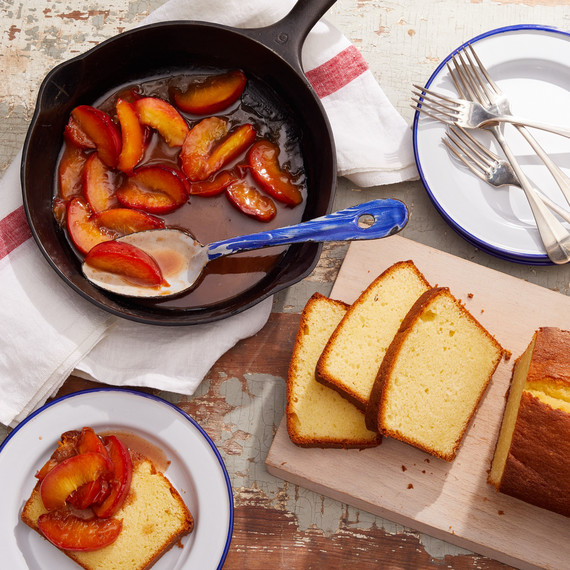 Caramelized Skillet Peaches with Martha's Best Pound Cake
Butter, brown sugar, and a splash of bourbon (you didn't drink it all yet, did you?) elevate summer fruit to new heights in a matter of minutes. Sizzle up this dessert over the fire in a cast-iron skillet and serve it with pound cake that you were clever enough to make at home the day before you left.
Get the Caramelized Skillet Peaches Recipe
Find more inspiration for outrageously good outdoor meals in our collection of Recipes for Camping (or Glamping).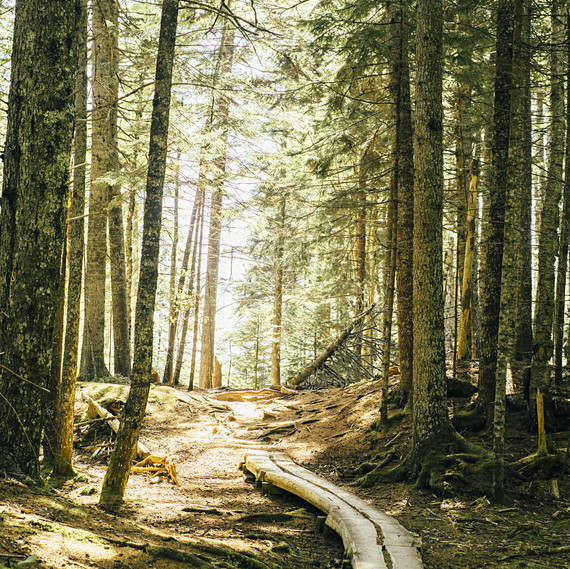 It's All Fun and Games
It wouldn't be summer camp without crafts, games, and activities!
• Play a game of tag or dodgeball with these homemade sponge balls—they're guaranteed to refresh on a hot day.
• Get your hands on an old tire and some sturdy rope, and your tree swing will be the toast of the camp.
• Learn more about Martha's favorite outdoor summer games: bocce, horseshoes, croquet, and badminton.
• Take a hike; though it may seem as easy as putting one foot in front of the other, you'll be glad you read our tips for being safe and smart on the trail.