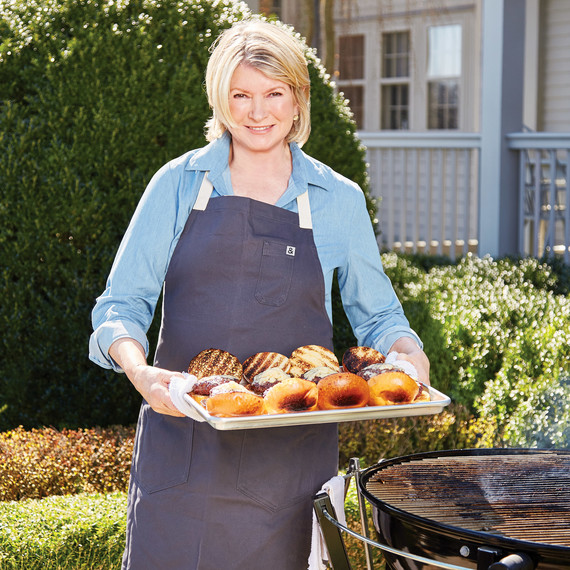 Last weekend, Martha hosted a grilling party with meat purveyor Pat LaFrieda and Jason Craven, president of landscaping firm Southern Botanical. The occasion: a Facebook Live demonstration of grilling tips and tricks featuring Martha's newest grilling package with Pat LaFrieda and her favorite new grill: Grill Dome.
The Grill Dome, explained Craven, is a ceramic grill that can heat up in just 15 minutes. And when you're done with your cookout, you can reuse the charcoal that's not burned.
[LEARN: Martha's Favorite Burgers]
As for the burned bits, "I put those ashes right on my delphiniums," said Martha. "I put them right into the flower garden. They really are good for certain perennials."
Another of the hostess's favorite tips is to stash little bar cloths all around her cooking and prep areas. "I keep lots of these dampened everywhere where I'm cooking," she explained, "and you can keep every work surface clean." Martha then handed a cloth to LaFrieda, who was manning the grill, and quipped: "so you don't wipe things with your perspiration when cooking outdoors." 
A lover of condiments—she added mustard ("I have French Dijon mustard, not the ballpark stuff"), ketchup, sweet red pepper relish, and green relish to her hotdog—Martha knows barbecues get messy, and therefore advises opting for a more practical napkin instead of your good linens.
"I was invited to a barbecue in Dallas once, in a formal dining room, and the hostess wanted to impress me, and she had white linen napkins and red barbecue sauce on the most delicious ribs," she recalled. "And I said I could not use her napkins. 'Could I please have a paper napkin or a roll of paper towels?' And she was so grateful I didn't ruin her napkins! So when you're doing a barbecue, damp bar cloths or dishtowels are the thing to use."
Her other recommendations for the perfect barbecue: fresh fruits, an assortment of condiments for hotdogs and burgers decanted in enamel jars, toppings like lettuce (Martha grows hers using Jonny's Seeds), onions, cornichons, bread-and-butter pickles, yellow and red tomatoes sliced on a wooden cutting board and corn dressed with Mexican cheese, potato salad and, of course, the meats!
[FOLLOW: Our Guide to A Delicious Summer Cookout]
While serving her guests a glass of homemade pomegranate iced tea, Martha had one final tabletop recommendation: "Paper straws, please! If you're using any straws whatsoever. No plastic straws."