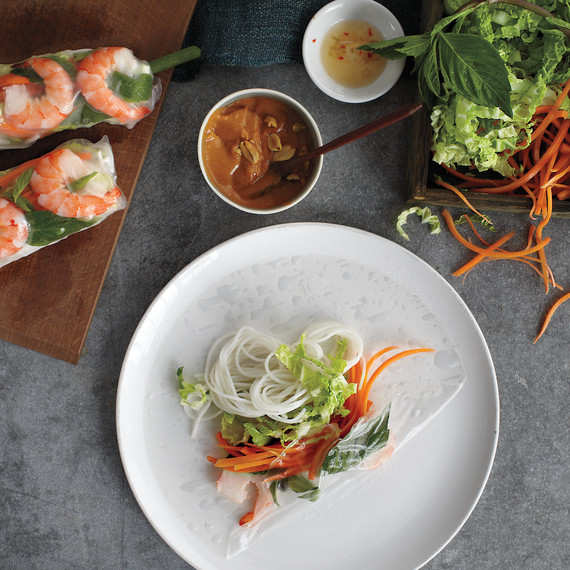 Find out what's been happening in the world of 42 Burners, aka our test kitchen, with our weekly series.
Yes, sometimes food editors don't feel like cooking either! When the temperatures start climbing, they're all for recipes that don't require the stove or oven, especially when they're out of the test kitchen and whipping up meals at home. Instead, the 42 Burners team focuses on putting together fresh, flavorful ingredients in smart ways. Here are the dishes they turn to when they want to eat well with minimal effort.
Greg Lofts, deputy food editor
Shrimp Summer Rolls
I crave summer rolls at least once a week. They're surprisingly easy to make and a fun hands-on meal for a gathering of family and friends—they'll love rolling up their own! Buy cooked shrimp and soak the vermicelli noodles in hot water until pliable. The soaked noodles should be chilled before using, which can be done the day before, along with all the vegetable prep. You can also set out other ingredients not included in this recipe, like sliced avocado, sweet peppers, or even mango!
Get the Shrimp Summer Rolls Recipe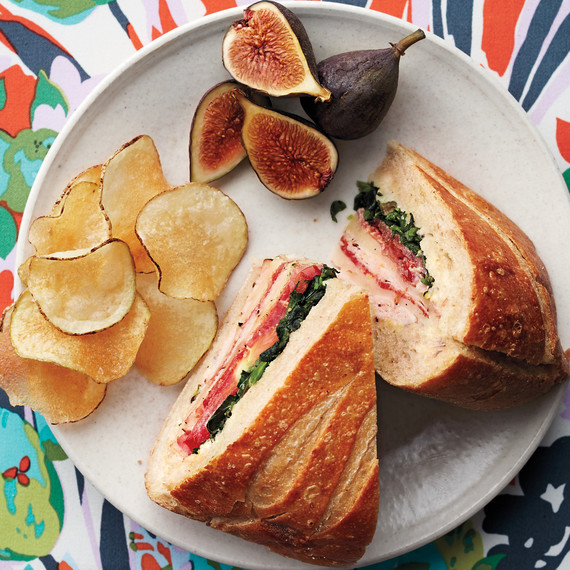 Italian Pressed Sandwich
It's make-ahead, it's packed with cured meats, cheeses, and watercress (my favorite green in all the world), and it's one big sandwich that feeds four. Need I say more?
Get the Italian Pressed Sandwich Recipe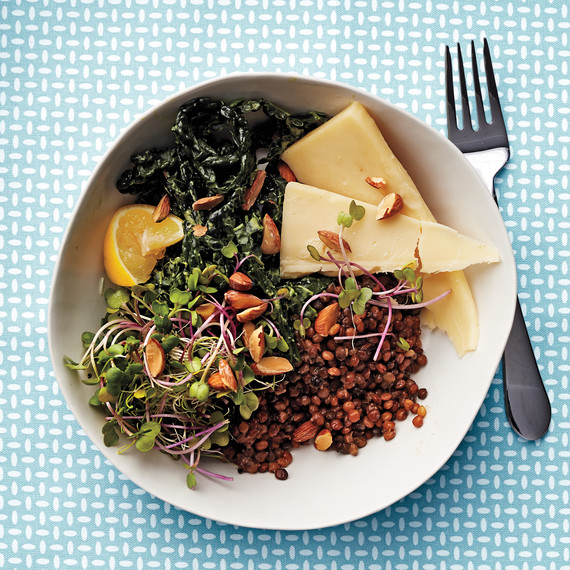 Kale and Lentil Bowl with Avocado Dressing
This is like a grain bowl, only with cooked lentils instead of the grain, plus a creamy avocado dressing, shredded lacinato kale, and crunchy roasted almonds. The cheddar lends added protein and calcium and makes it a satisfying and filling meal. Pro tip: don't buy the mushy, metallic-tasting lentils in a can; go for the cooked vacuum-packed kind, which can usually be found in the produce section at the grocery store. They have great flavor and texture.
Get the Kale and Lentil Bowl with Avocado Dressing Recipe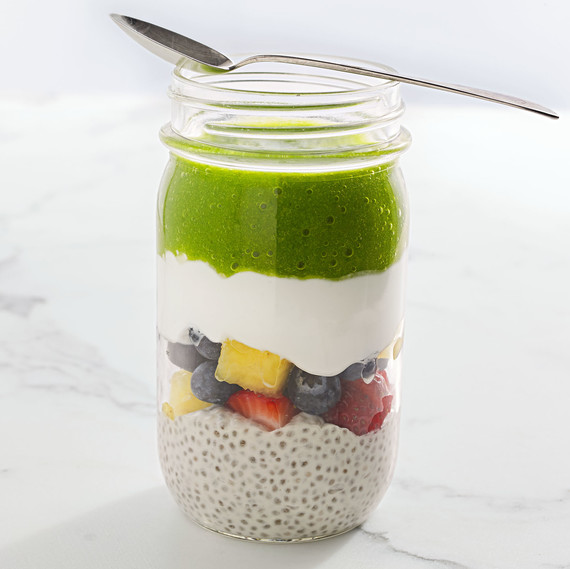 Lauryn Tyrell, senior editor
Smoothie Parfait
A beautiful breakfast, this smoothie parfait literally has everything: richness from the chia and coconut, texture from the chopped fruit, tang and probiotic benefits from the yogurt, and brightness and vitamins from the top layer of green smoothie. Plus it can be made up to two days in advance without losing its magic.
Get the Smoothie Parfait Recipe
Melon and Cucumber Salad
When melon is in peak season, this salad is perfect. It's less of a recipe than it is an inspired serving idea for the summertime. Sweet melon, crunchy cucumber, and invigorating mint come together for a perfect bite. Make sure to use a nice fruity olive oil since the quality of each ingredient is what really counts here.
Get the Melon and Cucumber Salad Recipe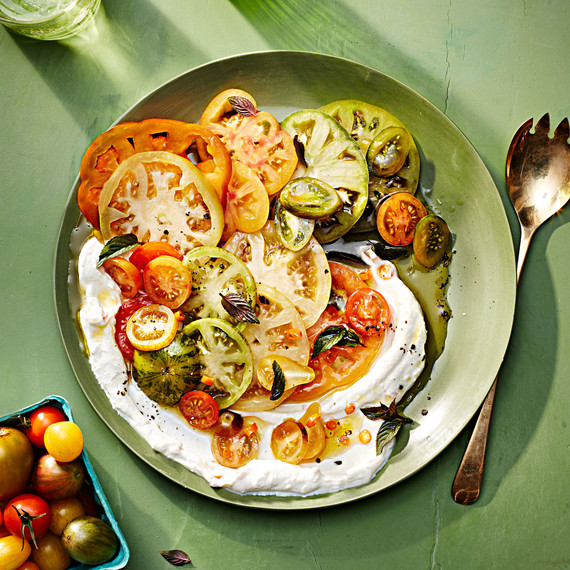 Tomato Salad with Chile Yogurt
I love tomatoes, and come July/August, it's pretty much all I want to eat. I didn't realize what a great pairing ginger and tomatoes was until I had this salad. I'll be using that combo a lot more from now on.
Get the Tomato Salad with Chile Yogurt Recipe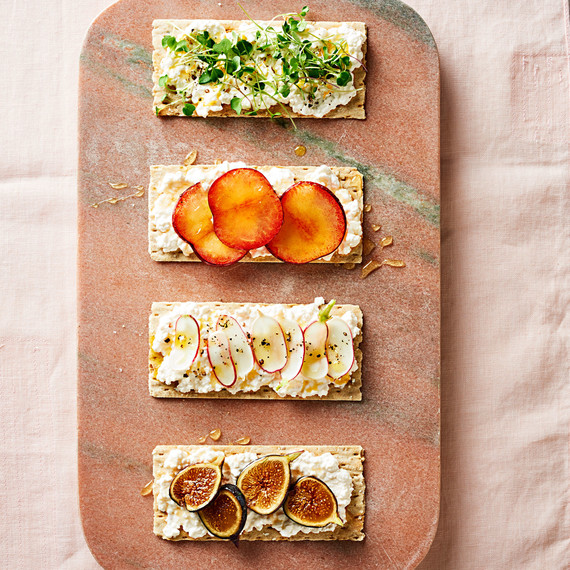 Sweet & Savory Cottage Cheese Tartines
My favorite no-cook snack! These crackers are endlessly riffable, low in calories but high in protein, and best of all, take five seconds to make.
Get the Sweet & Savory Cottage Cheese Tartines Recipe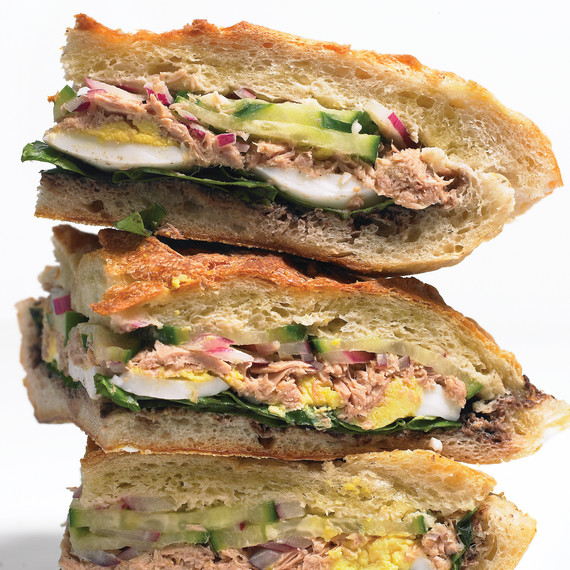 Lindsay Strand, assistant food editor
Tuna Niçoise Sandwich
During the summer, I love to pack sandwiches to eat on the riverside pier near my apartment. One of my favorites is a pan bagnat (French for a tuna Niçoise sandwich) made with chunks of good-quality jarred tuna and thick, crusty bread.
Get the Tuna Niçoise Sandwich Recipe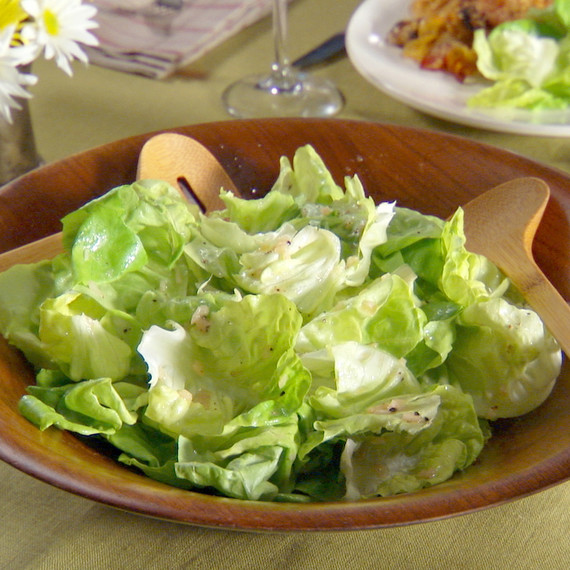 A Simple Green Salad + Store-bought Rotisserie Chicken
One of my other summer dinner rituals is picking up a rotisserie chicken from my favorite butcher and making a Parisian-style green salad: I toss crisp Gem and butter lettuces in a classic French vinaigrette. I mix the dressing in a Mason jar and have it on hand for the week. It's really tough to beat a simple French meal and a glass of rosé!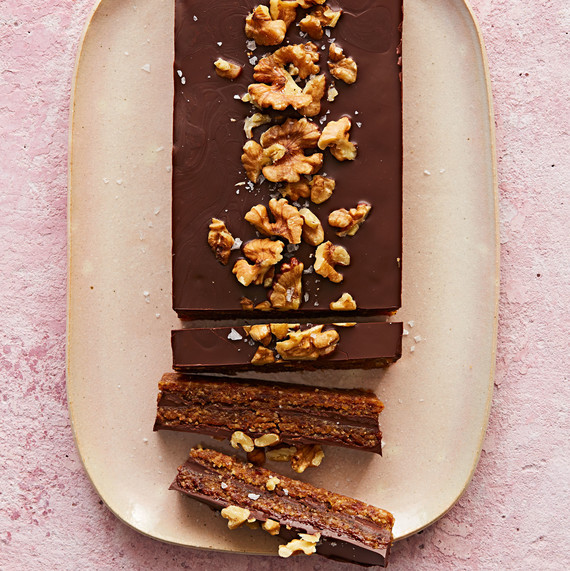 Kavita Thirupuvanam, test kitchen supervisor
Dark Chocolate-Walnut Date Bar
I recently made this dessert for my family out in California. I actually whipped up the bar the day before and froze it so that I could carry it on the plane, and it survived transit very well! It was the perfect addition to a small barbecue my brother hosted, and I know my cousins appreciated the homemade treat.
Get the Dark Chocolate-Walnut Date Bar Recipe
Watch how to make this fantastic no-bake dessert: