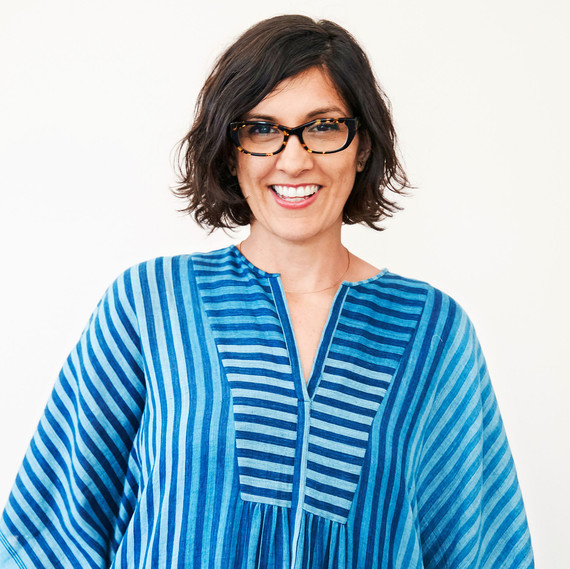 What's light, luxe, comfortable, and flattering enough to wear anywhere? A caftan by designer Monica Patel-Cohn, who has reimagined the shapeless cover-up as a chic essential that floats fluidly from pool to dinner party. The idea took hold after Patel-Cohn's wedding, when she fell in love with the traditional saris worn by her Indian relatives. She set out to create a western version and launched her line, Two, in 2010. Now the designer, who honed her fashion eye working for Barneys New York creative ambassador Simon Doonan, jets to India once a year to pick fabrics and work with artisans, including a women's cooperative and an indigo specialist, who hand-weave and dye the diaphanous cottons and silks. Her tops and pants are just as carefree and stunning, so beware: They may ruin you for the rest of your wardrobe. "I want to make things that feel heavenly," she says, "that you can't find anywhere else."
Patel-Cohn's Essentials
"My style mantra is comfortable and chic."
[SHOP: 7 Stylish and Sustainable Swimwear Brands We Love]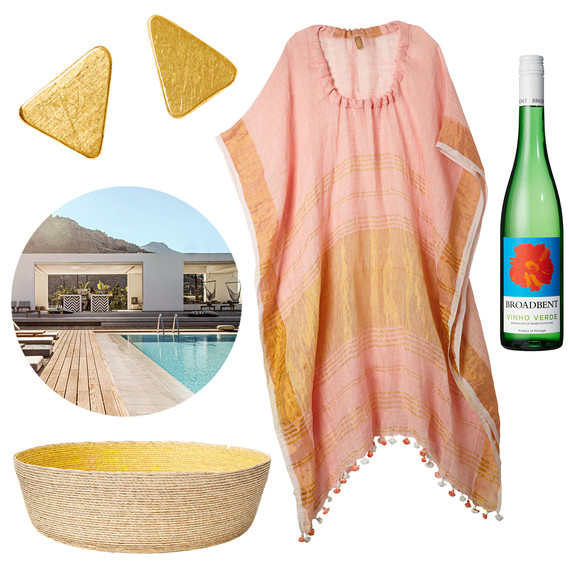 Jill Platner gold triangle studs, $530, jillplatner.com.
"I wear these every day. They make a statement without being fussy."
Casa Cook hotel, Kos, Greece, from $199 per night, casacook.com.
"It looks beautiful, and is on my bucket list of places to go with my family."
Two Pink Linen Pom Pom caftan, $432, twonewyork.com.
"This fabric has a great flow and drape. The drawstring neckline allows you to adjust how deep you want it to go."
"The fabric has to feel great and last, so you can wear them all summer long," says Patel-Cohn of her caftan designs.
Broadbent vinho verde, $12, astorwines.com.
"I'll throw it into a dish I'm cooking, like spaghetti with clams; then we'll drink the rest."
Nida basket, $36, makaua.com.
"There are colored baskets all over my house—near the couch, in the bathroom—to hold my knitting, magazines, and the list goes on."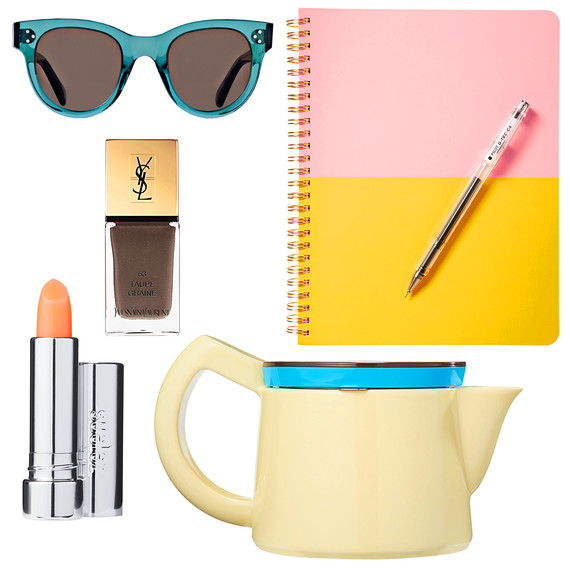 Zelens Lip Enhancer, $52, barneys.com.
"It plumps your lips and gives just a hint of color."
Céline sunglasses, $400, celine.com.
"I'm into teal, and the cat-eye shape is flattering."
Yves Saint Laurent nail polish, in Taupe Graine, $28, yslbeauty.com.
"I love this shade for my toes."
Ban.Dō Rough Draft notebook and Pilot G-Tec-C gel pen, Notebook, $12, bando.com. Pens, $10 for 3, staples.com.
"Notebooks are my weakness! And I learned about this pen from Simon Doonan. It has the best fine point."
Hay coffeepot, $69, store.moma.org.
"I brew Illy ground drip every morning in this fabulous pot, which serves two."
[SHOP: These 10 Staples to Shake Up Your Spring Wardrobe]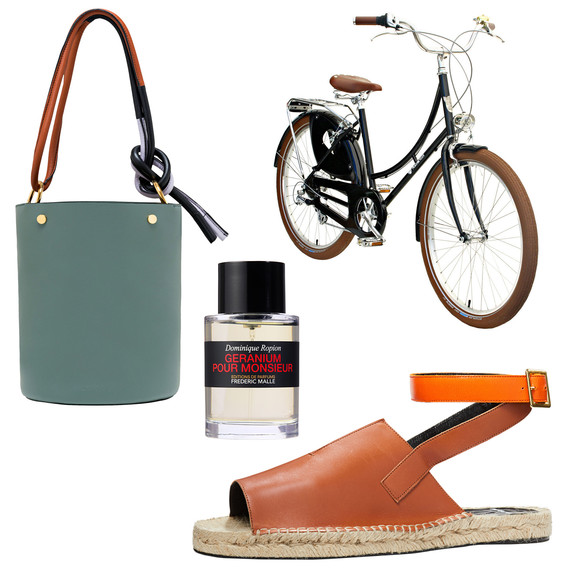 Peace Black Dreamer Step Through 7-Speed D bicycle, from $600, peacebicycles.com.
"When the weather's nice, I bike to work. It reminds me of being a kid in Italy in the summer."
Frederic Malle Geranium Pour Monsieur, from $192 for 50 ml, fredericmalle.com.
"It's a men's fragrance—not too flowery, not too spicy."
Marni bucket bag, $1,980, marni.com.
"The leather is beautiful, and the shape is modern. It holds everything I need."
Pierre Hardy sandals, $525, pierrehardy.com.
"These espadrilles are perfect with a caftan."