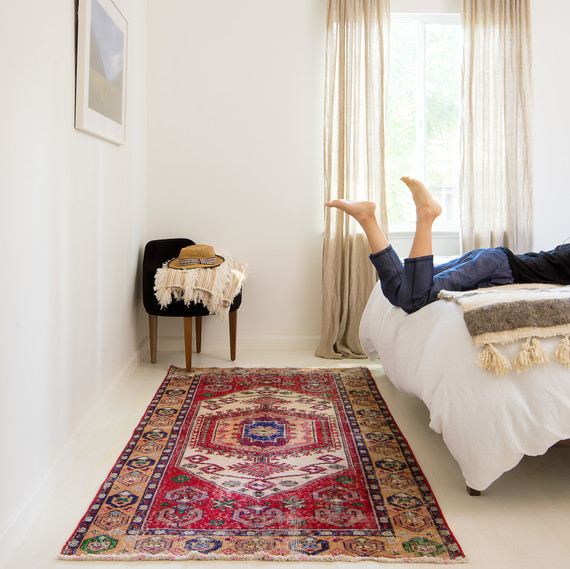 A vintage rug can bring life to any space. They're often rich in color and pattern, and celebrated as a statement piece. Yet, somehow they can also function as a neutral and complement many different aesthetics, even the more minimalistic. Every home could benefit from a beautiful antique rug, but shopping for one can feel a little daunting. How do you know what to look for or which ones are well-made? To answer these questions and more, we tapped three vintage rug experts. Here, they guide us through the process from perusing to making sure our purchase lasts a lifetime.
[LEARN: How to Buy Antiques and Vintage Online]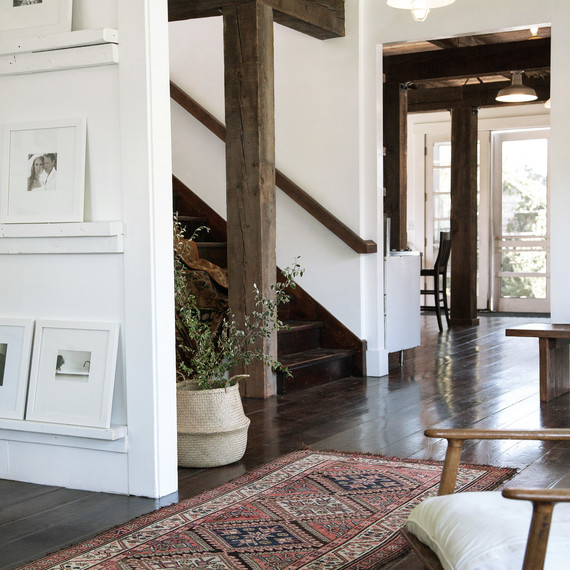 Narrow Down Your Search
Kelly Vittengl, the founder of the antique rug shop Frances Loom, believes that when decorating a space, it's best to either start or finish with a rug. "You should decorate around a rug or, buy one based on the furniture you already have," she says. "Pay attention to color schemes, whether you want saturated or unsaturated colors, a high or low pile, and the overall design." She recommends perusing Pinterest to figure out what you're drawn, so you'll have an idea of what to search for.
[TOUR: A Seaside Home With The Perfect Mix of Old and New]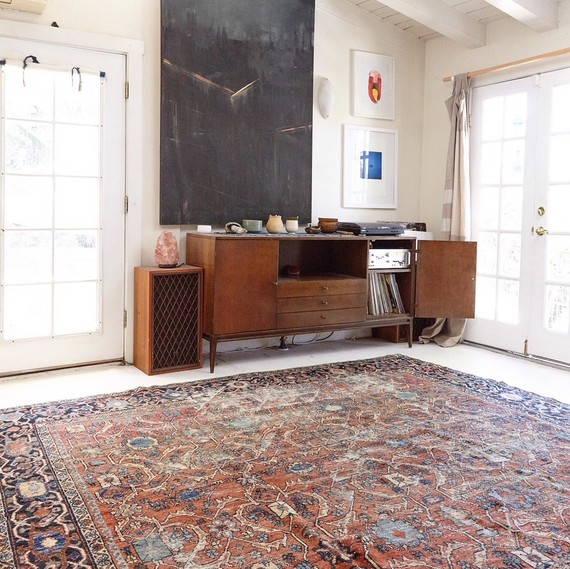 Measure Your Space
It's important to first get the dimensions of the room, so you'll have an idea of the shape and size you're looking for. Mikael Kennedy, the founder of King Kennedy Rugs, says there should always be at least six inches to a foot of space from the edge of the rug to the wall. "Never buy a rug the exact size of the room," she says. "Otherwise, it starts to move into wall-to-wall carpet territory, and that's not a good look."
[LEARN: How to Arrange a Living Room]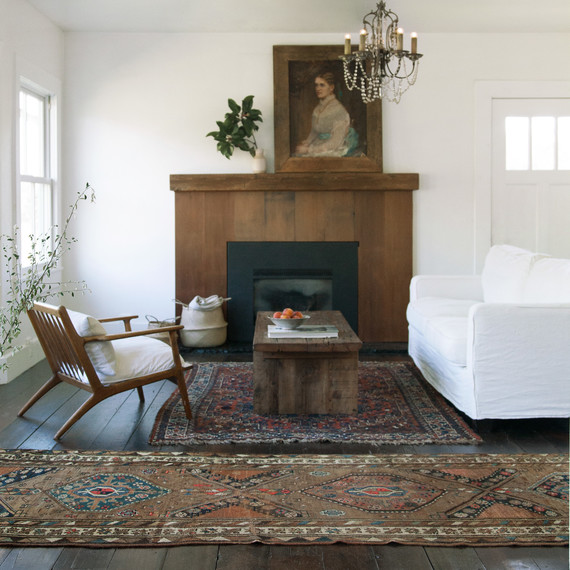 Understand it's Not Going To Be Perfect
Keep in mind that since antique rugs are hand-woven, the sizing may be imperfect. They also tend to run a bit longer and more narrow than modern rugs because they're based on the width of the loom. So, you may not find the exact dimensions you're looking for, but you can still make it work. "This presents really interesting opportunities for rug layering," says Joyce Kong, the head of product and cofounder of Revival Rugs. "[This technique] creates dimension, texture, and movement underfoot rather than just a solid block of color." If you fall in love with a rug that's too small, Vittengl says a great trick is to lay it on top of a jute rug.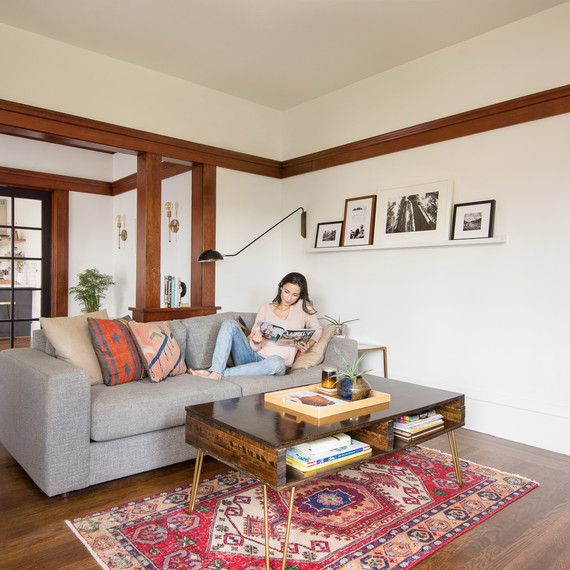 Origin Matters
Where a rug comes from is very important, stresses Kong, you want a piece with Middle Eastern origin. "Turkey is one of the first civilizations to develop weaving and certainly one of the most well-known to have honed the art," she says. "They're masters at their craft, which dates back centuries." Vittengl is drawn to Caucasian or Kazak rugs, both come from a region of Turkey where they typically have a more geometric design. Persian rugs, which are from Iran, are also very high-quality and steeped in tradition. Kennedy finds that Heriz pieces, which have a very strong pattern, sell very quickly. He also loves the subtler Mahal and Malayer rugs.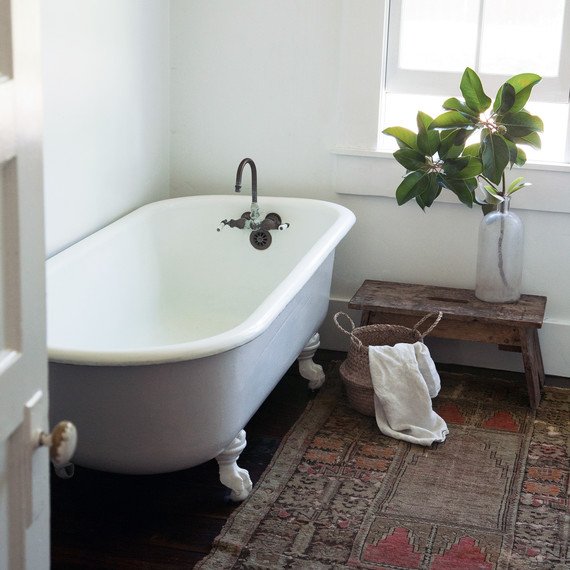 Look for Handwoven
You want to get a vintage or antique rug that's hand-woven. Look at the back of every piece to make sure it's not made by a machine, suggests Kennedy. "There are a lot of ways people are 'antiquing' rugs these days, like using chemicals and washes to make them look older than they are," he warns.
And, Handspun Too
To take it a step further, Kong says to not only make sure the rug is handwoven, but that the yarn is handspun as well. "Many rugs are handwoven, but a quality vintage rug will be from handspun yarn," she says. "The difference is texture, thickness, and consistency." If you lift a rug up, a handspun one will be much more substantial. Machine-spun yarn is made to be as thin as possible with a uniform width and texture, while handspun yarn has irregularities throughout that impact how it accepts dye.
"Handspun yarn is dyed in small batches, which translates to a beautiful watercolor effect referred to as 'abrash' and highly prized in the rug world," says Kong. In the past, all wool was handspun into yarn, but today almost all wool is machine-made. There are still small pockets of traditional weavers making handwoven rugs using techniques that have been passed down generationally, explains Kong, but the prices are prohibitively expensive. "A vintage rug is a fantastic way to buy a similarly beautiful heritage piece at a more accessible price."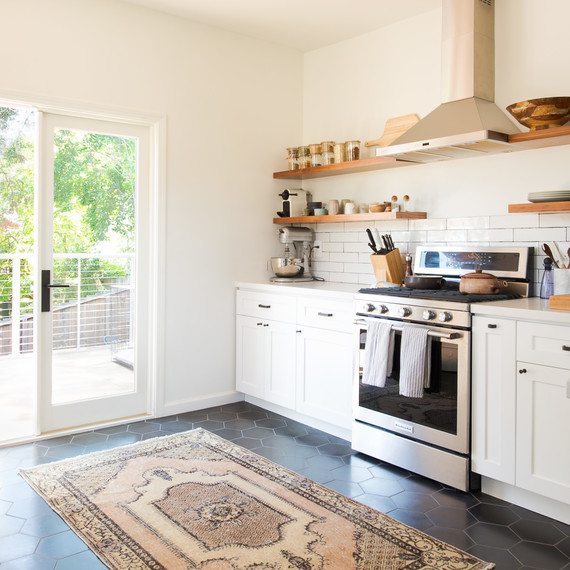 Embrace the Fade
"The irregularities in handspun yarn create a beautiful depth and dimension to color that's further enhanced by weathering and sun fading," says Kong. "It might sound contrary to logic, but significant fading is an indicator of quality and signals a long life ahead for that rug." Vittengl agrees: "I prefer more fading than not," she says. "You don't want the design completely lost, but having variations where color is brighter in some areas and threads are more exposed in some areas is the best part for me."
Know When to Pass
"Generally, there can't be too much fading, but there can definitely be too much wear," says Kennedy. "I like to be able to see the original design and pattern." But this is all based on preference, of course. Vittengl likes a bit of exposed foundation. "Seeing the warps, wefts or 'grid' of the rug can mute a too-strong color palette and create some pause in the rug's design," she says. "But anything more than a few light touches of exposed foundation is too much — a rug shouldn't look threadbare since it still has to serve a function in the home."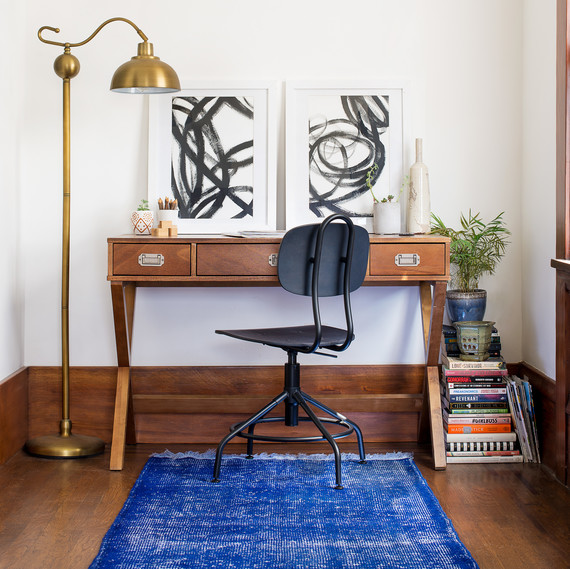 Vet the Seller
If you're buying online, Kong suggests doing some Googling and looking at customer reviews to make sure the products are authentic and that customers are happy. "If you're buying the rug from a shop, check it out in person and speak to the owner for a while," she says. "The more you research and interact, the more you'll trust that what you're buying is quality. And, by learning more about the rug, you'll appreciate what you've bought."
Go with Your Gut
All our experts agree that, really, the most important thing when buying an antique rug is that you love it. "In the end, nothing else really matters," says Kennedy. "Some of my favorite pieces would be considered trash to others—I've bought a rug out from under tools at a flea markets because I loved it." You should go with what draws you in. "Similar to buying art, a large part of finding the right rug is appreciating its design," says Kong. "Buy the rug your heart jumps for—it's what you'll be looking at and walking on every day."