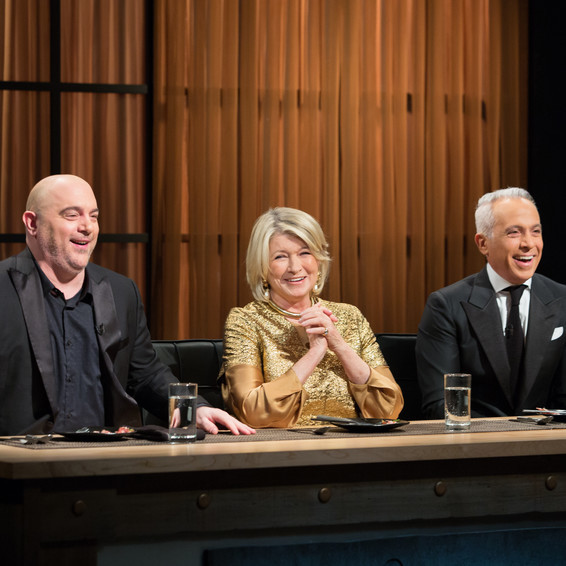 Would you be nervous to cook for Martha? Sure, our test kitchen does it all the time, but it's a completely different ball of wax for the contestants on Food Network's "Chopped": not only are they competing for a cash prize, but they don't even get to decide their ingredients. The chefs have to showcase whatever's in the mystery basket, which in the season premiere is all about high-end, top-dollar ingredients (so much so that the episode is titled "Million-Dollar Meals"). Word is the competitors will be working with a prized pork product for the appetizer round, making next-level burgers for the entrée, and baking showstopping cakes for dessert.
(GET: Martha's All-Time Favorite Burger Recipes)
How will each course go over with Martha and the other judges, celebrity chefs Geoffrey Zakarian and Chris Santos? As the newcomer, Martha's the wildcard. Everyone knows that she has high standards, but she's no food snob—Martha loves everything from a humble baked potato to said spud with caviar on top, so we can't wait to see how her appreciation for mixing high and low translates to the judging panel!
(TRY: Martha's Favorite Baked Potato Recipe)
"Chopped" premieres on Food Network Tuesday, June 5th at 9 P.M. ET/PT.
Watch a throwback video of Martha grilling Thai-spiced baby back ribs with fellow judge Chris Santos—it's just the thing for summer entertaining: