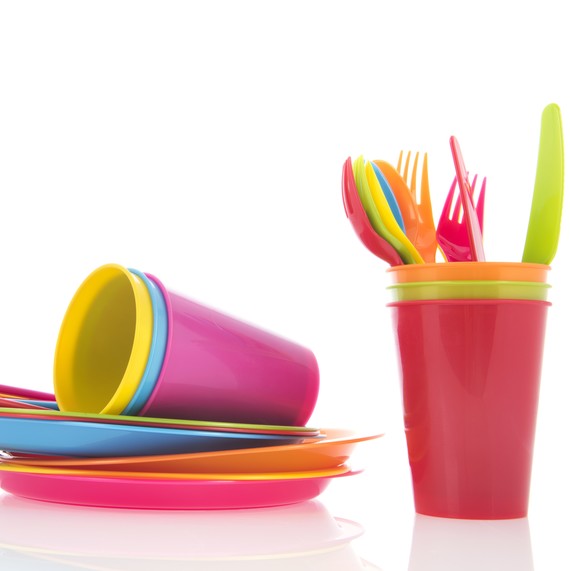 After the European Union proposed a ban on single-use plastics last spring, Bloomberg now reports that it's officially been approved. The new law, which will go into effect by 2021 across the EU's 28 member countries, was created as part of a growing global effort to combat plastic pollution. Along with plastic plates, cutlery, and straws, the ban would also include plastic cotton buds, drink stirrers, and food containers all of which make of 70% of pollution in the EU's waterways and coastlines. 
"Plastic waste is undeniably a big issue and Europeans need to act together to tackle the problem, because plastic waste ends up in our air, our soil, our oceans, and in our food," said first Vice-President Frans Timmermans in a statement. 
The EU plans to not only encourage member states to reduce their use of single-use plastic food containers and drink cups by offering consumers eco-alternatives, but will also seek to offer businesses sustainable alternatives when possible. Plastic producers will also be held more accountable for the disposal of their products by the enforcement of better waste management systems. 
Currently, over eight million tons of plastic is dumped into the world's oceans every year, according to the Plastic Oceans Foundation. As plastic pollution begins to break down, marine life can easily mistake the litter as food. Once ingested, these tiny pieces of plastic begin entering our food chain. According to the United Nations, approximately 700 species of marine wildlife have already consumes plastic from the ocean. 
The EU's ban also hopes to target other items that contribute to the larger pollution problem such as wet wipes and balloons, requiring these items to bear labels that warn consumers of the negative environmental impact.
And even though it will take a few years to take into effect, this step towards Europe's development of a circular economy is a big one. The ban alone could help keep out 3.4 million tons of CO2 out of the environment. The best news? You don't need to wait for a ban to start reducing your single-use plastics at home. Check out these ways to be eco-friendlier at home plus, four easy ways to pack a zero waste lunch.