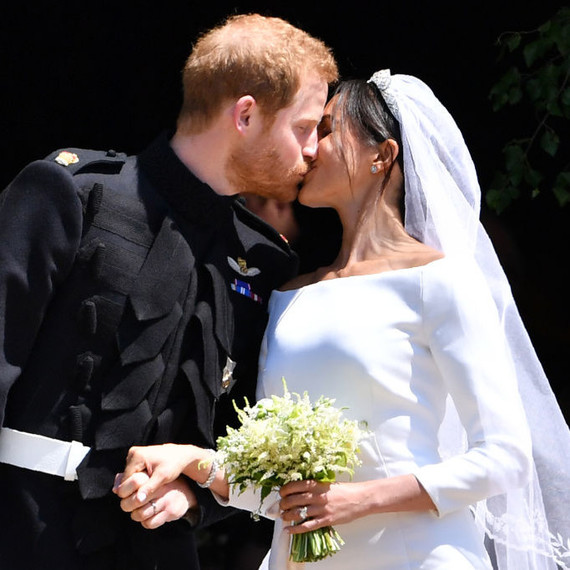 Some of the royal wedding flowers that adorned St. George's Chapel at Windsor Castle on Saturday for Meghan Markle wed Prince Harry's wedding have been sent to a new home: St. Joseph's Hospice in London.
The health care facility announced on Facebook on Sunday that the staff had just received the "very special delivery" of "beautiful bouquets made from the #royalwedding flowers."
Accompanying their announcement was a photo of a patient with her arms full of the greenery.
"A big thank you to Harry and Meghan and florist Philippa Craddock," St. Joseph's wrote. "Our hospice smells and looks gorgeous. Such a lovely gesture."
[SEE: How to Set a Formal Table Like Royalty]
Harry and Meghan's flowers carried special significance even before they were donated after this week's nuptials. Among the different kinds of plants were white garden roses, beloved by the late Princess Diana. (Meghan's wedding bouquet included a reference to her late mother-in-law as well, featuring forget-me-nots, another Diana favorite.)
[DON'T: Throw Out Your Wedding Bouquet! These Florists Will Recycle It]
The wedding arrangements also included branches of beech, birch and hornbeam as well as foxgloves and peonies.
Craddock, who has worked with Kensington Palace, British Vogue and fashion houses Alexander McQueen and Christian Dior, designed the floral displays at both the chapel and St. George's Hall, where a lunch receptionwas held Saturday immediately succeeding the ceremony.
She used seasonally appropriate flowers as well as those from gardens and parklands of The Crown Estate and Windsor Great Park, with designs meant to evoke the natural landscapes from which the plants were gathered, the palace previously said.
Among Craddock's  signature works at Saturday's wedding was the massive green archway — bursting with white blossoms and green leaves—around the church entrance.
"I am excited and honored to have been chosen by Prince Harry and Ms. Meghan Markle to create and design their wedding flowers," Craddock has said.
"Working with them has been an absolute pleasure. The process has been highly collaborative, free-flowing, creative and fun," she said, adding, "The final designs will represent them as a couple, which I always aim to achieve in my work, with local sourcing, seasonality and sustainability being at the forefront."
This article originally appeared on People.com by Adam Carlson.