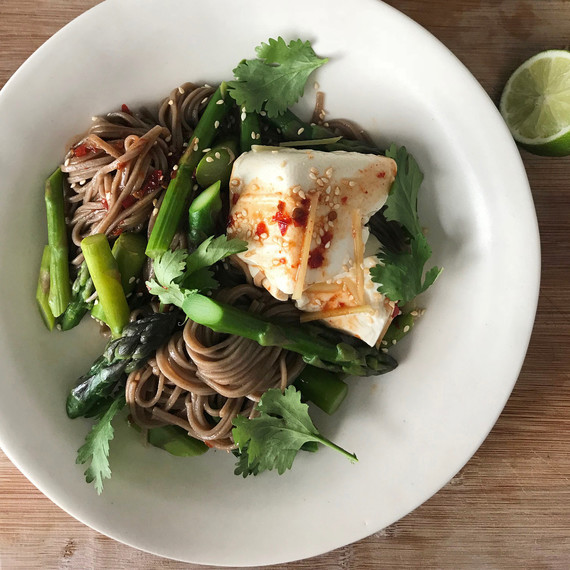 Tofu and I have come a long way—it was not on my mom's radar when I was growing up. I first sampled it at a hippie vegetarian spot during college, and as much as I wanted to love this inexpensive, plant-based protein, I just couldn't get with the flavor, or lack thereof. Luckily, most of my tofu complaints can be resolved with choosing the correct type and pairing that with the best cooking technique. I have to again thank my colleague, Lauryn Tyrell (and her macrobiotic childhood), for creating this simple, delicious weeknight bowl that will get you psyched to cook tofu.

Get the Soba-Noodle Bowl with Tofu Recipe
One of the reasons I love this recipe is that it uses my favorite type of tofu: silken. It's got a creamy, delicate consistency and doesn't need to be pressed. All you have to do is drain the liquid from the package—how's that for prep?! Because tofu is stored in water, it's best to flavor it in a mostly water-based marinade. (Remember how water and oil don't mix? You want the marinade and the tofu to be pals.) For this recipe, the tofu is gently warmed in a flavorful broth of fresh ginger, water, sesame oil, and a little salt. The end result is like a savory, better-for-you pudding, because it contains all essential amino acids. To serve, just spoon large pieces into each bowl.
Cooked soba noodles add heft and fiber, and they're a great option for people looking to avoid gluten. Pro tip: after draining cooked soba noodles, rinse them well under cold water. This will keep them from sticking together in a giant clump—and this instruction is rarely found on the back of the package. Also be prepared to dress them immediately in a bowl, which will provide even flavor and help keep the strands separate and light.
Steamed asparagus adds a nice hit of green and nutrients, but you could also use baby bok choy or sugar snap peas or a combination. The dressing is made up of ingredients you probably have at home: fresh lime juice, soy sauce (or tamari), chili sauce, honey (or light brown sugar), and toasted sesame oil. A quick garnish of toasted sesame seeds and fresh cilantro adds a fresh hit and sets this dish apart from heavy takeout.
Can't wait for you to be wowed by this uncomplicated dish.
Get the Soba-Noodle Bowl with Tofu Recipe
Tune in every Sunday for a new Healthy Appetite video from Shira Bocar.
Watch Shira make this quick and easy tofu-soba noodle dinner: