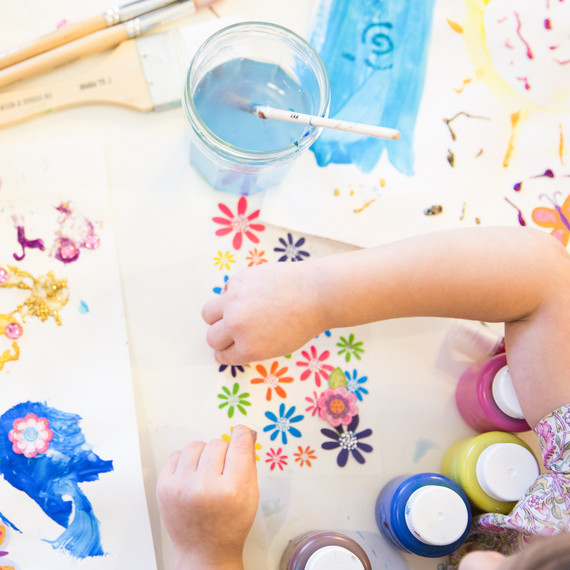 When it comes to life skills, there are few things as valuable as creativity. Studies have shown that engaging in creative activities can lower stress levels, boost critical thinking skills, and improve your mood. Sometimes, a creative mind pays off quite literally—an IBM poll of 1,500 CEOs identified creativity as the most important indicator of leadership potential.
Unfortunately, creativity scores among US children have been steadily declining since the 1990s. While some experts point to screen time and others blame changes to school curriculums, what's clear is that it's more important than ever to encourage little imaginations. After all, in the words of Albert Einstein, "Creativity is intelligence having fun."
Need a little play-time inspiration? We checked in with some creative moms on how they're raising their aspiring Mozarts and budding Picassos.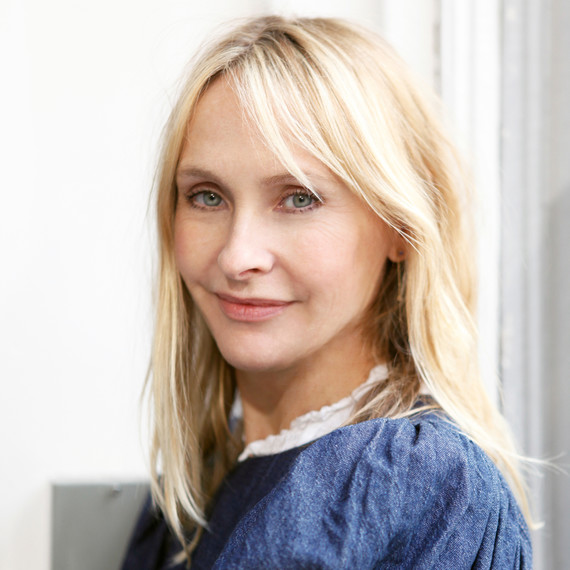 Rebecca Taylor
Fashion designer and mama-of-three Rebecca Taylor runs a pretty laidback household. Thanks to her husband, illustrator Wayne Pate, art supplies are never out of reach in their Brooklyn brownstone, and everyone is encouraged to get their hands dirty. "Everything in our household is free-form—structure has alluded me," she admits. "Except for bedtime—now that, I'm strict about. Mom needs her wine."
One of Taylor's favorite activities is making the most of the family's steady supply of Amazon packages. "Boxes are amazing for kids," she says. "We decoupage them, and make them into all kinds of different things. My son is obsessed with Legos right now, so he'll make whole villages out of Amazon boxes."
[GET INSPIRED: With These Decoupage Crafts]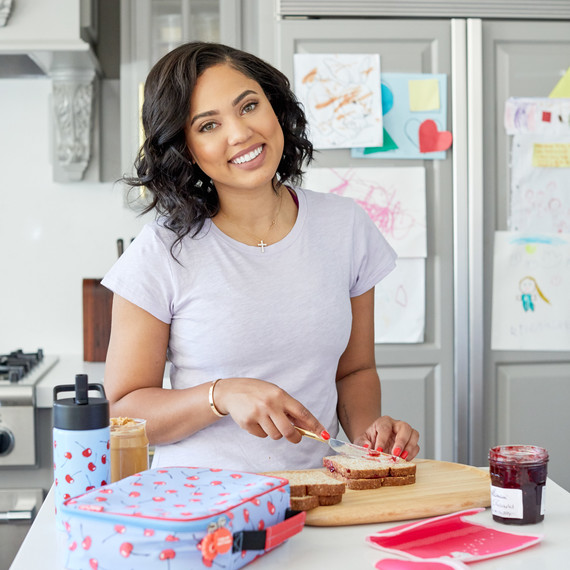 Ayesha Curry
The Curry kids' classmates are in for a treat when Career Day rolls around. Their dad, Stephen, is the Golden State Warriors' sharpshooter, while mom Ayesha is a Food Network host and bestselling cookbook author.
It remains to be seen whether their kids will inherit the basketball gene, but Ayesha is already encouraging daughters Riley, 6, and Ryan, 3, to get creative in the kitchen. "Cooking can be so much fun, so let go of some of the control in your kitchen and allow your children to join in," says Curry, who recently announced that baby number three is on the way. "At breakfast they can mix the pancake batter, or even let them crack an egg or two—eventually your eggs will be shell-free, and you've built cooking confidence in your little one."
Curry also enlists the girls' help for "tablescaping." "When the kids get bored or it's a rainy day, I take all of my recycled paper bags and lay them out on the table with buckets of markers, crayons, and chalk," she shares. "It creates a fun surface for them to express their creativity and makes them feel like they're decorating the table for dinner!"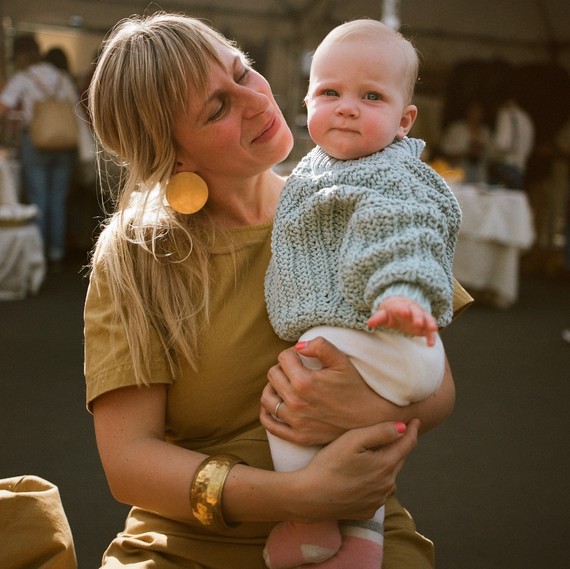 Lily Stockman
As a child, painter Lily Stockman enjoyed a free-range upbringing, rich with opportunities to be creative. "My three sisters and I grew up on a farm with a lot of animals and gardening and no TV," she says. "We were wildlings with a lot of room to roam and explore and be kids—always painting, making sets for plays, dressing up our corgis, helping our parents outside."
Today, Stockman is the cofounder of Los Angeles-based textile studio Block Shop, as well as a new mom. She's not wasting any time introducing 9-month-old Olympia to nature's possibilities. "We go on little hikes and we smell the flowers, point out the birds," she says. "She lights up as soon as we're outside, and I can see her little mind working as she notices everything around her."
Each Christmas, Lily is gifting Olympia a tool for her first tool kit. First up? A tiny wire hammer.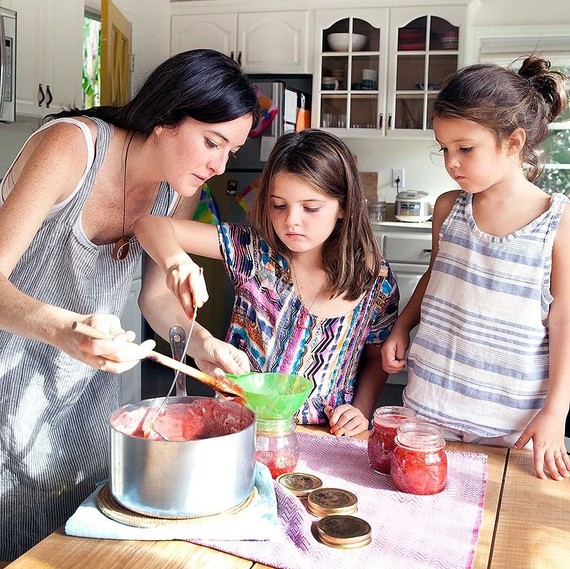 Michaele Simmering
As a mother of two young daughters, Michaele Simmering never leaves home without crayons and paper. "I try to always have drawing materials on hand,' says the co-founder of California-based design house Kalon Studios. "I like to encourage boredom and discourage passive entertainment like screens—I think creativity is fostered when we're left to our own devices."
DIY projects are important for the family—the girls design their own Halloween costumes, and are encouraged to think like makers instead of consumers. "We have a lot of conversations about where things come from and how they're made," says Simmering. "Once we realize that everything around us comes from somewhere and some person decided how it should look, it's a pretty quick leap to realizing we can make them ourselves, maybe we would make them differently."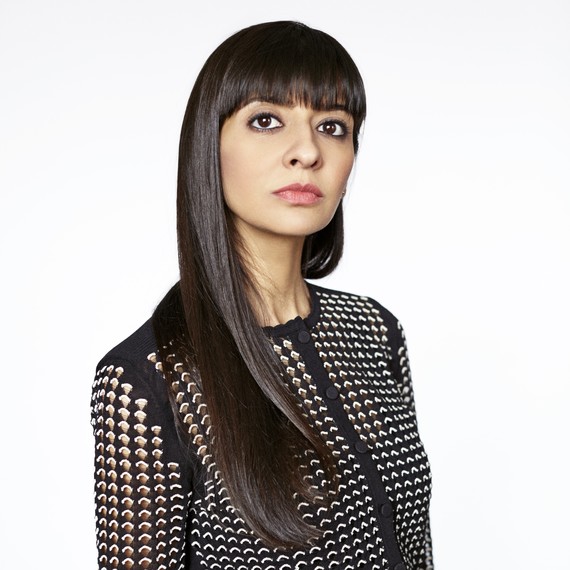 Kavi Moltz
When it comes to kids who are "so bored," Kavi Moltz has some sage advice. "It sounds harsh, but my trick is to ignore them for 10 minutes—it's magic," says the designer and mother of two. "They'll start playing together and using their imaginations."
Moltz is one half of the husband-and-wife team behind cult-fave fragrance collection D.S. & Durga. As the owner of a thriving business, it can be tough to completely unplug, but she makes sure to power down when Krishna, 7, and Coco, 5, return home from school. "I'll have a table set up with art supplies to spark their creativity," she says. "They like that it's waiting for them—it feels special."
[LEARN: How to Find Your Signature Scent]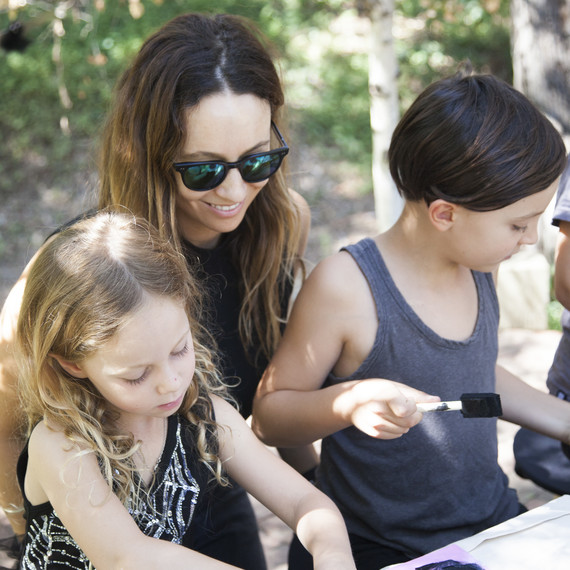 Jenni Kayne
At Jenni Kayne's breezy Los Angeles home, holidays are celebrated with crafts, and plenty of them. "We do different crafts every holiday," says the fashion designer, lifestyle blogger and mother of three. "From decorating Easter eggs and gingerbread houses to making our own ornaments and Valentine's and decorating around the house."
Summer brings plenty of opportunities to be creative with the kiddos, as well. "Every summer we pick wildflowers and make crowns or bundles with them," she says. "This past summer, we were really into beads and we made bracelets, anklets, and rings. This was fun for my kids, but also very meditative for me!"
[PARTY PREP: Jenni Kayne Shows Us How to Host A Memorable Night]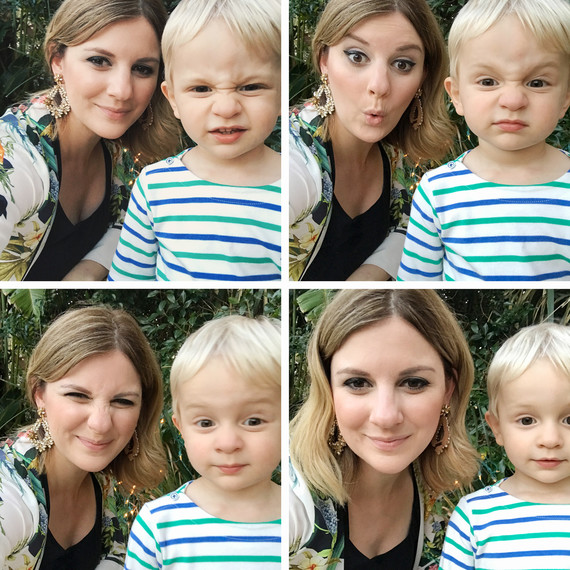 Anna Bond
Rifle Paper Co. founder Anna Bond is known for her charming illustrations and beloved stationery collection. But she's not the only artist in the family. Her two-year-old son, Ford, is well on his way to having his first exhibition. "I always pin up his latest art on a board in our kitchen to show him that it's meaningful to me," says Bond, who keeps a caddy stocked with crayons, construction paper, and sidewalk chalk. "I've been stashing favorites to create a gallery wall in his room."
Even when they're out and about in their hometown of Winter Park, Florida, Bond looks for opportunities to inspire future creations. "I do my best to encourage him to take in his surroundings, whether it's looking at the shape of a building or pointing out something I think is beautiful," she says. "I think being observant is one of the first steps to being creative."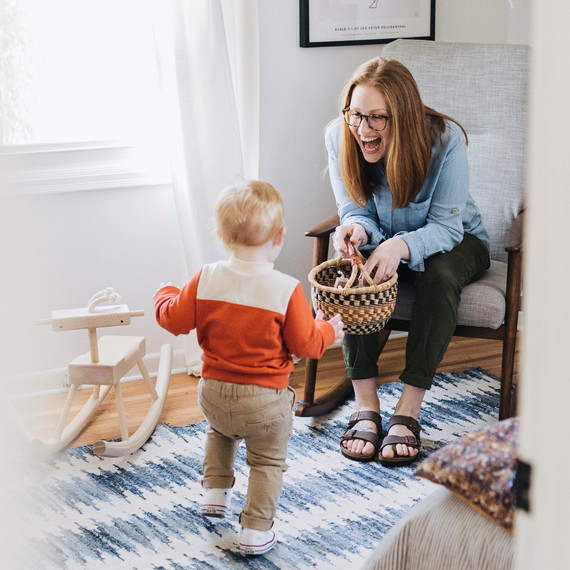 Brianna Heiligenthal
After a quick look through Brianna Heiligenthal's Instagram, it's hard to imagine that her children haven't inherited the creativity gene. With a sharp eye for interior design, some enviable nursery décor skills, and the best baby hats money can buy, the mother of two has amassed quite a following.
While her own aesthetic is keenly curated, she encourages 3-year-old Leo not to overthink his crafty pursuits. "Letting him take the wheel and not micromanaging has been really good for both of us, and it's really encouraged him to unfold creatively," says Heiligenthal. "He tends to fall into some perfectionist tendencies, and I've found that the more he lets loose creatively, the more he lets loose in all areas of life."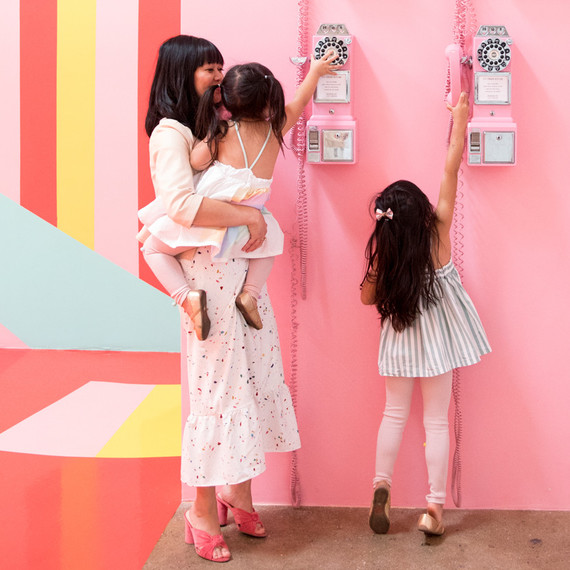 Joy Cho
Since launching her lifestyle blog, Oh Joy!, in 2005, designer Joy Cho has inspired the Internet to introduce art into the everyday. At home, the mother-of-two similarly encourages creativity—even when it's not easy. "Fostering creativity is something you have to actively work on and make a part of your home's culture," she says. "Getting creative can mean making messes, so it's more work for us, as parents, to implement—but very worth it."
One of Joy's top tips is always keeping a variety of affordable art supplies on hand. In addition to the traditional paints, fabrics, and pipe cleaners, she encourages the kids to get crafty with pasta, beans, food coloring, and other thrifty kitchen staples. For a twist, she limits craft supplies and gives the kids a challenge. "Try limiting them to one single material and asking them to create a specific item or scene from just that material," suggests Cho. "The creativity comes from when they need to make something soft from something hard, or vice versa. See how they create a solution from what they are given."
Even car rides can be creative, says Cho. "Something as simple as 'eye spy' is a great test of creativity," she shares. "Or, have every person in the car continue a story. One person starts and tells the beginning, the next person picks up and expands, and so on. You end up with a silly story that everyone played a part in creating!"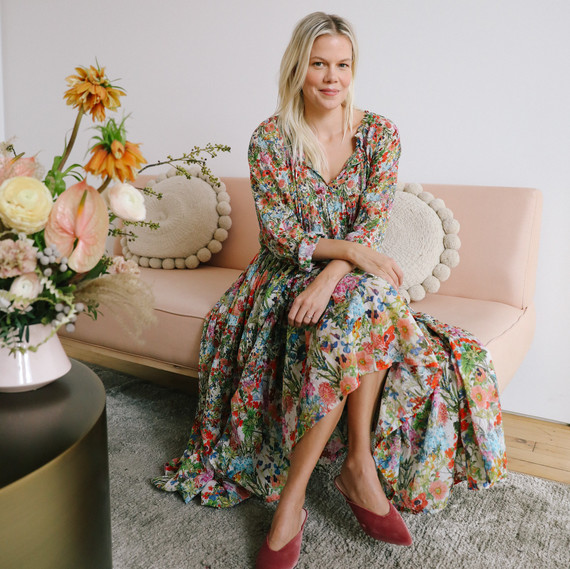 Jessie Randall
For Jessie Randall—the founder and designer behind accessories collection Loeffler Randall—creativity begins when the screens dim. Even during the most tempting of times, she tries to power down. "Limiting technology has been really important for our family," says the mother of three. "We don't allow technology when we're out at a restaurant—I'd rather bring a pack of playing cards or let them use their paper placemats to invent their own board games."
At home, she stocks the art cabinet, then takes a step back. "I really try not to have planned activities or get too involved in directing their creativity," she says. "I want them to be able to use their imagination to come up with their own ideas rather than relying on me to plan every activity."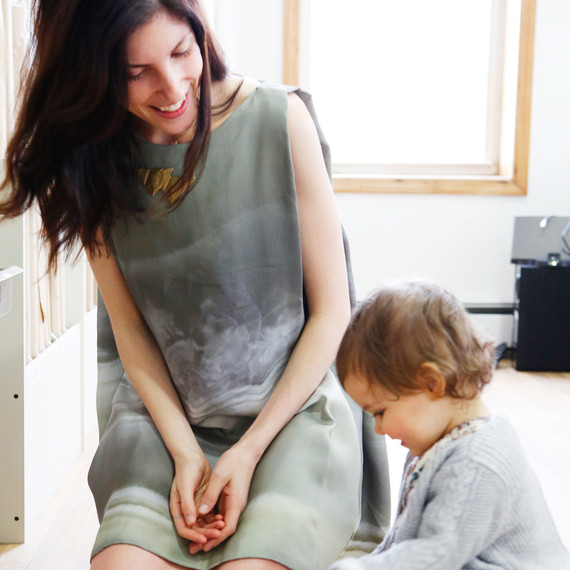 Rachel Cope
From a young age, Rachel Cope was surrounded by art. "My mother was an artist, and I think it really shaped who I am," says the founder of Calico Wallpaper, a bespoke collection of custom wallpaper. "We had a large studio at the house, and she taught me how to make handmade paper, how to batik—I was always, always making things."
Today, she's raising 3-year-old Willow and brand-new addition River in a similarly creative environment. "I bring Willow to my studio pretty often," says Cope. "Three-year-olds are exploding with creativity, so I try to be open to what she's interested in that day. I'll put out the paints, but she might decide she's a dancer. Or want to play with a box. And that's OK."
Although the family lives in Brooklyn, they recently purchased a home upstate so the children can take some creative cues from Mother Nature. "We hoping to let the kids run wild, and maybe install some kilns," she says.