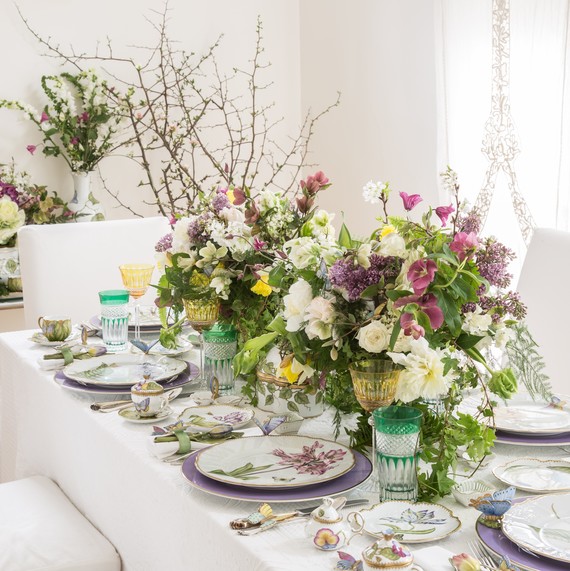 When Prince Harry and Ms. Meghan Markle set to wed on May 19, they had a clear vision in mind for their floral arrangements: garden flowers and plants, all locally-sourced. The royal couple chose floral designer Philippa Craddock to create the blooming displays at St. George's Chapel, where the ceremony will take place, and at St. George's Hall in Windsor Castle, where the Queen will host a luncheon for the newly married couple. According to Kensington Palace, the floral designer will forage foliage from the gardens and parklands of The Crown Estate and Windsor Great Park: think branches of beech, hornbeam, white garden roses, and peonies (said to be Markle's favorite).
But who is to say until the big day? That's why we turned to former White House florist Laura Dowling, and the author of "Floral Diplomacy at the White House," for her visionary predictions of the royal wedding, plus her expertise on how to set a beautiful table with showstopping floral arrangements.
[LEARN: 10 Traditions to Watch for at the Royal Wedding]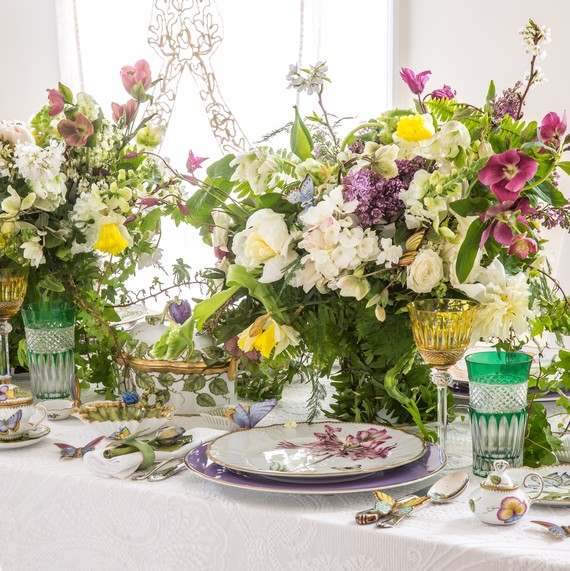 Her first prediction starts with the ceremony itself: "At the royal wedding, white and green flowers will be designed to evoke the British landscape—in a natural, garden style approach—with the goal of conveying a timeless, elegant aesthetic in the royal tradition," Dowling says. "Look for blooming branches (spirea, white cherry, etc.) and architectural arrangements of birch, beech, and hornbeam in large urns to add scale and depth to the ceremony displays."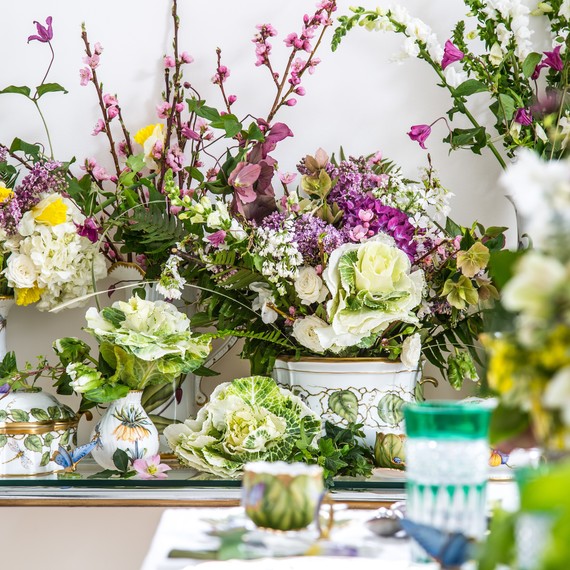 At the following reception, it's likely that the royal florist Phillappa Craddock will add other elements into the décor: "perhaps including incorporating fruit and vegetables in the designs. And we can most certainly expect to see lots of peonies everywhere!"
Similarly, in this fanciful floral tableau, Meghan Markle's favorite flower—the peony—takes center stage along with a variety of early spring blooms in a fresh palette of cream, green and lavender: garden roses, hydrangea, foxglove, daffodils, parrot tulips, kale cabbage, lilac, hellebores, clematis, spirea, and trailing ivy.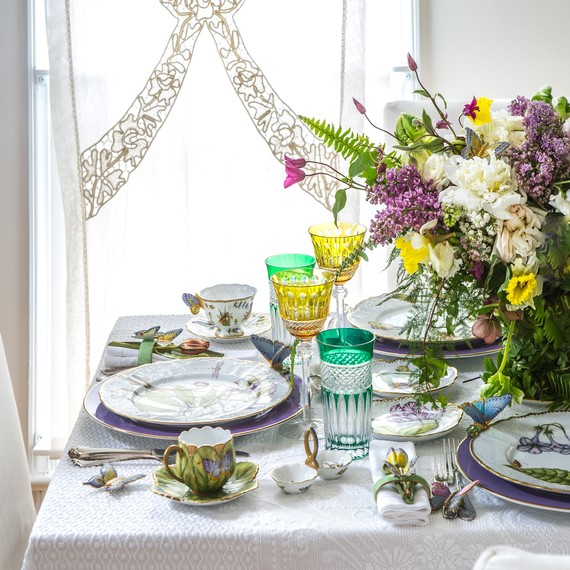 Setting a Royal Table
Members of the Royal family follow many rules of etiquette—from folding a napkin to holding the perfect cup of tea correctly. Once you've mastered them, you're well prepared to set a table befitting Prince Harry and his bride. Arrange for an opulent breakfast fête, and follow Dowling on how to style the table with a royalty-inspired garden aesthetic:
Keep it light 
"Use a matelassé or crisp linen table cloth in white to set a backdrop for the table settings and flowers and to carry out the wedding theme."
Bountiful botanicals
Create the lush feeling of an English garden setting by layering porcelain and accessories with botanical motifs—flowers, birds, and butterflies.  "For this table-setting, I used the exquisite porcelain hand-painted by Anna Weatherley (who has created place settings for former First Lady Laura Bush and for Buckingham Palace), including lilac chargers, and plates with different floral motifs," she says. "You can get the look for less with a little craftiness and creativity: cut out paper flowers and butterflies, and place them on and around gilt-rimmed white china for a similar botanical-inspired look."
More is more regarding dinnerware
"This is your chance to use all of your Downton Abbey-style accoutrements of gracious living," she says. Display your best antique silver, cut crystal, linens, and dinnerware. Otherwise, explore your local thrift store, antique shops, and flea markets for those vintage treasures.
Focus on flowers
"For any garden-themed fête, especially a royal wedding, the flowers should stand out as a focal point element," Dowling says. "Here, I've used a pair of matching spring bouquets of opulent seasonal flowers to create a sense of the garden blooming in spring. The vases of woodlands ferns make it appear as if the flowers are emerging from the natural landscape."
[HOST: A Right Regal Brunch With Our Royal Wedding Viewing Party Menu]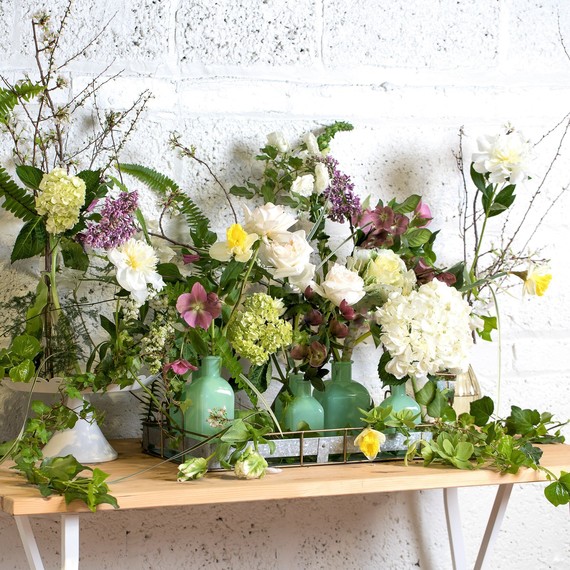 Arranging Your Royal Flowers
There is a reason that the garden-style of flower arranging never goes out of style, Dowling says. And it has to do with their versatility: "the flowers look equally beautiful whether presented in simple jars and milk glass containers or in an opulent collection of antique vermeil urns. And garden blooms are at home in rustic or formal settings, always conveying a sense of natural elegance." To create a royal-wedding inspired centerpiece, follow Dowling's steps:
Cover a small vase (here, I used a small white metal planter from Target) with woodland ferns, using a rubber band around the middle to hold the ferns in place.
Build a base layer of greenery using seasonal foliage (e.g., gardenia and camellia).
Add a few stems of blooming branches (such as white cherry, lilac, etc.) to create the outline of the bouquet.
Place the focal point flowers in and around the greenery—peonies, garden roses, hydrangea, etc.—continuing to build the shape and form of the bouquet.
Add accent elements, including the more delicate flowers such as tulips, daffodils, clematis and hellebores to create additional texture and depth. Place some of these flowers at the edge to trail down, while cutting some stems longer so that the flowers appear to be floating above the arrangement like "butterflies."
Tuck in additional ferns and add trailing ivy as a finishing touch.
Feeling inspired? Watch how to create equally beautiful decoupaged floral trays: