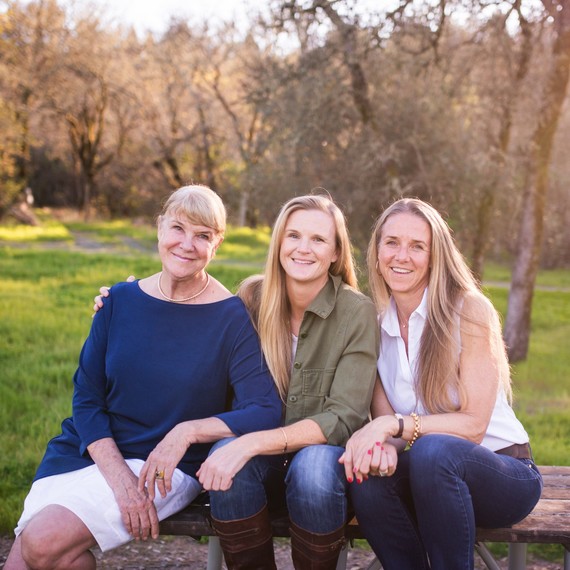 Flowers and cards are very nice, but what Mom really deserves this Mother's Day is a beautiful bottle of wine. Consider treating the mamas in your life to wines made by these inspiring American mother-daughter teams. We're proud to share their stories.
(GET: Our Gift Ideas for the Food-Loving Mom)
Robin, Erin, and Shannon Lail, Lail Vineyards
Robin Lail's family has been making fine wine in California since 1879—and she is proud to carry on her family's legacy into the 21st century as the visionary and pioneer behind Napa Valley's Lail Vineyards. After a successful career holding prestigious roles in iconic wineries like Merryvale Vineyards and Dominus, she struck out on her own and founded Lail Vineyards in 1995 alongside her daughters Shannon and Erin, which made them the fifth generation of the Lail family in the wine business. They bring fresh eyes and approaches to problem-solving, and new energy to the face of the brand. The ladies agree that the best part of working together is sharing a common language of excellence, respect, and innovation: "We all feel deeply faithful to the family legacy and honored to move that forward."
As you might expect, mother-daughter dynamics are put to the test when business enters the equation—but it's happily been smooth sailing for the Lail ladies. For Robin, collaborating with her daughters is a dream. She says, "When Erin, Shannon, and I work together at events there is a burst of magic which springs from our unity and fever. We share goals and benefit from the collective of our unique ideas. The girls are always a source of encouragement, light, and energy for me!" Shannon holds the same view: "My mom has always been passionate, but this business flows through her like an electrical current. When she is bringing the experience of wine to people, it is driven purely through love and pride, not profit."
Try Their Wine: Lail Vineyards Blueprint Cabernet Sauvignon, $80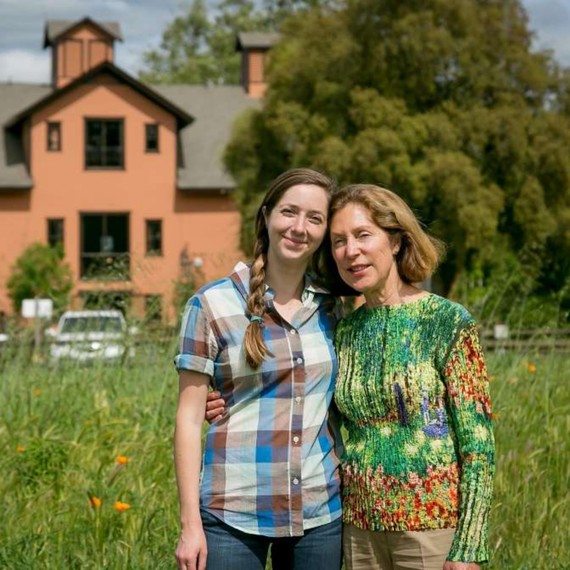 Janet and Hailey Trefethen, Trefethen Family Vineyards
The Trefethen family are true Napa Valley pioneers: they produced their first wine in 1973 when the iconic American wine region was still in its infancy. After only three years, they were winning top honors and wine competitions worldwide for their Chardonnay, putting them on the map as a first-class wine producer. As one of the co-founders, Janet Trefethen has worked in almost every aspect of developing and building the Trefethen Vineyards brand, spearheading both U.S. and international sales, plus the marketing and culinary programs. These days, she still travels around the world representing the winery and sharing their story with sommeliers and consumers.
Daughter Hailey inherited her mother's love of wine and graduated from Santa Clara University with a degree in biological anthropology—and now works full time as an active member of the winery and vineyard team. One project close to her heart has been working on a comprehensive restoration of the family's historic winery building, which was severely damaged in the 2014 Napa earthquake. It reopened in May 2017, on the eve of the winery's 50th anniversary.
The mutual admiration between mother and daughter has grown as Hailey has grown into the business. "My mom is an idea woman (and an energizer bunny), and I'm a get-it-done woman," says Hailey. "When I worked with her in our marketing department, I had trouble keeping up with all of her ideas!" And nurturing her daughter's professional development has been incredibly rewarding for Janet: "I have always believed that as parents, our responsibility is to give our children strong roots so they can develop their wings. Hailey's continued expansion and breadth of her wings continues to surprise and delight me."
Try Their Wine: Trefethen Chardonnay 2016, $38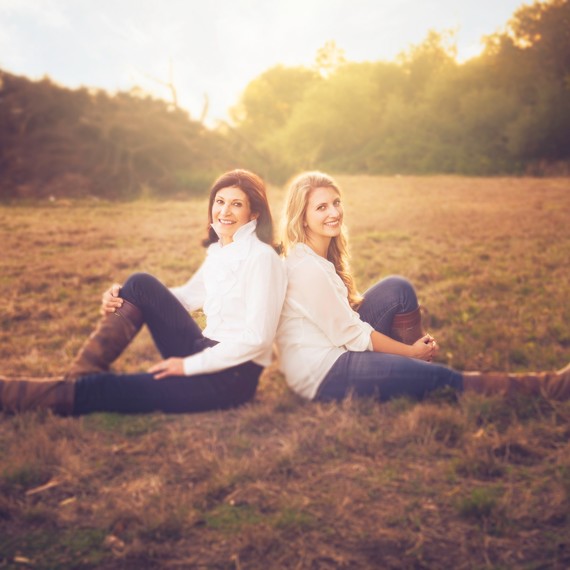 Rickey Trombetta Stancliff and Erica Stancliff, Trombetta Family Wines
Rickey Trombetta Stancliff and her daughter Erica started as home winemakers in Forestville, Sonoma County. After Erica graduated from Fresno State with her B.S. in enology in 2010, they started Trombetta Family Wines. Today the winery is focused on Chardonnay and pinot noir from small premium sites in Sonoma County, all hand-harvested and limited-production. As the winemaker, Erica walks the vineyards, handles grower relations, presides over the harvest, and is in charge of everything that happens from grape to bottle. Rickey heads up sales, marketing, hospitality, events, and distributor relationships.
Rickey says it's their complementary skill sets that make their working relationship so fruitful: "I have years of experience in the wine industry working in sales, marketing, hospitality and event planning, while Erica has the production and technical background to make the wine and the palate for sensory evaluation. And Erica is also a big help in the kitchen. She has a very sensitive palate and is able to help me with adjusting seasonings in the dishes I make."
Of course it's not without its challenges. Erica says, "we are business partners, but Rickey is also my mother. Mostly we have learned how to respect each other's opinions even if we don't agree." Rickey understands that having a finger on the pulse of her daughter's generation is essential to the future of the business: "Erica's age group has a different lens than my age group. It helps us approach problems from other angles. It is exciting to watch her grow as an adult. Listening to Erica make presentations, sit on panel discussions, and meet and greet customers makes me so proud of the smart, beautiful, articulate woman she is."
Try Their Wine: Trombetta Family Wines Gaps Crown Pinot Noir 2014, $65
Heidi and Remi Barrett, La Sirena Wines
Napa Valley legend Heidi Peterson Barrett's accomplishments include creating some of Napa's most famous wines (Screaming Eagle, Dalla Valle, Grace Family, Paradigm), earning five perfect 100-point scores for her wines in the span of just a few years, setting a world record for the highest price ever paid for a single bottle of wine ($500,000 for a 6L of 1992 Screaming Eagle at the Napa Valley Wine Auction in 2000), and finally starting her own brand, La Sirena, in 1994. Having her own brand is something Heidi treasures, as it allows her to explore and express herself through her work, while also giving her fans the delicious wines they have come to expect from her. Her daughter Remi started working at La Sirena in 2010 and handles sales and marketing for the winery. 
Remi finds that the innate trust that exists between a mother and daughter makes working together a smooth process: "I think we share a common vision when it comes to what we want La Sirena to be, and are really in tune with each other when it comes to business-related decisions. We have total trust in each other and communicate really well when it comes to how to run the brand and what we should do next." When asked about the ups and downs of being work colleagues, Remi says, "the best part of working together is getting to have fun and spend time together while also working on something we really care about. I think the biggest challenge is just finding enough time to handle everything that needs to get done when running a small business. I've also definitely gained a new respect for what my mom has done over her career."
Try Their Wine: La Sirena Moscato Azul 2017, $30  
(READ: About These Other Women Winemakers)