Whether you're looking to clarify your skincare routine, or make the switch for environmental reasons, opting for all-natural deodorants is no longer just for tree-huggers. However, if you've tried the switch already only to still find your underarms damp or catch an unpleasant whiff, you may be skipping an important step (hint: exfoliate, moisturize, repeat!). 
From finding what works best for your body, to what the heck an armpit detox is about, we've got all the answers to your questions about going all-natural underneath. 
Are Antiperspirants and Deodorants the same thing?
For starters, let's set the record straight: yes, there is a difference. "Deodorants mask the odor, while antiperspirants stop your sweat glands from producing sweat," explains Dr. Nava Greenfield, a dermatologist at Schweiger Dermatology Group in New York. And while all antiperspirants may be deodorants, not all deodorants are antiperspirants, according to Susan Biehle-Hulette, a senior scientist at Secret.
[READ: All About The Epic Self-Care Routine You Need]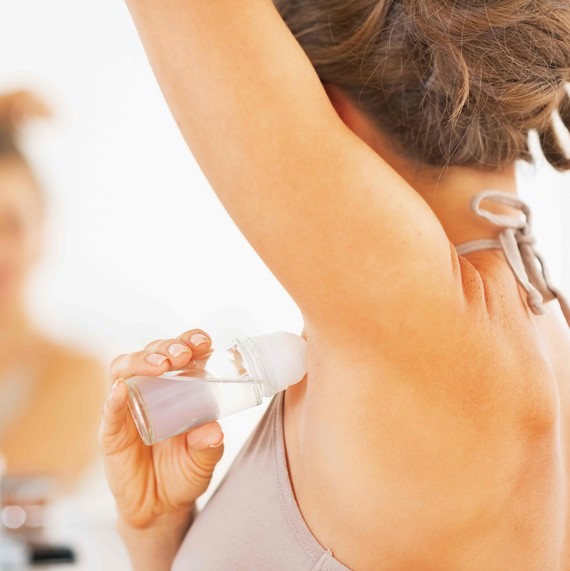 Which one is better?
"It really depends on the person and their needs," says Dr. Greenfield. To find your best fit—especially if you have sensitive skin—she recommends always checking the ingredient list. Look for common irritant culprits in your deodorant (often from the fragrance) like propylene glycol, formaldehyde, geraniol, linalool, carboxaldehyde, benzyl salicylate. 
When it comes to antiperspirants, most traditional products have aluminum-based compounds that create temporary "plugs" that stop you from sweating. And despite claims that these products may be linked to breast cancer, the National Cancer Institute states that there is no conclusive evidence to prove this. "It's such a small amount of aluminum that stays in the sweat glands," says Dr. Greenfield. "And it's not being absorbed by the body in a large enough amount that could cause harmful effects."
As for choosing between sticks, creams, roll-ons and sprays, here's Dr. Greenfield's word to the wise: "Deodorant doesn't belong in your lungs. If you can, stay away from sprays." 
What exactly does "all-natural" really mean? 
In most cases, it means "aluminum-free." Instead, many all-natural alternatives contain either baking soda or dietary magnesium as a main ingredient with arrowroot to help absorb moisture. In addition, you may find shea butter in the mix as well as natural oils like sunflower, lavender, or lemongrass for fragrance. 
[CHECK OUT: 11 New Natural Beauty Products We're Loving This Spring]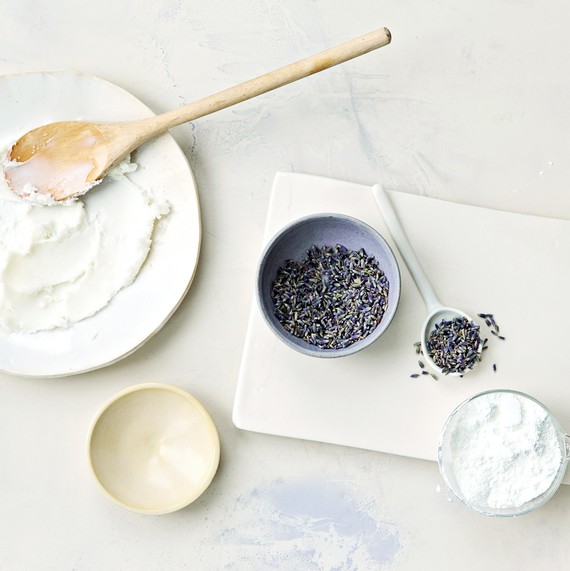 How should I switch over? 
If you've decided you want to trade in your old stick, keep in mind that you may need to tweak your body care routine to make the transition a smooth one. While it's not medically-backed, some natural deodorant users swear by an armpit detox when first ditching a conventional brand. This detox can help unclog any residual chemicals the area has accumulated before you introduce a new kind of deodorant (think of it as a clean start). Katie Wells of natural living blog, Wellness Mama, recommends this simple mixture of bentonite clay, apple cider vinegar, and a bit of water to make the mask. 
If the idea of an armpit detox isn't for you, don't sweat it. Tara Pelletier, of Meow Meow Tweet says, "The body is detoxing all of the time. Sweating is natural and part of your body's detoxification." If you find that your natural deodorant isn't working as well at first, she suggests exfoliating your armpits once a week. "You can use a washcloth or a gently body scrub with oat flour (mix flour 1-to-1 with oil or water)." Then, moisturize daily with an unscented oil, like coconut, to help with absorption. 
Ready to swap? Here are some of our favorite all-natural deodorants: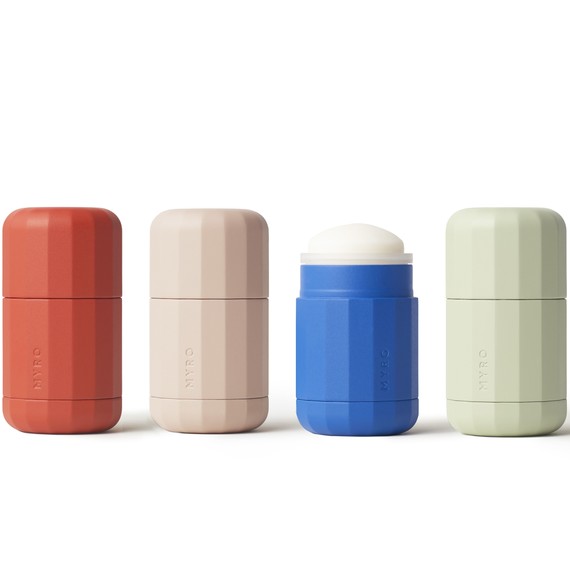 MYRO
Not only is Myro on a mission to make you smell better and keep you dryer, but they're also working to fight plastic waste. With a sleek and stylish container and refillable, recyclable deodorant pods, Myro's easy-glide sticks use 50% less plastic than their average drugstore counterparts. And their anti-odor formula? It's powered by plants, such as barley powder, to help absorb moisture. Plus, it doesn't contain any artificial colors, synthetic fragrances, or harmful additives. Snag your starter kit for just $10 by choosing one of five cute container colors and heavenly scents, like Solar Flare, an invigorating mix of fresh citrus and juniper. And, so you can finally stop sweating the small (sweaty) stuff, Myro lets you subscribe to quarterly refills, delivered straight to your door. Starter kit (container case and one deodorant pod), $10, mymyro.com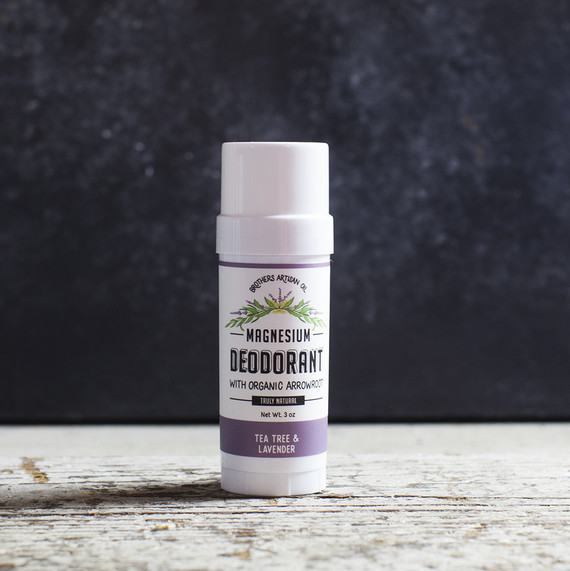 Brothers Artisan Oil
If you're after a subtle scent that leaves your senses (and underarms!) soothed all day, we love these Massachusette makers' Magnesium Stick Deodorant in Tea Tree & Lavender. It's free of baking soda, aluminum, and fragrance oils if you have extra-sensitive skin. Instead, it uses organic arrowroot powder to soak up wetness and kaolin clay which acts as a natural pit-purifier. Not a lavender-lover? Their deodorizers also come in other scents like Eucalyptus & Lime and Fir Needle & Cedar. 3.oz tube, $24, brothersartisanoil.com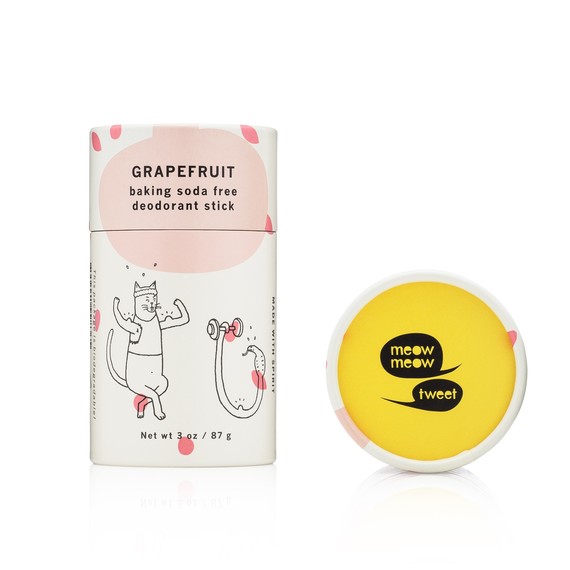 Meow Meow Tweet
We don't just love this Brooklyn-based apothecary for their down-to-earth skin care, but also for their mindful packaging (deodorant sticks come in biodegradable tubes). If you want to stay smelling extra fresh this season, consider their Baking Soda Free Deodorant Stick in a delightul Grapefruit. Organic and fair trade coconut oil, arrowroot powder, and magnesium help keep you clean and dry, while subtle infusions of sweet citrus notes will have you in a summer mood with every swipe. Also available in a baking soda based version, Rose Geranium and Cedar Spruce scents, as well as travel sized sticks for your on-the-go needs. 3.oz tube, $20, meowmeowtweet.com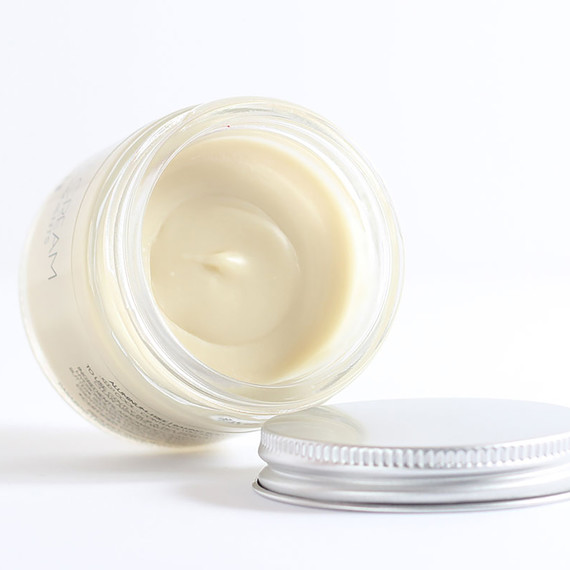 Little Seed Farm
If you're new to cream deodorants— the formulations come in ideal portable glass jars, perfect for reusing once empty—Little Seed Farm's Deodorant Cream is a great place to start. This organic arrowroot-based deodorant also includes organic coconut oil, jojoba oil, and beeswax while leaving out baking soda, aluminum, parabens, GMOs, and any synthetic ingredients. Snag it unscented if you're especially fragrance-sensitive, or in Activated Charcoal, Grapefruit Lemon, Lavender, or Rosmary Patchouli. Plus, a little goes a long way; simple rub a pea-sized amount in between your index and thumb and apply to underarm area to for 24-hour coverage. If you want to keep it finger-free, their jars also come with a small wooden scoop stick for easy application.  2.4.oz jar, $14, littleseedfarm.com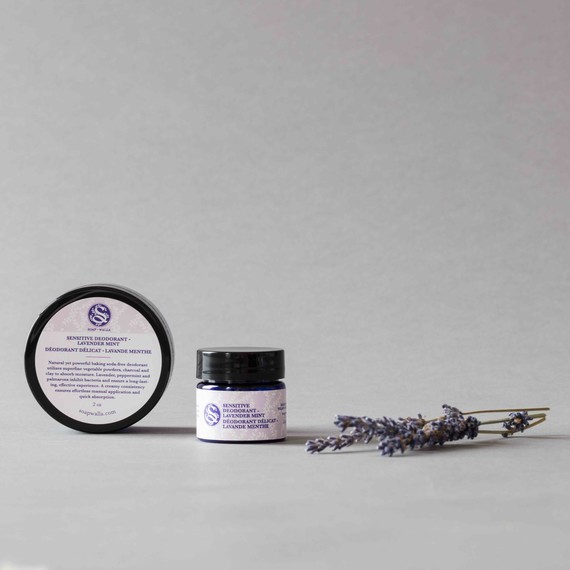 Soapwalla
Talk about an all-purpose pit-pleaser! This New York skin care line's Sensitive Skin Deodorant Cream in Lavender Mint features club moss and charcoal to soak up your moist spots; shea butter and jojoba to keep your skin extra-soft; and certified organic palmarosa essential oils to keep you clean from microbes and bacteria. You can even stock up and save by subscribing to ensure a fresh delivery every 30 days to keep you dry every season. 2 oz. jar, $16, soapwalla.com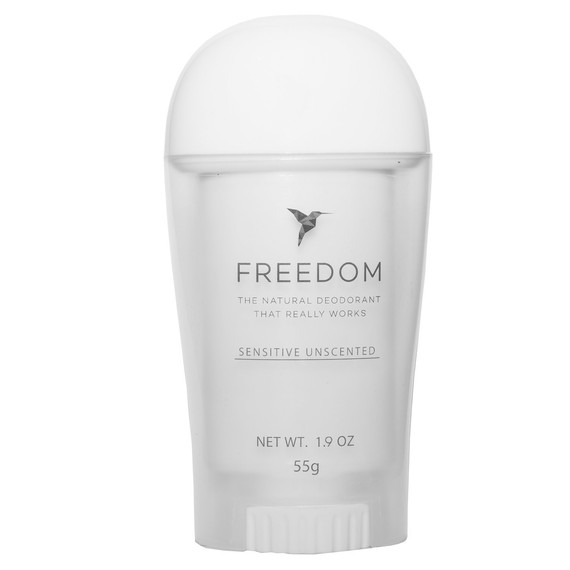 FREEDOM
Created by mother-of-three and natural-health advocate, Ira Kaganovsky, this deodorant is made entirely with food grade ingredients. (Read: it's safe enough to eat, though she wouldn't recommend it!). First inspired to launch the line after three of her friends were diagnosed with breast cancer, Kaganovsky tells us: "What surprised me the most was that doctors weren't saying to eat more greens or run more to be healthy. They said to switch to more natural products! Did you know that most common antiperspirants are actually classified as a drug by the FDA? I don't want people to think they're putting drugs on their body. I just wanted them to be putting on deodorant." To help make "natural more normal", her sticks use minimal ingredients: arrowroot powder, shea butter, beeswax, coconut oil, and kaoline clay. Try on her personal fave, Bergamont Mint, or one of three other fresh scents. Plus, every purchase gives back to the American Cancer Society. $1.9 oz, $17.25, freedomdeodorant.com