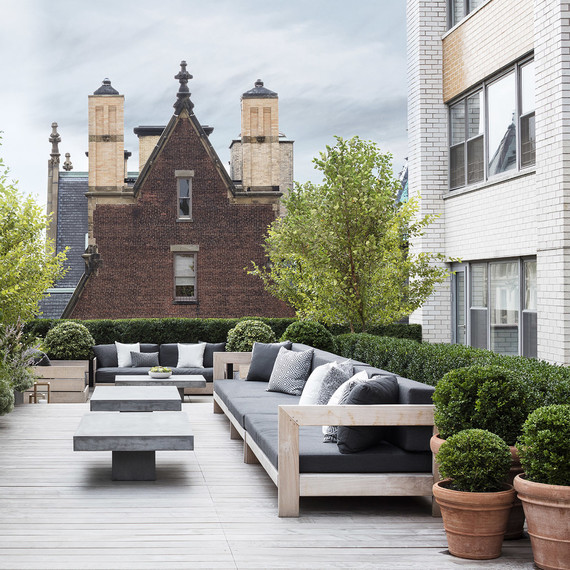 Our goal for spring and summer 2018 (and beyond) is to spend as much time outside as possible, weather permitting. So, if your outdoor space needs a little sprucing up after the long winter, whether you have a wild backyard, a rooftop terrace or a pot-filled patio, now is the time to get your hands dirty. But before you head to your local nursery and begin planting, we're offering up some garden design inspiration from some of the country's top landscapers. Consider these landscaping guidelines when updating your yard and your guests are sure to be impressed at your first garden party.
[PREP: How to Throw the Perfect Outdoor Party]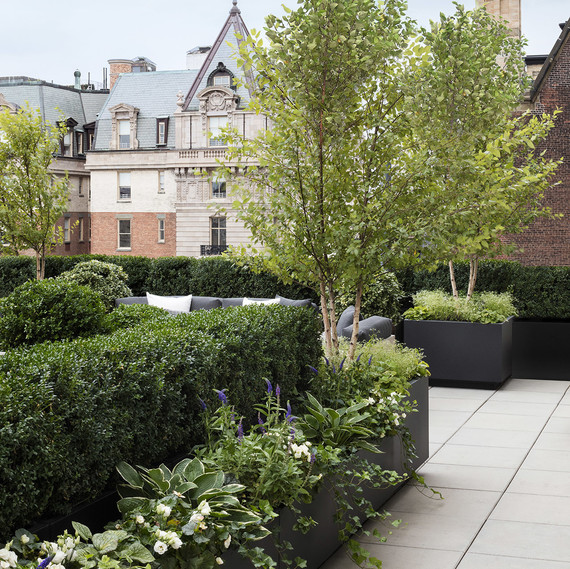 Figure Out What You Want From Your Space
When beginning a new project, landscape designers generally ask the same question: What do you want to get out of your space? This is how you should approach your own yard as well, when adding new plant arrangements or starting from scratch. Kathleen Ferguson, of Kathleen Ferguson Landscapes in Los Angeles, says it's important to figure out if you want to be an active participant with the landscape or if you prefer a more passive, visual experience. "Do you like to cook? Entertain large parties? Or do you need a more calm and reflective space?" she asks. "These answers will be the spring point of almost every design." For the garden above, the goal of New York landscape designer Jacqueline Harrison of Harrison Green's client was to have a space to relax and entertain in the summer. "The client uses the terrace spring through fall, but also looks out from her apartment onto it year-round, so it was important for the garden to have interest 365 days a year," says Harrison. "The strong backbone of boxwood hedges are evergreen, while river birch trees provide height and shade in the warmer months." At the front of the terrace where it is mostly shaded, Harrison used Francee Hosta, Jack Frost, white Begonia and English ivy. By the deck, they used viburnum, hydrangea, Russian sage, and silver mound, interspersed with more boxwood. "We are viburnum nerds," says Harrison. "You'll find at least one variety in each of our gardens. They look good with everything, but we particularly love using them with hydrangeas."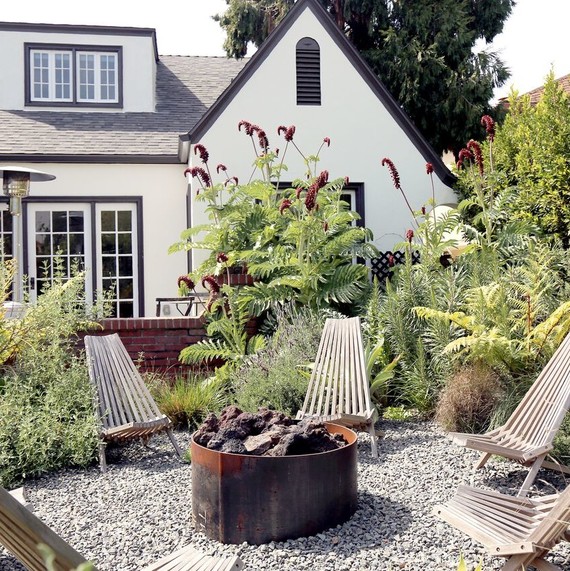 Determine Your Aesthetic
Do you want a space that is wild or more streamlined? David Godshall, of Terremoto, leans toward the former. "We tend to like native, wilder gardens," he says. "Though composition is always important, we find minimalist landscapes a little less exciting." He loves when there is something always in bloom and birds migrate from plant to plant. "The Los Angeles garden (above) is a layering of worlds, Mediterranean, native and Old Hollywood," he says. These unconventional juxtapositions bring an interesting energy. There's just more action—we like movement and change." The plants are a unique blend of honeybush, Australian tree fern, Cleveland sage, artichokes, fox tail agave and French lavender.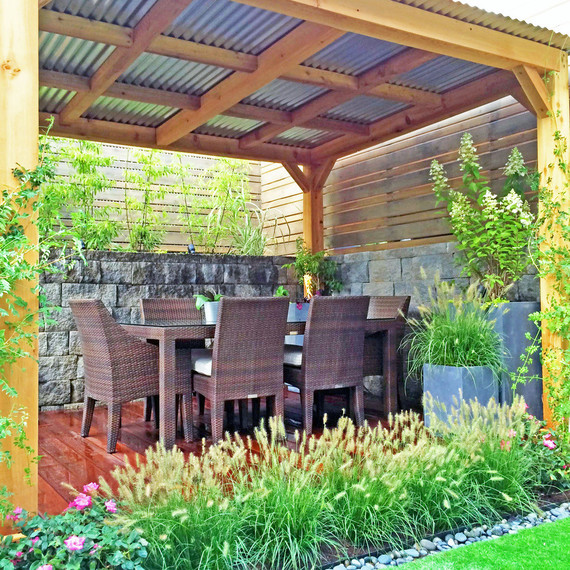 If you're looking for something sleeker and more modern, you may be drawn to the Brooklyn backyard above landscaped by Amber Freda Landscape Design. The biggest challenge in this project for Freda was figuring out how to combine different elements in a way that felt very contemporary and streamlined. "The owner of this townhouse is a Texas native, and she missed the sound of rain on the tin roofs there, so we built a cedar pergola with a tin roof as a little comforting reminder of home," she says. "We wanted plants that would look lush and inviting but that would also pair well with the contemporary theme."  She chose a mix of grasses, cherry trees, bamboo, roses, trumpet vines, variegated irises, hydrangeas and sky pencil hollies.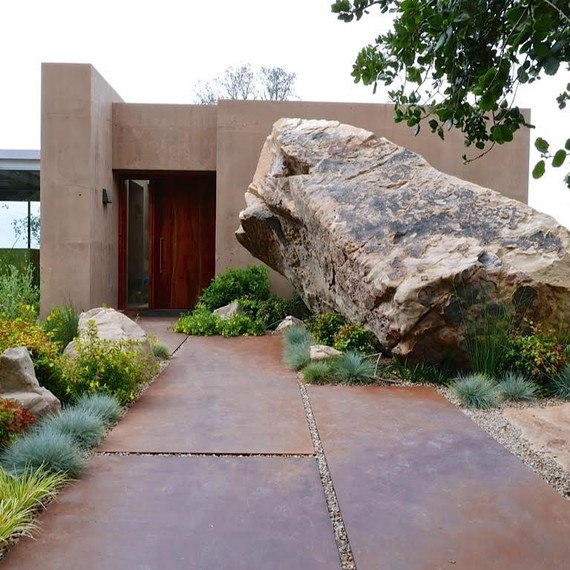 Understand the Climate
Ferguson believes the best gardens are tactical. "One has to explore the hidden opportunities within each landscape," she says. "Try using materials you have on site in unexpected ways." For the Santa Barbara project above she relocated a large boulder on the property to make a very bold entry and used drought tolerant plants like sage, coffeeberry and blue fescue grass. "If it was a more shady site, we might select low light species with variegation or lighter green foliage to visually lighten up the area, like golden variegated sweet flag and coral bells."
Understanding how much sun your garden gets, as well as the local climate, is imperative to designing a successful landscape wherever you are. "In Southern California, we have many different microclimates which allow for a wide variety of different species, from exotic tropicals to arid desert species. Such a variety of opportunities allows us to constantly explore different ideas."
For city dwellers, if you're lucky enough to have an outdoor space, it's often on a roof rather than a backyard—and that brings a long a whole different set of considerations. "Gardening on a roof is a lot like gardening on top of a mountain," says Freda. "You want things that aren't too top-heavy and don't have really large leaves that could get shredded up in the wind." She recommends low maintenance plants—a mix of grasses, evergreens, and deciduous trees can thrive in these conditions without a lot of care. For this Manhattan rooftop, Freda chose coralbark maples, hornbeams, pink cherry trees, crape myrtles, and feather grasses.
Pro tip: "When it comes to city gardens, especially sunny roof gardens and terraces, drip irrigation systems are a must," advices Freda. "Container plants need more water than plants in the ground, and will need to be watered once or twice a day in the summer. Drip irrigation ensures accurate, thorough watering that will greatly reduce the likelihood of having to spend money on replacement plants each year."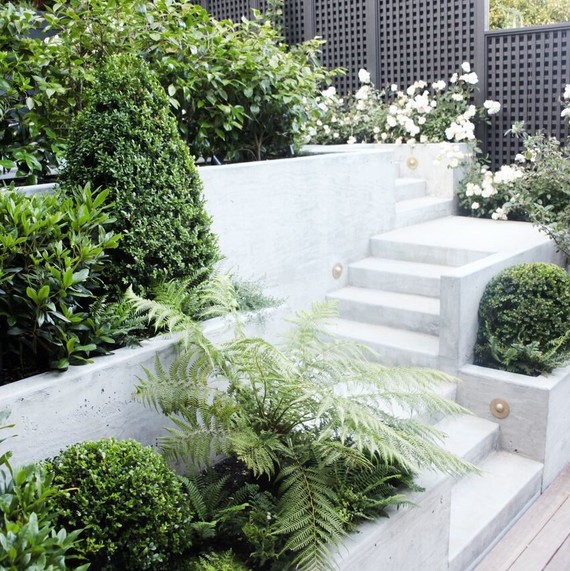 Go for Texture
"We like gardens that are green," says Harrison. "Flowers are fleeting but foliage is forever." Her team selects materials for the quality of the foliage over that of the flower. It's all about getting the correct shade of green for the garden and creating texture. When they do use color, it tends to be cool tones or white. Godshall agrees that texture is key: "It's about what works together, and creating interesting contrasts and moments," he says. "We consider texture, color and structure, and then create interesting combinations." For the San Francisco garden above, he chose boxwood hedges, rhododendron, alsophila australis, white roses and an apple tree. "We're riffing on the horticultural vernacular of the San Francisco Pacific Heights neighborhood—taking the usual suspects and then flipping them on their heads."
If flowers are your thing, Freda recommends flowering annuals for clients who don't mind replanting them every year. For those living in more urban areas, she recommends ones that are easy to maintain. "We love quickfire hydrangeas and knockout roses for their long bloom times, versatility, and resistance to pests," she says. "We also find that coneflowers, Russian sage, threadleaf coreopsis, Montauk daisies, and ornamental cherry trees all do well in our city gardens."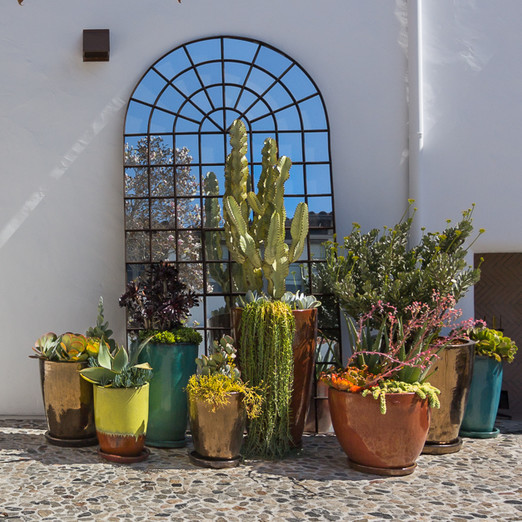 Pick Pots and Easy Plants
If your backyard has cement, patio or an abundance of hardscape, Ferguson suggests using pots and containers as what she calls "landscape accessories," like she demonstrates with cactus and an assortment of succulents in brightly-colored pots in the above Los Angeles home. Although all plants can work in pots or planters, if you're looking for low-maintenance, these are great options. "We consider succulents to be the easiest plants to care for as they thrive in many environments with minimal care," says Ferguson. Cactus also don't need irrigation, and need very little maintenance. When it comes to containers, Freda likes doing a row of straight-lined shapes against round shapes like ceramic pots to help break up the lines and create contrast. As for what to plant in them, she loves grasses, bamboo, small deciduous trees, medium to small flowering shrubs, and most small leave evergreens because they're easy to take care of.
[LEARN: How to Propagate Succulents]