It's that time again; you're thinking about dinner and what to cook. So here's our weekly list of suggestions: weeknight dinner recipes that take less than an hour of mostly hands-off time. Some recipes will be much faster than that. Yes, there will be pasta, and, yes, it will be delicious. On the weekends, there's more time to try something new, cook something slow. So visit us every week for dinnertime inspiration.
It's spring -- even if local produce is thin on the ground and the weather keeps feeling more like winter -- so we're nudging toward lighter fare with this week's meals. 
Monday: Three-Cheese Skillet Lasagna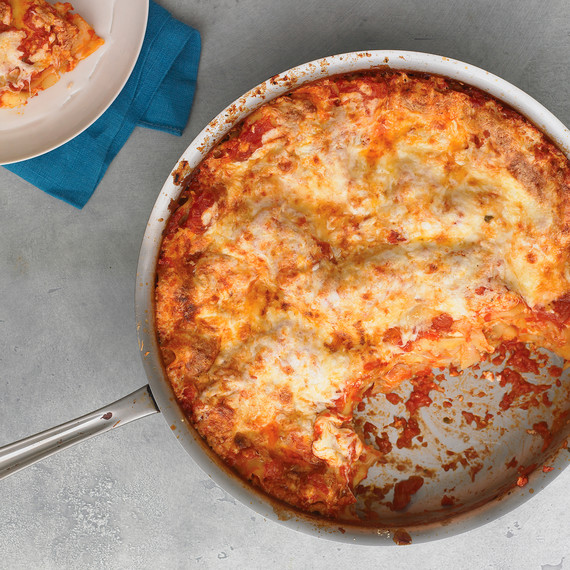 We're starting the week with a year-round favorite, not a spring dish. This decadent, cheesy, and totally irresistible lasagna doesn't cut any corners on taste and uses just one skillet, so cleanup is minimal.
Get the Three-Cheese Skillet Lasagna Recipe
TUESDAY: Broiled Mustard-Crusted Flounder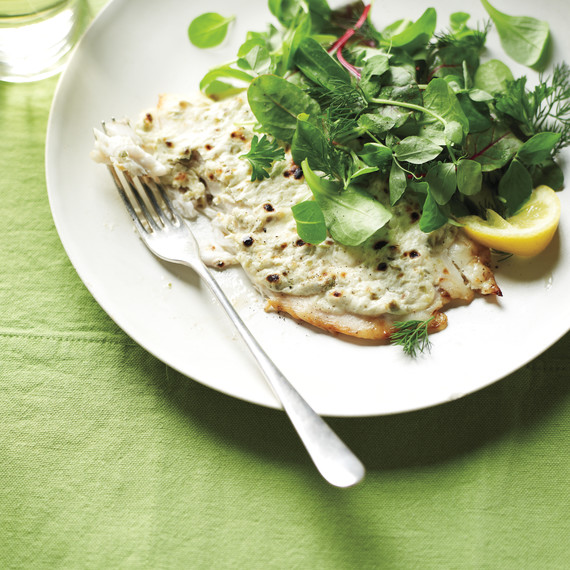 The prize for quickest dinner of the week goes to the flounder! Yes, this simple, flavorful entree takes just 15 minutes. The key: Thin flounder fillets brushed with a tartar-sauce-like paste (secret ingredient: Greek yogurt), then broiled. Serve with baby greens or watercress in an olive-oil-and-lemon-juice dressing (call it a lemon vinaigrette if you like).
Get the Broiled Mustard-Crusted Flounder Recipe
WEDNESDAY: CHICKEN, FENNEL, AND ARTICHOKE FRICASSEE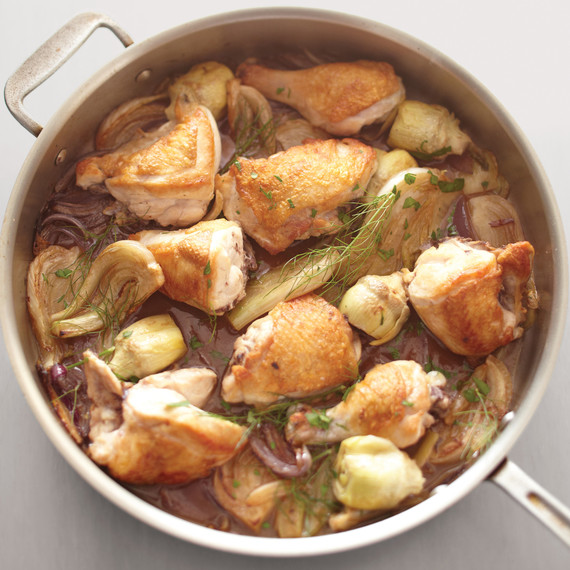 This quick-to-make (ready in just 35 minutes) flavorful braise feels like spring though it uses canned artichoke hearts (another ingredient to always have on hand) and other pantry staples. All you'll need to buy is chicken and fennel.
Get the Chicken, Fennel, and Artichoke Fricassee Recipe
THURSDAY: Saffron Risotto with Shrimp and Peas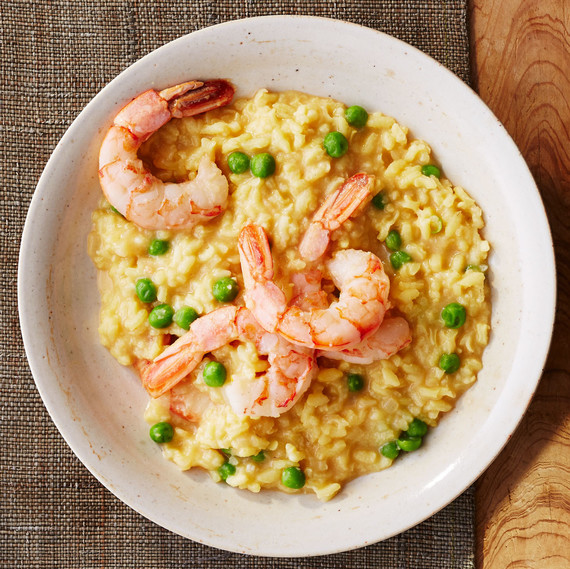 Stir up a classic risotto tonight. It's a comforting meal made with Italian short-grain rice cooked in chicken broth and wine, flavored with saffron (which also gives it the dish that pleasing golden color), and finished with shrimp and peas. Spring cheat: though the recipe calls for fresh peas, you can easily sub frozen here.
Get the Saffron Risotto with Shrimp and Peas Recipe
FRIDAY: Red-Bean Burgers with Avocado and Lime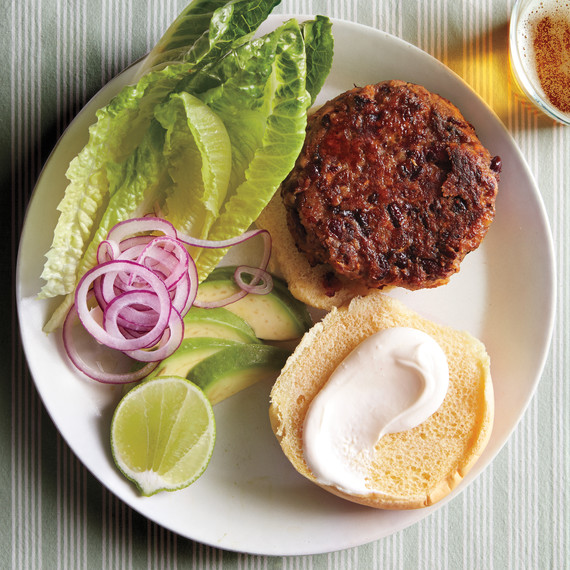 Ready to kick back with a burger? Try these meatless patties made from mashed kidney beans. But serve them traditional style on buns with romaine, sour cream, avocado, and lime wedges.
Get the Red-Bean Burgers with Avocado and Lime Recipe
SATURDAY: Asparagus Casserole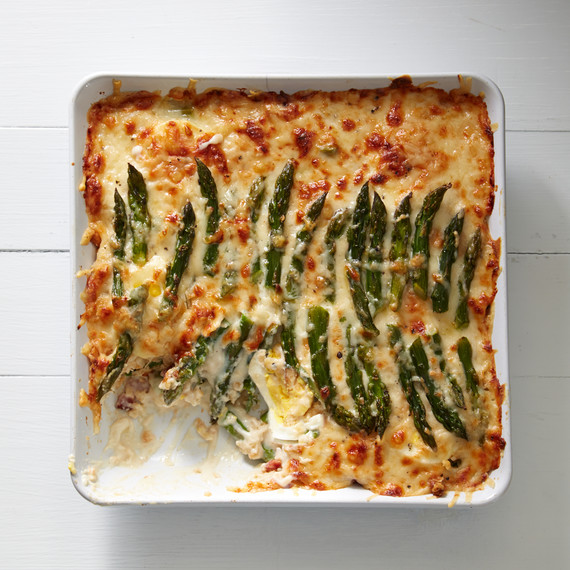 It's so good that we're taking this traditional Southern side centerstage for dinner tonight.  Our recipe features smoky bacon, creamy bechamel, and nutty Gruyere along with hard-boiled eggs and asparagus, that herald of spring. Serve with a crisp spring salad for a lighter approach or spicy pork sausages (and the salad!) for full-on indulgence. 
Get the Asparagus Casserole recipe
Sunday: Steak Dinner (aka: Get Out the Grill)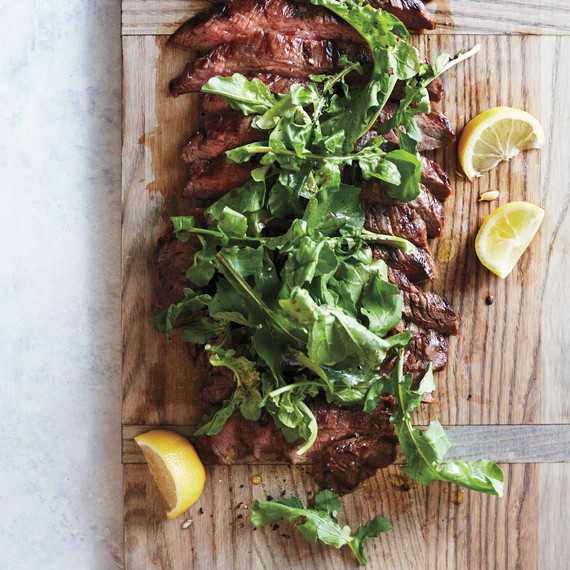 When you're feeling beefy, a steak dinner really hits the spot. If your budget is grand, go with Martha's pan-seared porterhouse. If your wallet is more modest, try flank steak. This cut is well priced and well flavored. It does benefit from marinating, so allow time for that, but the cooking comes together in a flash -- yes, we're talking grilling! And if you don't feel like cooking outdoors, a grill pan would do very nicely here. A steak just calls out for potatoes, so we suggest these phenomenal Crispy Potatoes with Rosemary.
Get the Soy-Lemon Flank Steak with Arugula Recipe