This mushroom-brimming abode is perchance the most charming home for gnomes we've ever crafted.
This year for Easter, surprise the kids with a new kind of basket—one that's filled with toys, treats, and miniature treasures. The sturdy woven basket comes with lots of diminuitive-sized accessories: a wooden wheelbarrow and watering can, a spade. A few treasures are more hidden like a wooden painted flower pot that's brimming with jelly bean candies in flavors like cantaloupe, berry blue, and lemon lime. Atop the handle, a birdhouse dangling from nylon thread swings in the breeze.
A white chocolate lamb on a lollipop is wearing its Sunday best: a green ribbon bow. When that isn't enough sweetness, plant a gnome's candy-laden garden—vegetables like corn, beets, cabbages, and, the holiday must: bundled carrots. (The ones we found at Terrain are from Lock and Key Confectionery hand-crafted with Belgian chocolate.) Look closely, and you'll find another surprise: baby graham cracker bunnies hopping about. Lastly, look for an earth-conscious way to fill the basket (this natural "grass" is crafted from shredded wood chips.)
Don't miss out: Get Martha's Guide to Easter Eggs—it's the exclusive resource for tutorials, tips and decorating ideas.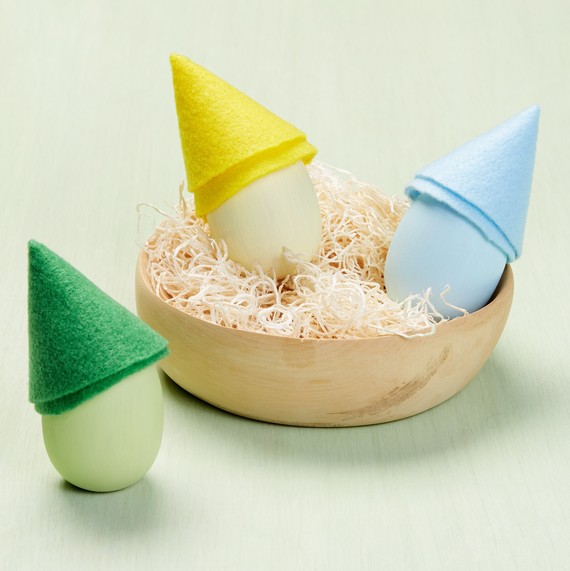 And who is tending this play-pretend container garden? A family of gnomes, of course. They're easy to decorate and gift as handmade toys. These wooden flat-bottomed eggs were painted in fresh spring colors, then each outfitted with felt cone hats. You can secure their hats with permanent glue or leave them loose-fitting for a speedy wardrobe change—which is fun for the kids as they can play mixing and matching colors.
[MAKE THESE: Gnome Easter Eggs]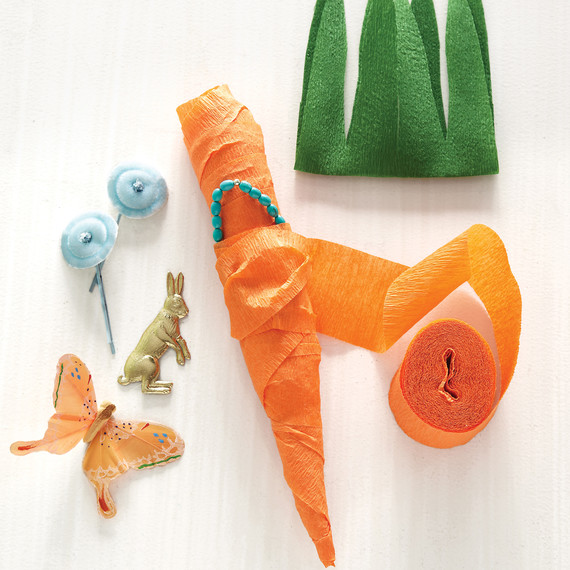 And what's inside those bundled crepe-paper carrots? They're a seasonal twist on the crepe-paper surprise ball. As you unwind the paper, you find the trinkets—jewelry, a novelty charm, a toy. It's simple to grow a basketful and customize them for kids of any age. Display them uprooted in the basket or tuck them half-hidden (as if they're still growing!) in the grass. Loosely wrap orange streamer to form carrot shape, tucking gifts as you work, then add a leafy green streamer tuft for the top. Kids will have fun unpacking their gifts on Sunday morning.
[MAKE THESE: Crepe Paper Carrots]
Feeling inspired? Here's another idea! Watch how to make floral-printed Easter eggs: