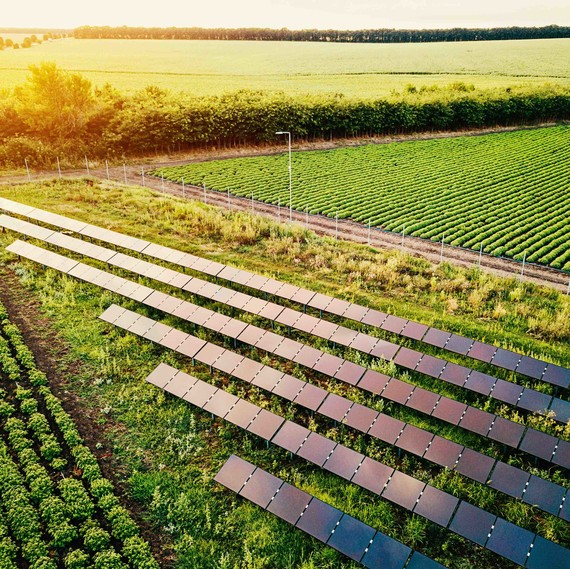 Introducing #ChangeTheDay
We'll offer simple ways you can have a positive impact on your health, your home, and even the world. Get inspired by our Change Makers and the companies that are making a difference in the way we live. Join us!
Take the pledge to save energy in your home
T-Mobile is harnessing the winds of change for good. The telecomm has joined the global initiative RE100, and pledged to use renewable electricity by 2021. To meet that goal, T-Mobile is buying wind power, and wind power purchases now account for 60% of the company's U.S. energy consumption. Not only that, but T-Mobile is making a point to use up-and-coming power facilities—ones that might not exist without T-Mobile's investment. They're leading the way for sustainable energy investments by wireless companies, and hopefully other carriers will follow.
Rather than adding sustainability to a laundry list of goals, Philips Lighting has made using renewable energy a core company mission. By using low-carbon energy sources, Philips has kept over 1,450,000 metric tons of CO2 emissions out of the air—that's the equivalent of driving your family car to the grocery store 500 million times. And of course, the company produces lighting elements for homes and businesses that reduce energy use despite a growing demand.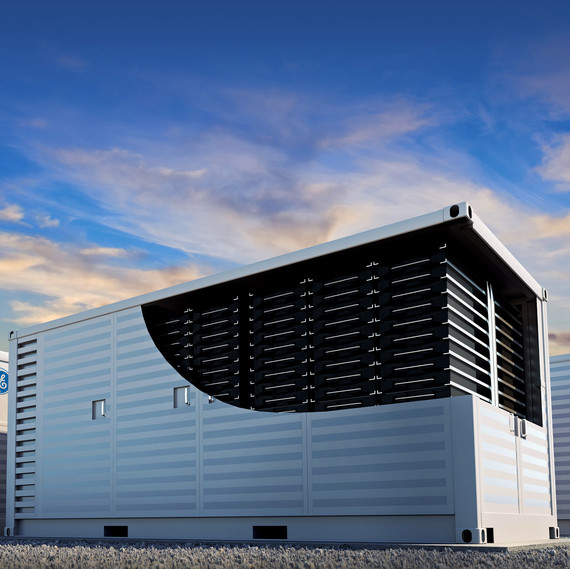 When General Electric formed 125 years ago, scientists couldn't have dreamed that the company would introduce the largest offshore wind turbine in the world. But that's just what happened: GE created a turbine that's even functional at low wind speeds, which lowers the levelized cost of sustainable energy. GE is also working on a solar-wind hybrid that could produce energy at peak levels year-round, by working with the climate in mind. And since the company produces renewable power sources on a large and small scale, they're improving the carbon footprints of small communities and whole countries.
If you ask Siri if Apple is committed to sustainability, she'll give it to you straight: as of this year, the tech giant's facilities are powered by 100% renewable energy. The majority of greenhouse gas emissions produced by the smartphone industry come from manufacturing the product itself, and Apple is unique in its aggressive strategy as part of the RE100 campaign. Apple has installed 485 megawatts of wind and solar power generators across China, and provides regional guidance for partner companies that want to make the switch to renewable power, too.
[HERE'S: The Real Cost of Energy Consumption]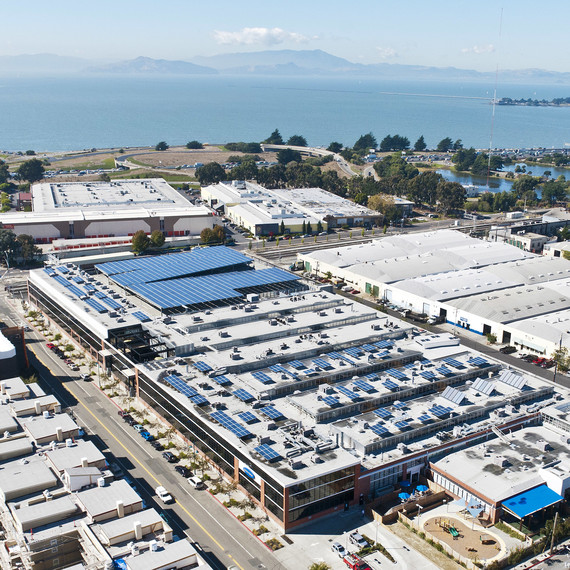 Clif bars help you power through a hike—or, more often, a mid-day slump. But what powers Clif Bar & Company? Green energy. In 2017, the U.S. EPA named Clif Bar & Company a 2017 Climate Leader for its commitment to using green power across the supply chain. That award was earned, in part, by Clif's own "50/50 by 2020" program, which aims to have 50 supply chain facilities use 50 percent or more green power. As of early 2018, 13 facilities have made the shift.
If you hear the words "electric car" and imagine the pocket-sized smart cars of yesteryear, you need to take a look at what's new from Tesla. The brand has gone beyond battery-powered cars and now manufactures family-friendly SUVs, sports cars, and prototypes of semi trucks. Tesla has also helped use sustainable energy to cope with natural disasters, shipping Powerwall batteries to communities impacted by Hurricane Maria, and expanding the battery capacity of cars evacuating during Hurricane Irma. Tesla's recent accomplishments also include designing and implementing a large-scale Powerpack battery project in Australia. According to Tesla, "the most trending technology in residential energy is batteries," so expect more growth in this area in years to come.
When you see a fleet of UPS vehicles in your neighborhood, take note: one of those trucks could be using alternative fuel or electricity. UPS has made sustainable energy a new priority in recent years. The company aims to use 25% renewable energy, in total electricity use, for both facilities and vehicles by 2025. That might not seem like much, but it's a huge improvement over the 0.2 percent renewable electricity UPS used in 2016. Their goal to use renewable energy in their facilities means using renewable energy at charging stations for electric-powered vehicles, too.
[SEE: The Companies Who Are Curbing Their Trash]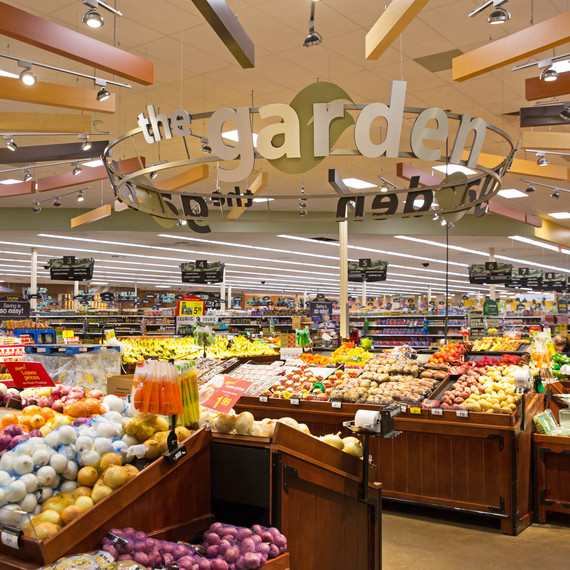 It takes a lot of work, and a lot of energy, for fresh food to make its way from a farm to your table. This grocery chain has reduced its stores' overall electricity consumption by 34.85% since 2000, and seeks to reduce consumption by 40% by 2020. Just like at home, small switches make a big difference. Kroger has implemented LED lighting, motion sensors, advanced refrigeration systems, and other technologies to reduce energy consumption. Currently, 1,119 Kroger-operated retail stores qualify for Energy Star certification, and Kroger won the 2018 Energy Star Partner of the Year Award for its energy management strategies.
Hockey just wouldn't be hockey without frozen lakes and snowy scenery, and maybe that's why the NHL is so devoted to sustainable practices. The National Hockey League has received kudos from the Department of Energy  for using ultra-efficient LEDs at games, is the 25th largest user of green energy in the U.S., and was the first professional sports league to release an environmental sustainability report. The NHL even holds Green Week, where the organization shares its commitment to sustainability and encourages fans to be green in their own day-to-day routines.
[SEE: How One Family Found a Smarter Way to Go Solar]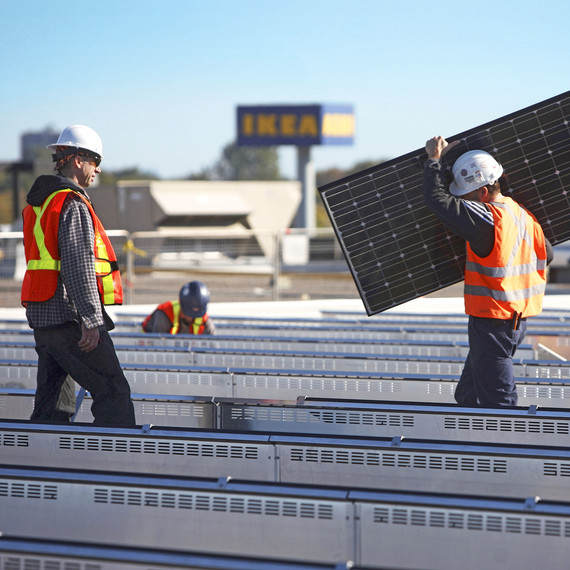 Did you know the Swedish home retailer own more wind turbines than stores? Not only is IKEA wading waist-deep in the world of residential solar, but when it comes to wind power, the company is an expert. In 2016, IKEA offset 71% of its energy consumption, and is striving for full energy independence.
In 2017, the company was praised for its overall 21-percent improvement in energy efficiency across all buildings. Currently, more than 1.8 million LEDs are in Macy's and Bloomingdale's stores, including in new construction and remodeling projects. LED bulbs cut energy consumption by up to 70 percent compared to conventional bulbs. And the company won't stop there: Macy's aims to reduce energy use on a kWh-per square-foot basis by another two percent in 2017, 2018 and 2019.
Join us to help #ChangeTheDay. Sign our pledge.