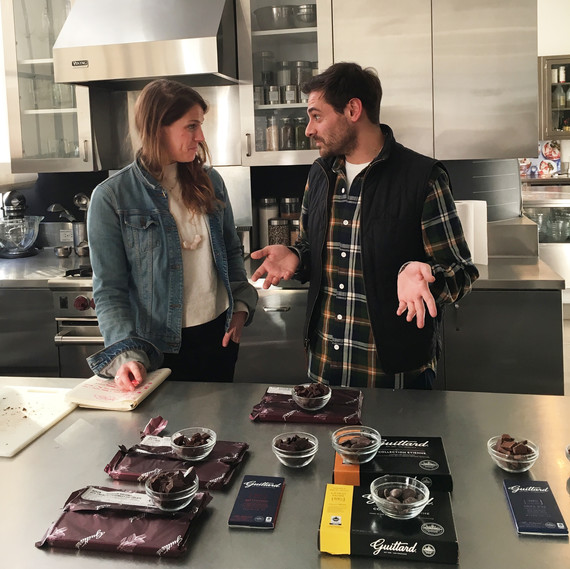 Find out what's been happening in the world of 42 Burners, aka our test kitchen, with our weekly series.
Our food editors have worked with a lot of chocolate over the years—we have more than 1,500 chocolate recipes on our site!—and our Kitchen Conundrums expert Thomas Joseph has explored the science behind everything from chocolate ganache to the perfect brownie. But there's still so much more to learn about chocolate; it's just as nuanced as wine and coffee, if not more so. Enter Amy Guittard, a fifth-generation chocolate maker at San Francisco's Guittard (and the first woman in the family to join the business!), who stopped by the test kitchen recently to host a tasting.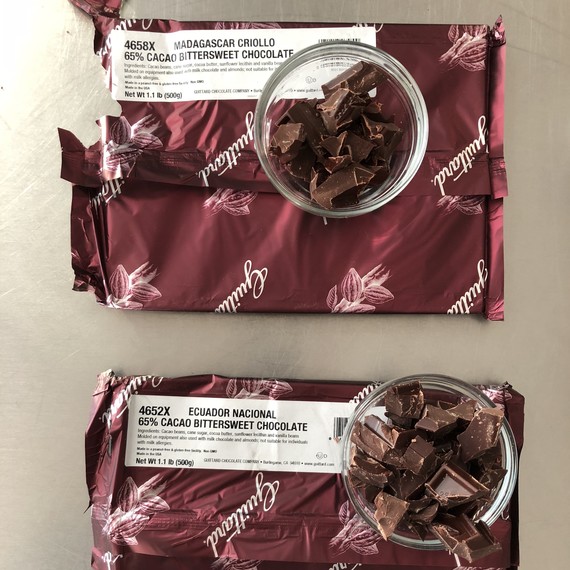 Amy walked the 42 Burners team through a selection of Guittard's chocolates, divided into pairs to make it easy to compare and contrast. She started with the milk varieties to warm up the taste buds, then moved onto easy-to-eat dark-chocolate blends and single-origin "sipping chocolates." Amy encouraged everyone to "look at the color first, then the snap and how the chocolate melts on the tongue, which are both indications of proper tempering."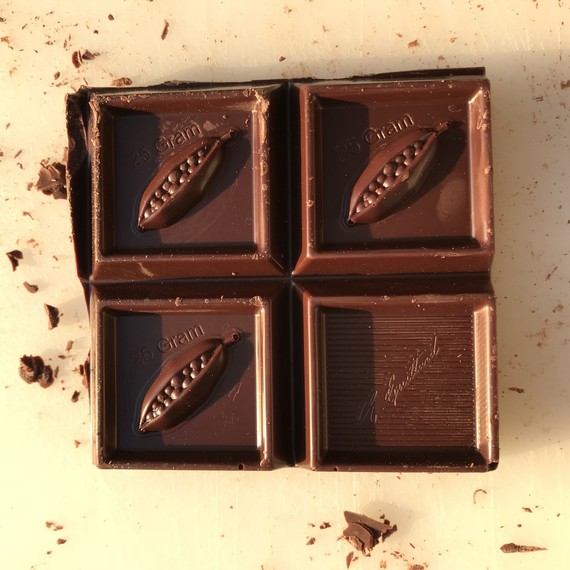 The food editors were also lucky enough to be some of the first people to taste Guittard's limited-edition Eureka Works 62-percent chocolate. Created in celebration of the company's 150th anniversary, it's made with beans sourced from the same locations that were available to founder Etienne Guittard: Brazil, Ecuador, Indonesia, and Hawaii. "The flavor is a throwback to what our chocolate used to taste like, and the bar is affectionately named after our first factory," says Amy. Restaurants across the country, including Gramercy Tavern in New York, Zuni Café in San Francisco, and Spago in Los Angeles, will be using Eureka Works to create special desserts, and the bar itself will be available on Guittard's website, with five percent of the proceeds going to the Heirloom Cacao Preservation Initiative.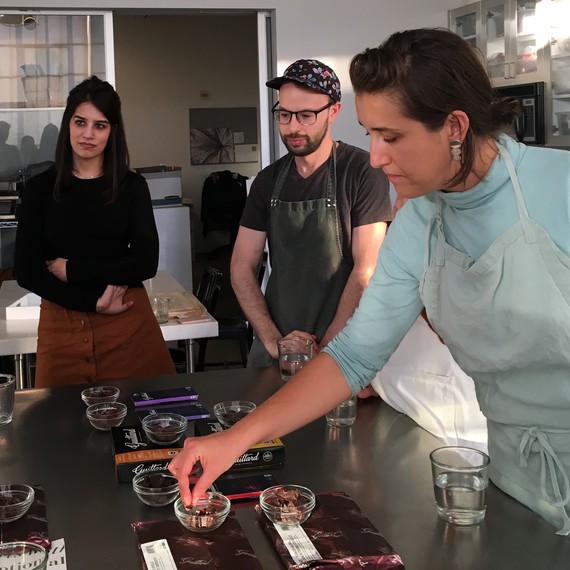 Between bites of chocolate and sips of water to cleanse the palate, the 42 Burners team peppered Amy with questions. Thomas inquired about the correct temperature for storing chocolate, which Amy puts at "between 60 and 70 degrees—that's the happy place. Make sure the chocolate is in an airtight container so that it doesn't absorb any flavors around it. If chocolate is properly stored, it ages really nicely."
Greg asked if there's an official difference in percentages between bittersweet and semisweet chocolate. Turns out there's no industry standard, and it varies a lot depending on the brand, which makes it tricky for home cooks (luckily, our test kitchen lists percentages on any recipes that include chocolate). Finally, Lauryn asked the most important question of all after learning that every Guittard product is tasted 72 times before leaving the factory: "What's the audition process for your tasting panel like?"
Watch Thomas delve into the difference percentages of chocolate and explain which kind you should use when: