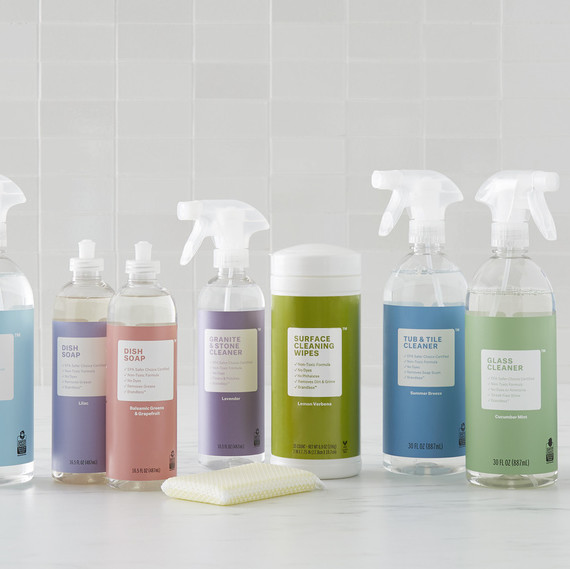 When it comes to keeping your space sparkling clean, we know you want products that are tough on dirt. But who says they have to be harsh on the planet, too? From biodegradable formulas and plant-based ingredients to eco-friendly packaging, we've rounded up some of our favorite all-purpose cleaning lines on a mission to keep your home—and the planet—healthy and happy, without compromising on cleaning power. 
We already love that these makers offer high-quality home goods all for $3 (we're not kidding!). With the debut of their new, non-toxic cleaning line—eight dye-free, non-GMO, biodegradable solutions bottled in chic, minimalist, recyclable packaging—we're even more obsessed. Cruelty-free and stamped with the EPA Safe Choice label, the line features fresh, and never overpowering, scents like lilac dish soap, cucumber mint glass cleaner, and lemon verbena surface wipes. "When you have non-toxic cleaners, many manufacturers may focus on avoiding a few big chemicals," says Chief Merchant, Rachael Vegas. "But we ensure that every single ingredient that goes into our product, no matter how small, completes comprehensive and stringent hazard review." 
[SPRITZ: Your Home With This All-Natural DIY Spray]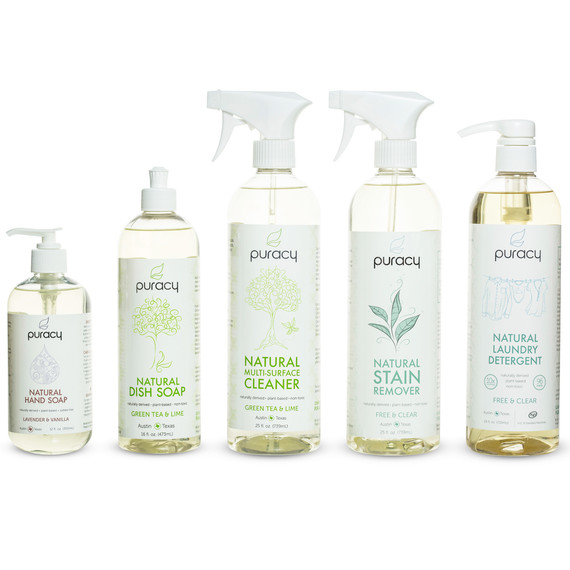 Formulated from all-natural ingredients, Puracy's line ensures its products are safe for everyone in your family (furry friends included). Free from harsh chemicals, all products are made entirely in the USA, from the raw ingredient sourcing and manufacturing to the bottles and caps. The line also supports local artists who design the unique artwork featured on every bottle, with a portion of all sales helping local communities in need. Advocating for full transparency, Puracy lists every product's ingredients right on the label; you can even head to the website to see where all materials were sourced from. Plus, keep an eye out for new pet-focused products to debut later this year, from eco-friendly pet shampoos to stain and odor removers!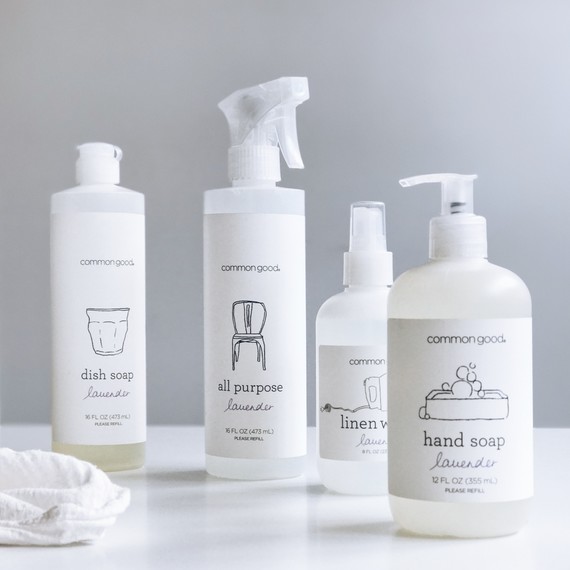 These cleaners aren't just gentle on the earth—from all-natural ingredients to recyclable and reusable packaging—but they're also gentle on you and your home, free of dyes, GMOs, artificial fragrances, sulfates, and parabens. From their best-selling hand and dish soaps to a laundry detergent perfect for sensitive skin, Common Good's line is scented with 100% pure essential oils, and never tested on animals. The best part: to help cut back on plastic packaging waste, they also offer refillable bottles and bulk order options. Order refills straight to your home, or locate a refill station at a retailer near you. 
[SEE: Why You Should Ditch Single-Use Plastic]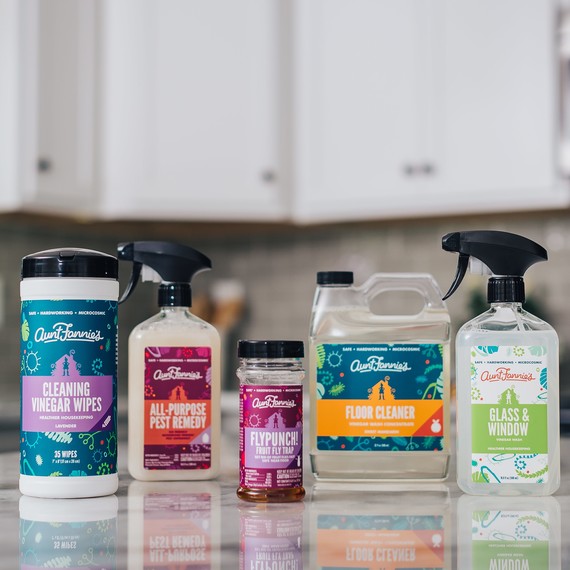 Bringing household cleaners back to the basics, Aunt Fannie's line spotlights one all-natural all-star: vinegar. With an ingredient list they like to keep short and sweet, every product (including their pest controls!) is made from food-grade elements minus any toxins or harsh chemicals. And don't worry about a vinegar-scented residue; we're fans of the fresh scent options like lime mint, lavender, sweet mandarin, and eucalyptus. To boot, they've even recently received the highest eco-ratings on their cleaners and overall transparency from the Environmental Working Group, a global research and advocacy organization. As for sustainable packaging, you can recycle all the bottles and compost the cleaning wipes. Score. 
[CHECK OUT: These Cleaning Wipes Safe Enough For Your Face]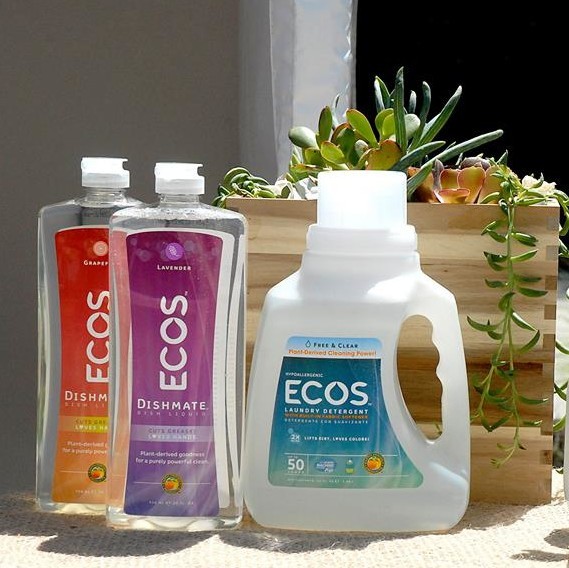 Dedicated to keeping their products clean from the inside out, ECOS's line of home products are powered by plants and also certified by the EPA's Safe Choice program. Using all-natural ingredients from renewable sources—"because what goes into the bottle comes back into the world"—their cleaning products are made with biodegradable formulas to keep waste and water streams clean and safe. All ECOS products are also manufactured in carbon-neutral facilities and never contain dyes, harsh chemicals, or synthetics. Can't resist a good lemon-scented cleaner? When shopping the site, you can filter products by scent or opt for all free and clear products.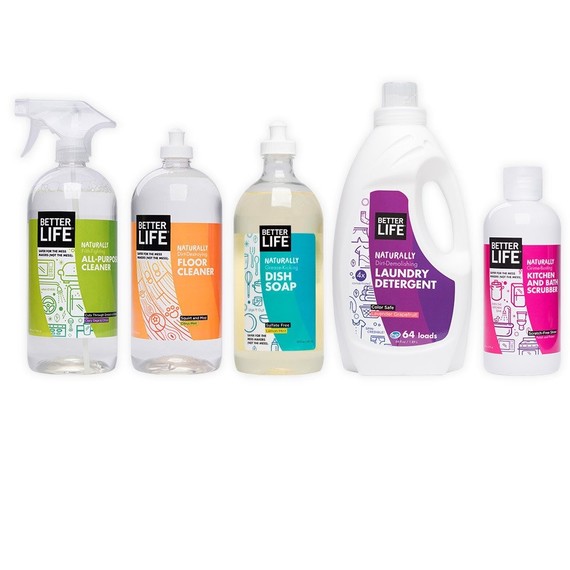 Founded by two dads, Tim Barklage and Kevin Tibbs, this eco-friendly cleaning line bottles everything you want in your home (and near your kids) and nothing you don't. From their floor and screen cleaners to their produce wash and wood polish, all products are made in the USA and completely non-toxic, chlorine-, bleach-, and dye-free. Better Life's product packaging is also crafted with solar energy and recyclable materials. Want to save money and help reduce package waste? They offer multi-pack purchases and refill options for a friendly price. Snag one gallon of the all-purpose cleaner for $77 and you're set with twenty 32 oz bottles' worth of solution for less than $4 a bottle. Now that's a deal.