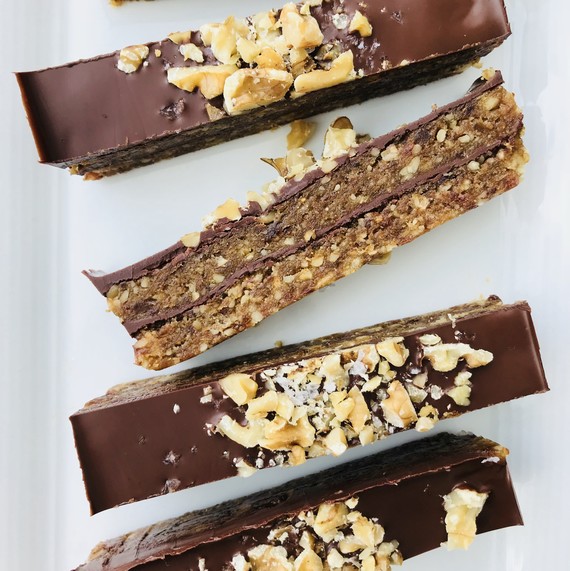 I love dark chocolate almost as much as I love stripes, so this treat really speaks to me. Sweetened with a caramelly date purée, studded with walnuts and natural peanut butter, and layered with dark chocolate, these bars will satisfy your sweet craving in a deliciously horizontal fashion.
Get the Dark Chocolate-Walnut Date Bar Recipe
I'm always looking for ways to reduce my intake of refined sugar (working in the test kitchen guarantees more than my fair share of cupcake tastings). That's one of the reasons I love this recipe: it's delicious, and it's refined sugar-free! You get to enjoy a star roster of whole ingredients: dark chocolate, dates, walnuts, extra-virgin coconut oil, natural peanut butter (check the label to make sure there's no added sugar, or better yet, make your own!), vanilla, and sea salt.
Make sure you give yourself a couple of hours to prepare these bars (they need time to chill). Start by making a simple paste of walnut and dates. Process in a food processor until it begins to clump around the blade, usually a few minutes. Transfer that mixture to parchment-lined baking sheet and pat into an even 8-inch square. The measurement is important here! That way you can easily transfer half the mixture into a 9-by-5-inch loaf pan. Melt dark chocolate with a little bit of extra-virgin coconut oil (this makes the texture nice and velvety, plus the coconut oil adds a wonderful flavor). Repeat with remaining date mixture and chocolate. Top with some chopped walnuts and flaky sea salt, chill, slice into fingers, and serve. 
Or squirrel away in the refrigerator! Confession: I'm STILL enjoying the batch we made on the video shoot a few weeks ago. Store them in an airtight container in the fridge for a quick chocolate fix. And these bars go day-to-night like a champ: they're excellent with a cup of coffee in the morning and make a sophisticated finale for dinner with friends.
Get the Dark Chocolate-Walnut Date Bar Recipe
Tune in every Sunday for a new Healthy Appetite video from Shira Bocar.
Watch Shira make this decadent, healthy treat: