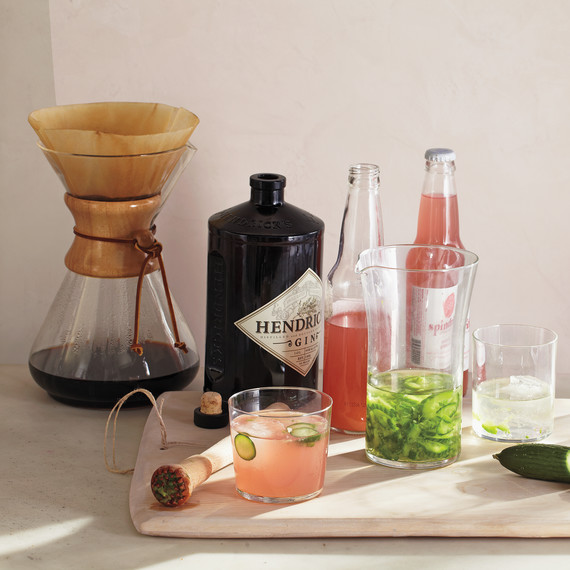 Celebrate Easter with this easy-to-make brunch menu that's full of creative twists on classic brunch favorites. Set out a pitcher cocktail and let everyone help themselves while they nibble on bagels with a decadent smoked salmon dip. Then serve a stunning herb quiche that has an unexpected crispy potato crust. Pair that with a showstopping side: bacon-wrapped bundles of asparagus, because what is brunch without everyone's favorite breakfast meat?! End the meal with a sweet finale: jewel-like rhubarb-topped cheesecake bars.
Best of all, this super-festive Easter brunch is easy to pull off. Here's what you need to know.
The Menu
TO DRINK: CUCUMBER-INFUSED-GIN-AND-GRAPEFRUIT-FIZZ
In addition to the essential coffee and tea, a celebratory brunch requires a signature cocktail. We suggest setting out a pitcher of this refreshing cucumber-infused gin and grapefruit soda. Not only does it taste great, but you can also make it before the event and have your guests mix up their own cucumber-and-grapefruit fizzes. For the kids, make a mocktail by muddling cucumber slices in the bottom of each glass and pouring grapefruit soda over the top.
PRO TIP: Don't forget to buy ice. We suggest around a pound per person.
MAKE-AHEAD TIP: Make the cucumber-infused gin the night before to let the flavors meld. Cover and refrigerate.
Get the Cucumber-Infused-Gin-and-Grapefruit-Fizz Recipe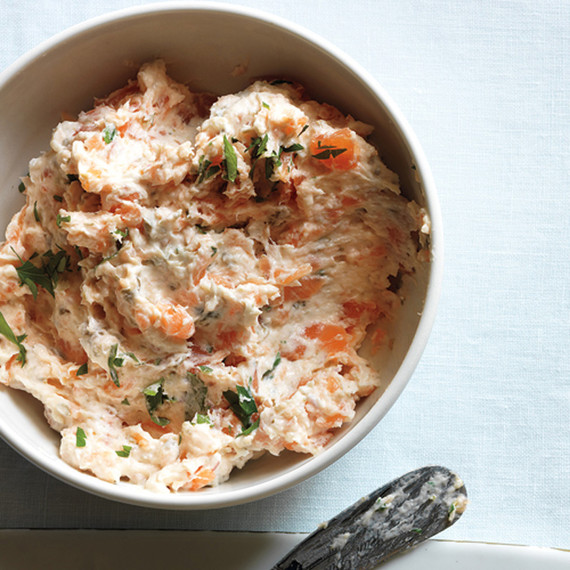 TO START: SMOKED SALMON DIP
While sipping on their drinks, guests can help themselves to this starter. Instead of setting out slices of smoked salmon, which can be pricey, arrange smoked salmon dip on a platter with other vibrant toppings, like thinly sliced red onion, capers, and lemon wedges. Serve with bagel chips or swap in mini toasted bagels for a super-brunchy feel.
MAKE-AHEAD TIP: Make the dip the night before and refrigerate covered. Top with fresh parsley just before serving.
Get the Smoked Salmon Dip Recipe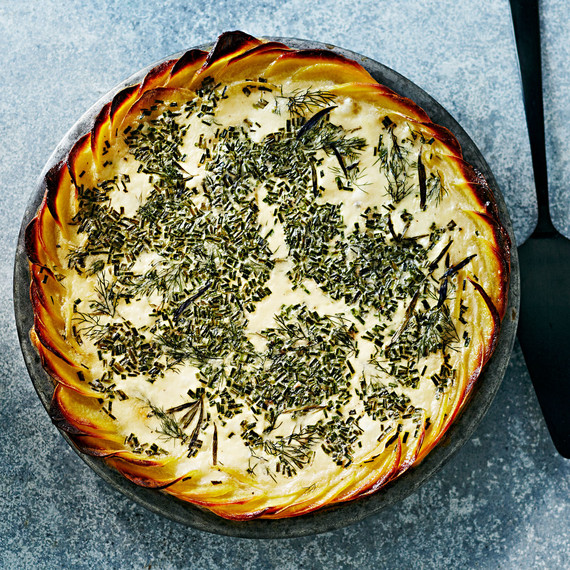 MAIN: POTATO-CRUSTED HERB QUICHE
A showstopping quiche is pretty simple to make, especially when you skip the pie dough. Instead, layer thinly sliced potatoes in a pie dish for a spectacular potato crust. Fill with herb-flecked custard and bake until the eggs are just set—which is just the right amount of time for the potatoes to crisp along the edges. Those crunchy potato chip-like bits on the exposed crust are the best part.
MAKE-AHEAD TIP: Quiches are best served at room temperature. Bake earlier in the morning and let sit at room temperature until brunch.
Get the Potato-Crusted Herb Quiche Recipe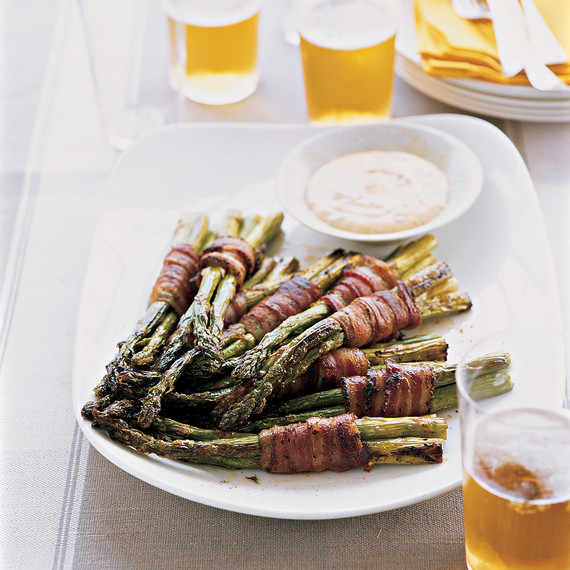 SIDE: BACON-WRAPPED ASPARAGUS BUNDLES
Ring in spring by turning asparagus into an attention-getting side. Wrap strips of bacons around bundles of the stalks and roast. The asparagus will baste in the bacon fat as it cooks. The end result: perfectly tender asparagus and crisp bacon. Instead of hollandaise sauce, a classic accompaniment for asparagus that isn't easy to make, serve this side with a zesty mayo-based sauce that tastes just as good, maybe better.
MAKE-AHEAD TIP: Assemble the bundles and make the sauce the evening before. Cover each bundle separately and refrigerate. Bake right before brunch.
Get the Bacon-Wrapped Asparagus Bundles Recipe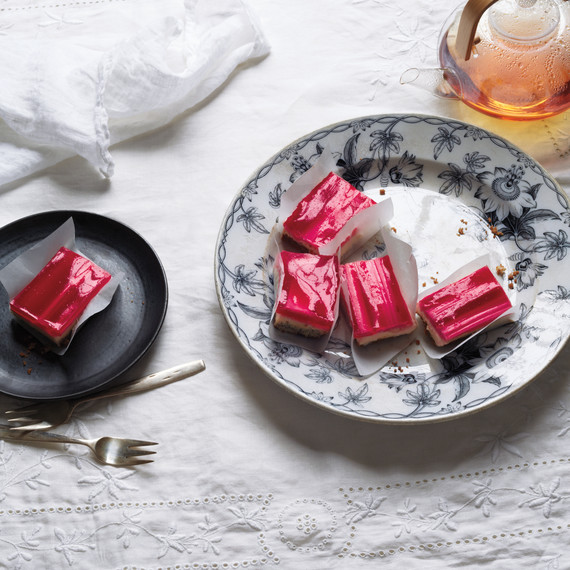 DESSERT: RHUBARB-RASPBERRY CHEESECAKE SQUARES
Everyone's favorite dessert, cheesecake, goes all out for spring with a rhubarb-meets-raspberry topping. The tart-and-sweet fruit combo is the perfect complement to the rich, creamy filling, and the crust is that perennial crowd-pleaser: graham crackers.
MAKE-AHEAD TIP: This dessert is best made a day ahead and stored in the refrigerator to let all the ingredients set, ready for cutting into bars.
Get the Rhubarb-Raspberry Cheesecake Squares Recipe