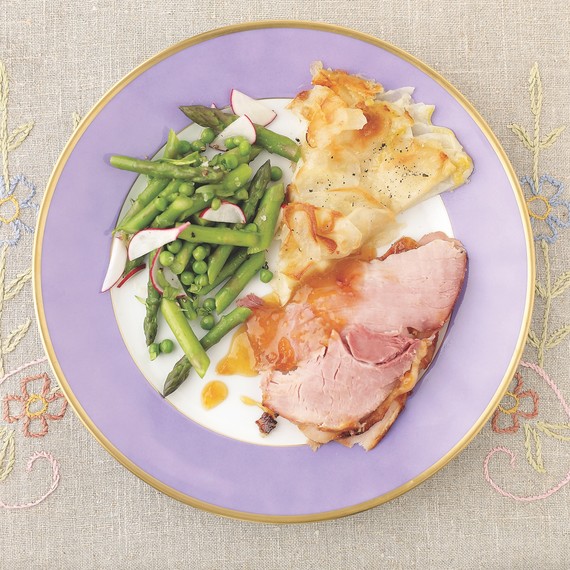 A grand ham for Easter is a no-brainer, but how do you make it stand out? A superlative glaze is step one—our spicy-sweet apricot-and-mustard version fits the bill nicely. Just as important are the accompaniments: whip up a couple of vegetable sides that are simple but elegant. Our first sophisticated supporting player is a gratin-like galette made with layers of thinly sliced potatoes, delicate spring leeks, and nutty Gruyere cheese. Next, the season's first asparagus gets a lift from crisp radishes, fresh tarragon, and one of our favorite secret-weapon ingredients—frozen peas. Last but not least, a vanilla cake with raspberry jam filling and meringue frosting nearly upstages the ham. Who says you can't have two showstoppers in one menu??!
The Menu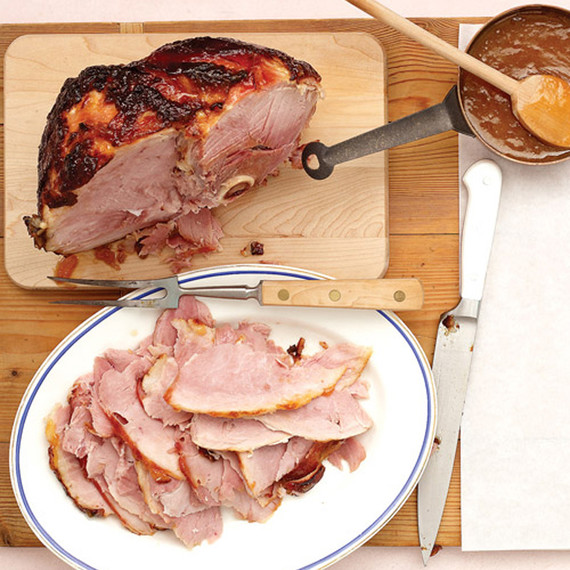 Main: Glazed Ham with Apricot Mustard Sauce
The meat counter at your market is likely to carry a few different kinds of ham. Choose half a smoked bone-in ham labeled "fully cooked." In this recipe a country-style ham would be too dry and salty. Once your guests have had their fill, save the bone and leftovers to make this comforting Split Pea Soup for lunch the next day.
Get the Glazed Ham with Apricot-Mustard Sauce Recipe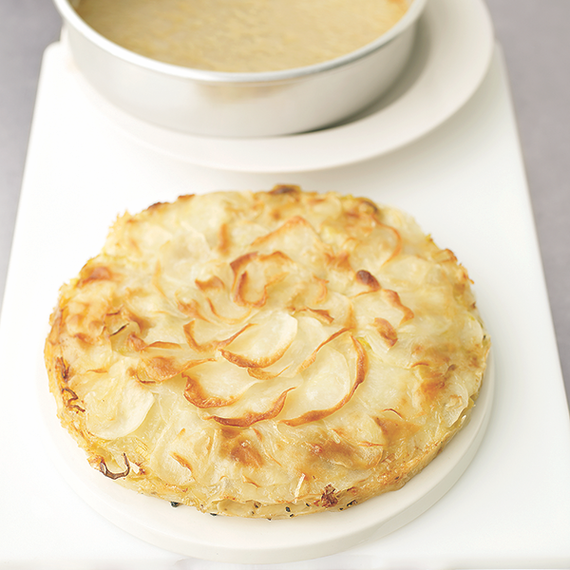 Side: Leek-and-Potato Galette
You can prep this pretty potato cake a day ahead (time to break out your mandoline!), then bake it at the same time as the ham. Everyone will adore the combination of crispy golden potatoes and ooey-gooey melted cheese.
Get the Leek and Potato Galette Recipe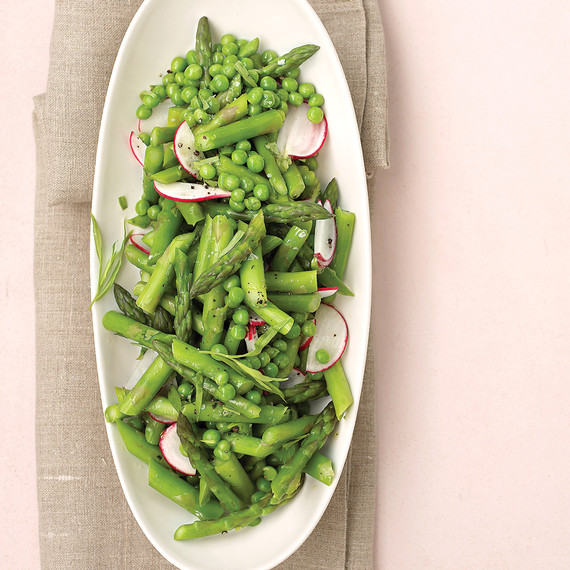 Side: Asparagus, Peas, and Radishes with Fresh Tarragon
Stalks of early spring asparagus are blanched until crisp-tender the day before Easter, then tossed in a hot skillet along with butter, peas, radishes, and tarragon just before serving.
Get the Asparagus, Peas, and Radishes with Fresh Tarragon Recipe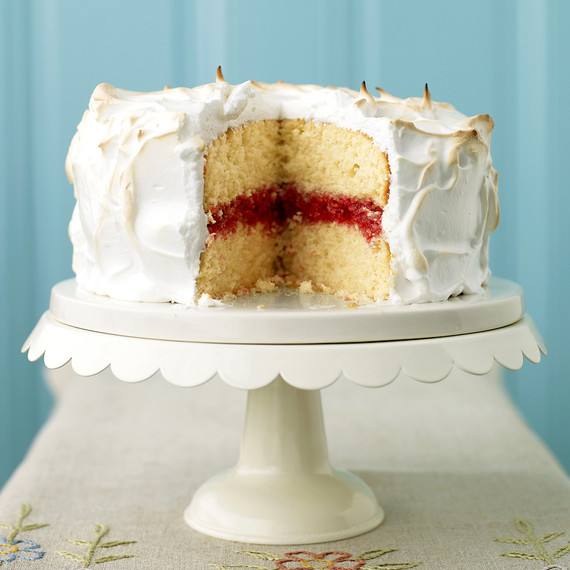 Dessert: Meringue-Frosted Cake with Raspberry Filling
Raspberry preserves amped up with frozen raspberries are sandwiched between moist layers of yellow cake, then the whole thing is swathed in a cloud-like cloak of meringue.
Get the Meringue-Frosted Cake with Raspberry Filling Recipe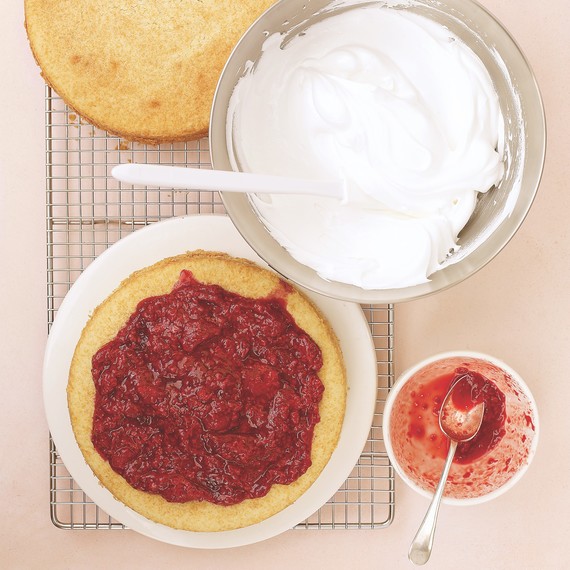 The Schedule
Up to 1 Day Ahead
Cook, cool, and dry asparagus. Wrap and refrigerate.
Prepare apricot mustard sauce; cover and refrigerate.
Bake cake layers, and cool. Wrap; store at room temperature.
Peel potatoes, cover with water, and refrigerate.
Slice and wash leek, grate cheese, and refrigerate.
Several Hours Ahead
Six hours before cooking, bring ham to room temperature. Start baking 2 1/2 hours before serving.
Assemble and bake potato galette 70 to 80 minutes before ham is done.
Just Before Arriving
Finish preparing asparagus and peas; carve ham.
Warm apricot mustard sauce.
Prepare meringue; fill and frost cake; brown top.