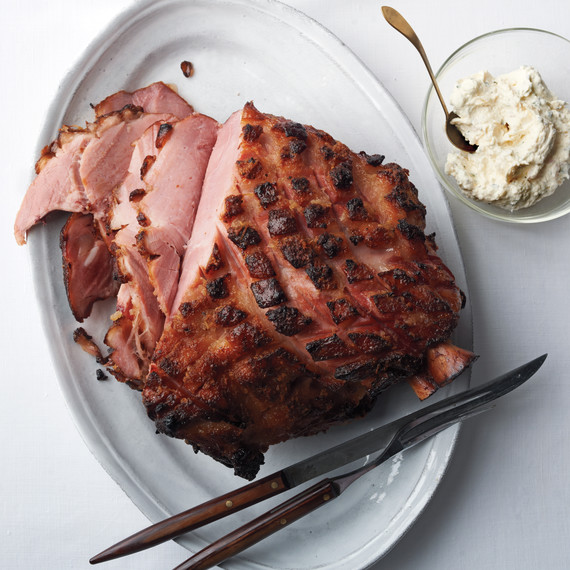 Easter is a time to gather family and friends and celebrate the arrival of spring, which means it's also time to serve a larger group. Don't be daunted by the idea of preparing a feast; this Easter menu for a crowd is doable and delicious.
The secret to an easy cocktail hour? A signature cocktail served in a punch bowl, one crowd-pleasing dip, and a few store-bought nibbles. Select a few guests to help you serve the starter, a make-ahead asparagus soup, and then move into family-style mains and sides. An iconic Easter ham could serve an army, but we're supplementing it with a side of salmon for variety—it's easier and faster to grill than you think. The sides have fancy flavors and looks, but the truth is they are quite simple to prepare: roasted baby carrots and a potato-and-snap pea salad can both be prepared in advance. Oh yes, of course there's a spectacular dessert for a suitably grand finale.
The Menu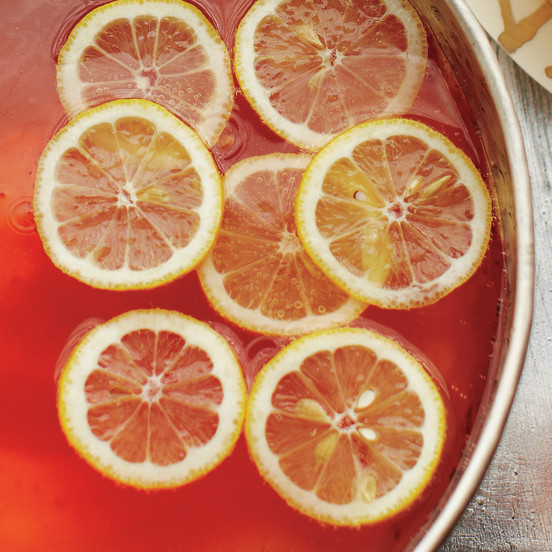 Pre-Dinner: Elderflower-Champagne Punch + Artichoke-and-Feta Dip
Just before guests arrive, stir together a delicately floral, sparkling elderflower-Champagne punch. Serve the punch with a warm, deconstructed cheesy dip with artichokes—and make sure there is plenty of crusty bread to break up the feta and sop up the juices. Set out small bowls of toasted nuts and olives and let everyone help themselves.
Get the Artichoke-and-Feta Dip Recipe
Get the Elderflower Champagne Punch Recipe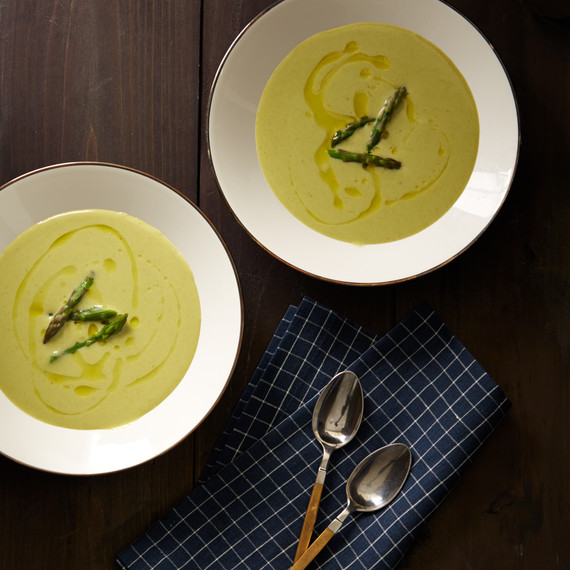 Start: Cream of Asparagus Soup
Made ahead, the first course is an elegant soup that's ready when you are. For a gorgeous Easter presentation, peel and grate hardboiled eggs in advance—they'll be the garnish for each soup bowl, a preparation called mimosa because the yellow and white resemble the flowers of the same name. The recipe can easily be doubled and enjoyed hot or cold.
Get the Cream of Asparagus Soup Recipe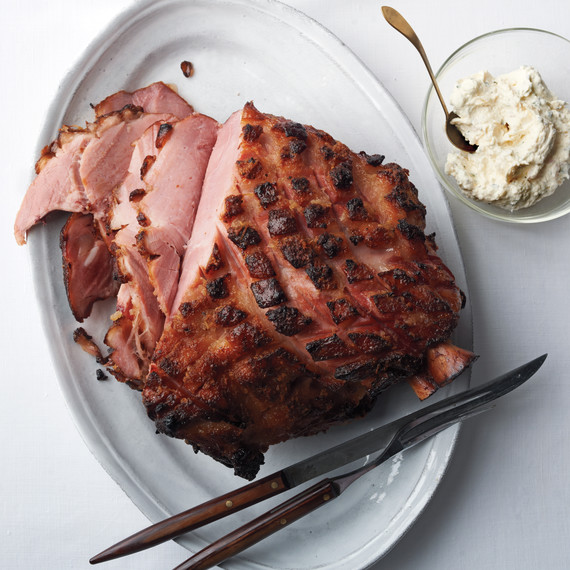 MAINS: Glazed Ham with Horseradish Cream + Grilled Salmon with Fennel and Olive Relish
When serving a crowd, it is always good to have two mains and several sides to capture everyone's meat (or lack of meat) preferences. Our recipe for the perfect Easter ham: Score the skin for a pretty presentation and to help the glaze soak in. Whisk together a spicy-sweet horseradish glaze and baste the ham a few times while baking to balance the saltiness of the meat. Serve with a creamy horseradish sauce. Nothing beats the crispy skin—make sure everyone has a little on their plate.
Get the Glazed Ham with Horseradish Cream Recipe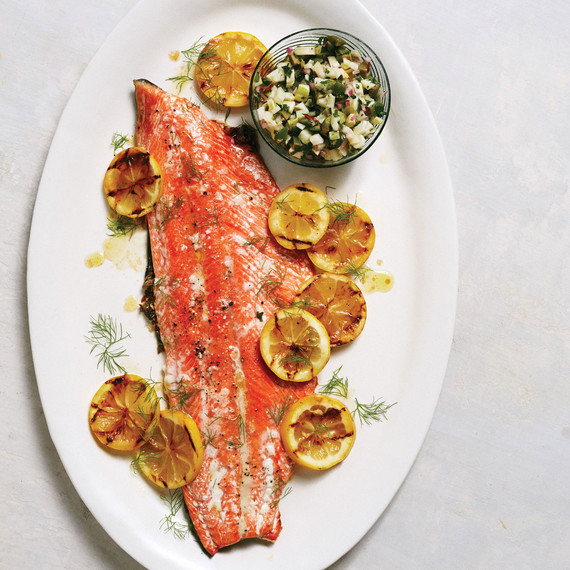 Since the oven will be ham central, light up the grill and lightly char salmon and lemon wedges for your second main. Spring is the perfect time to kick off grilling season, after all. No need to flip the fish; just cover, and it will be cooked to perfection in less than 10 minutes. Serve with crispy fennel-and-olive relish and use the fresh fennel fronds for garnish.
Get the Grilled Salmon with Fennel and Olive Relish Recipe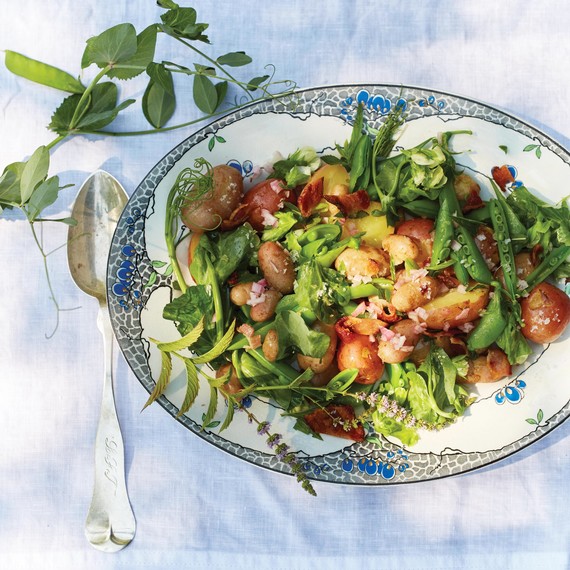 Sides: Potato, Snap Pea, and Pea-Tendril Salad + Roasted Carrots with Chimichurri
Dress up your potato salad up for the holiday with spring peas and their delicate sweet tendrils. Tossing the potatoes with dressing while they are still hot is a great trick to infuse them with flavor rather than having it just sit on the outside. Once cool, add in the peas, tendrils, bacon, and mint.
Get the Potato, Snap Pea, and Pea-Tendril Salad Recipe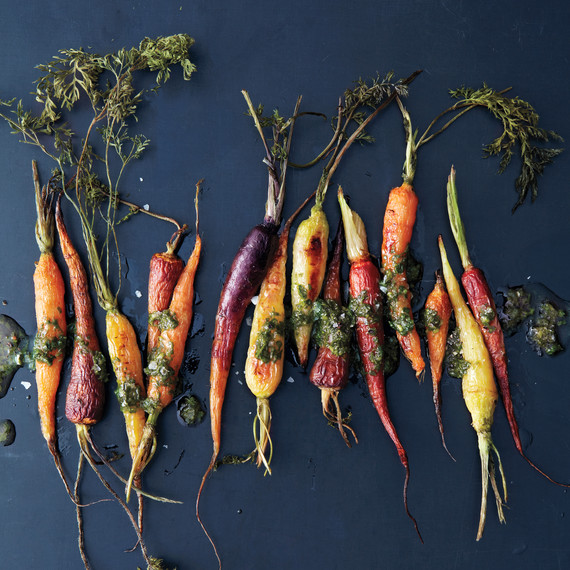 Super sweet and cute, first-of-the-season baby carrots are a perfect Easter side. Look for carrots with nice green tops, and since they are so tender, don't waste time peeling them; just gently scrub them clean. Roasting the carrots until they are golden and caramelized emphasizes their natural sweetness, and a generous dressing of herbaceous Argentine-inspired chimichurri sauce is the perfect complement. These carrots are just as delightful served at room temperature as they are warm. Another plus: you can eat the tops!
Get the Roasted Carrots with Chimichurri Recipe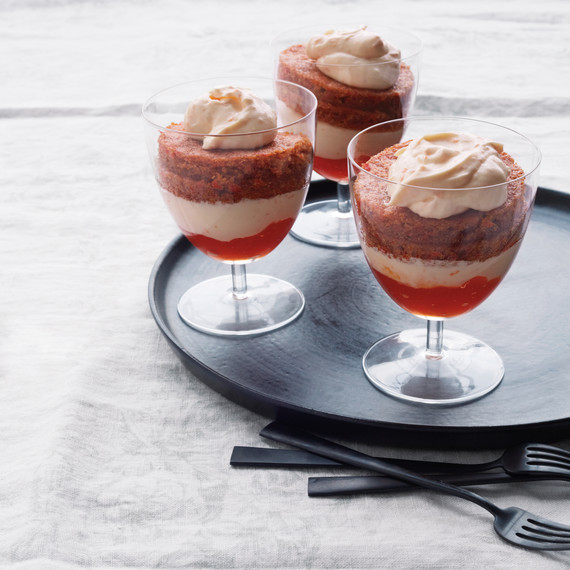 Dessert: Carrot-Cake Parfaits
You can never go wrong with carrot cake. These parfaits are a delicious twist on the classic cake and have the perfect cream cheese filing-to-cake ratio for frosting lovers. We added a jewel-like apricot layer on the bottom that shines through glass cups and adds irresistibly tangy fruit flavor.
Get the Carrot-Cake Parfaits Recipe