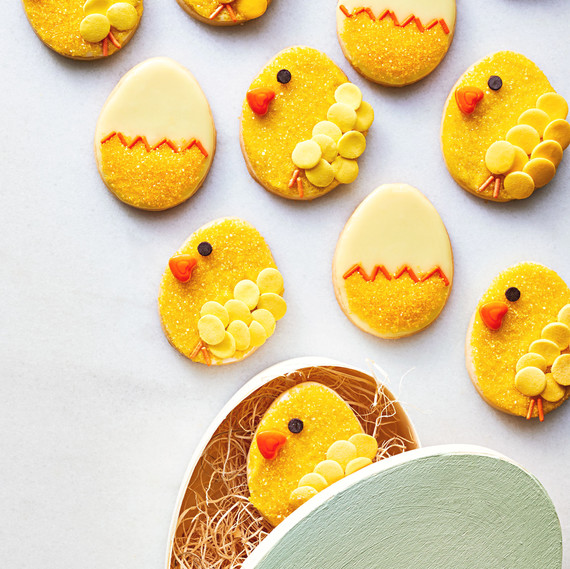 Running around searching for eggs and eagerly waiting for the Easter bunny can have both kids and adults build up quite an appetite. An Easter brunch with an ooey-gooey ham and cheese casserole is just the dish to serve the hungry hunters, and it's a dish that both kids and adults will love. Start the brunch on a healthy note with homemade carrot juice and a colorful selection of spring vegetables to dip in homemade hummus. Serve asparagus topped with the cutest carrot bunny cutouts alongside the casserole. Then for dessert, there is favorite store-bought Easter candy in tiny homemade coconut macaroon baskets (which also make the sweetest table decorations) and chick and egg-shaped Easter cookies that you and your kids can decorate together ahead of time. 
The Menu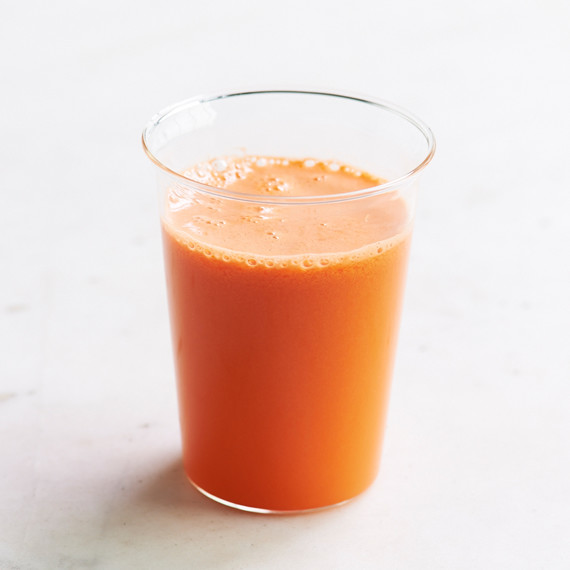 Drink: Carrot, Apple, and Lemon Juice
Fresh carrot juice is suitable for any bunny and is a fitting way to start an Easter meal. Juicing the carrots with apples and lemons brings sweetness and tang, giving the drink a lemonade-like appeal. If you don't have a juicer, don't fret. Most stores sell bottled carrot juice now; just combine that with apple and fresh lemon juice.
Get the Carrot, Apple, and Lemon Juice Recipe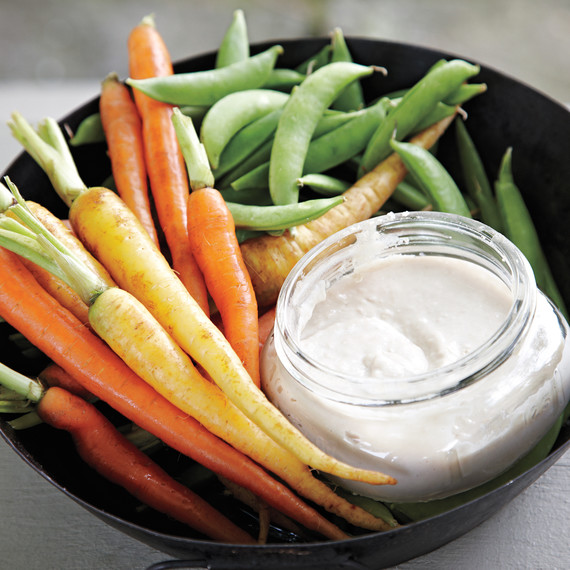 Start: Lemony White-Bean Hummus
Arrange a colorful vegetable patch of spring crudités around a bowl of creamy hummus made with cannellini beans. The hummus can be made a day ahead and stored, covered, in the refrigerator. Now that the first new vegetables of the season are arriving at the market, look for tender young carrots and sweet sugar snap peas—both will be hits with the kids. Put out celery, fennel, and radishes for the adults and more adventurous little ones.
Get the Lemony White-Bean Hummus Recipe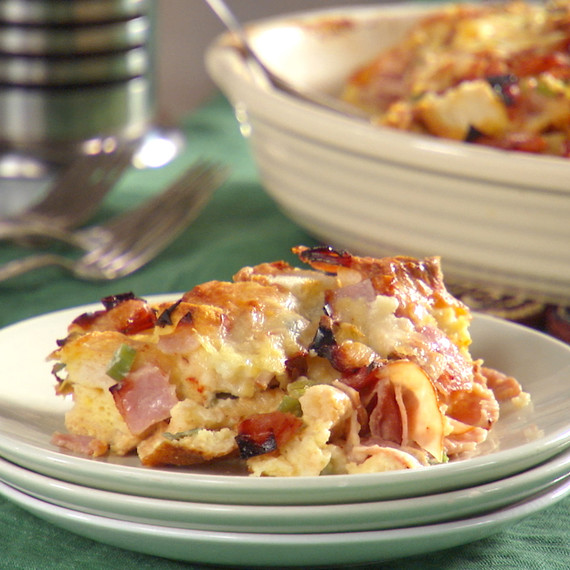 Main: Ham-and-Cheese Strata
Think savory French toast with cheese, that's the easy-to-make yet sophisticated casserole known as the strata. Assemble it the night before by soaking the bread and fixings, in this case Easter ham, cheese, and scallions, in an egg mixture. Pop it in the oven to bake in the morning. You know it's done when the strata puffs up and has a crunchy golden top.
Get the Ham-and-Cheese Strata Recipe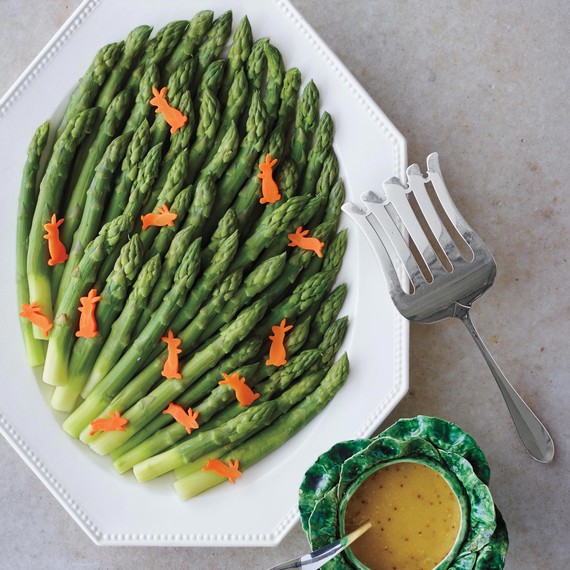 Side: Asparagus with Mustardy Vinaigrette
Adorn asparagus with edible bunny cutouts made from carrots for a playful side. Asparagus is a fun vegetable for kids—they can hold a spear and eat from top to bottom or bottom to top! And serving the vinaigrette on the side means that only those who want it need have it. 
Get the Asparagus with Mustardy Vinaigrette Recipe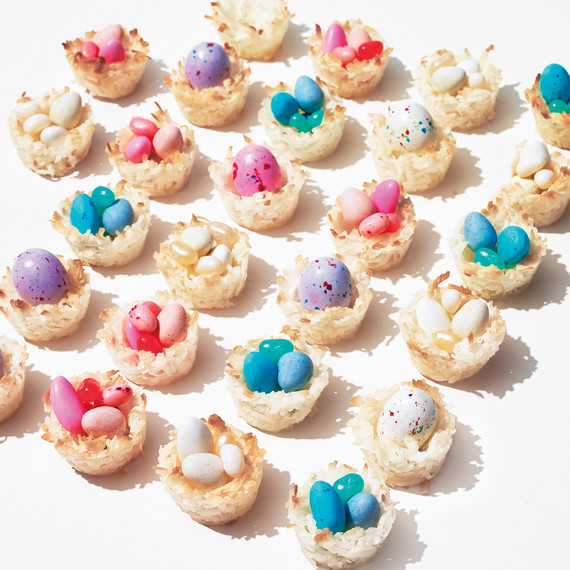 Dessert: Coconut Macaroon Nests and Easter Chick Cookies
Part table decoration, part dessert, part excuse to eat more Easter candy, that's these diminutive edible Easter baskets. They're made from coconut macaroons and filled with mini Easter candies, like chocolate eggs and jelly beans. Place a few peeps on top of the nests for a super-cute finish.
Get the Coconut Macaroon Nests Recipe
Which came first: the chicken cookie or the egg cookie? When you make these Easter treats, they all come at the same time, from the same dough using the same cookie cutter—and it's a cutter you probably already have. Just pinch one end of a round cookie cutter to create an egg shape, then roll out the lemony shortbread dough, stamp out the cookies, and bake. Decorating can be a fun family project the day before your brunch. Set up a selection of sanding sugars, mini chocolate chips, and candy and have little fingers add the sanding sugar, chocolate-chip eyes, and candy beaks.
Get the Easter Chick Cookies Recipe
Watch how to make the Easter Egg and Chick Cookies: