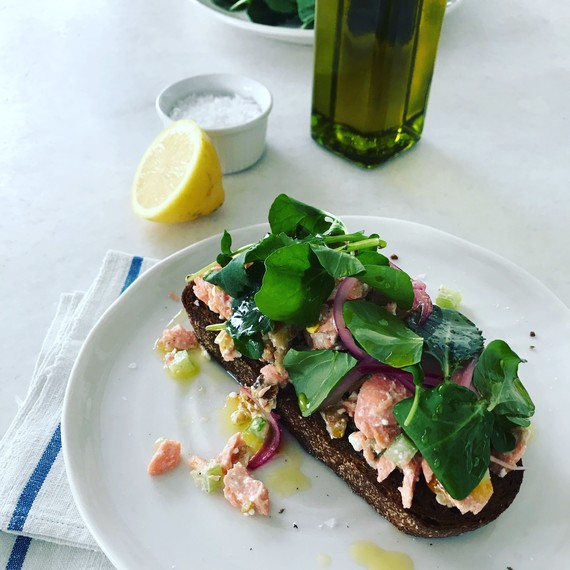 Healthy eating starts with a well-stocked fridge and pantry, and this salmon salad is as nutritious as it is convenient. Make a batch and enjoy it for a quick breakfast, snack, or light dinner (It also tastes great straight out of the container, standing at the refrigerator, when you're too hungry to figure out what to eat!). This is my favorite salmon salad right now because it uses another fridge staple that I always have on hand, one that's better for you than mayo: cottage cheese. 
Get the Salmon Salad with Celery and Walnuts Recipe​
This recipe is a great way to use up any leftover cooked salmon (or jarred tuna or canned sardines.) You're shooting for 2 cups flaked fish. But first, let's talk about the base. Cottage cheese, fresh lemon juice, chopped celery, walnuts, and golden raisins add bright flavor and a pleasing crunch. Serve this salad over tender greens or chopped kale (Make sure you massage the kale with a vinaigrette before topping with salmon salad). Or pair it with a whole grain. I love the satisfying chew of a piece of toasted rustic bread drizzled with olive oil. Topped with a medley of peppery greens like watercress, this is an open-faced sandwich and salad combo in one.
Don't forget the garnish! It's the star of the show, and you'll want to put it on everything. Thinly slice a small red onion and let it marinate in fresh lemon juice and a little bit of kosher salt. In the time it takes to assemble the salad, you'll have quick-pickled red onions that are a perfect balance to the salmon's richness. The acid in the lemon juice helps take the edge off of the raw onion, while also tenderizing it and giving it a gorgeous pink hue.
It's mayo-free, heart healthy, and rich in good-for-you fats (#teamgoodfat). I can't wait for you to make it.
Get the Salmon Salad with Celery and Walnuts Recipe
Tune in every Sunday for a new Healthy Appetite video from Shira Bocar.
Watch Shira make this revolutionary salmon salad: