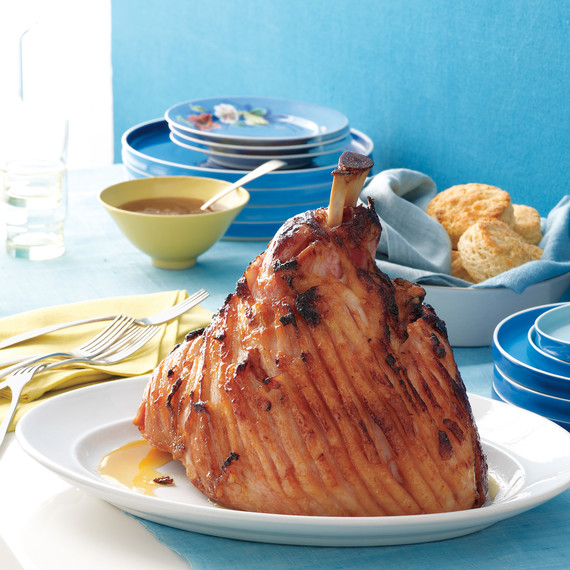 Want to host a fuss-free Easter dinner? These six recipes are all you need for an impressive holiday feast or a sunny spring celebration. The centerpiece is a baked bone-in ham brushed with an irresistible smoky-sweet glaze made with apricot jam and bourbon. As many of you will agree, if there's ham, there's got to be biscuits—ours are amped up with sharp cheddar and fresh chives. (Consider baking an extra batch for leftover ham sandwiches the next day—they're that good.)
A mix of winter and spring vegetables round out the table: baby carrots, snap peas, potatoes, and leeks. And for dessert? A strawberry-rhubarb slab pie that's just the thing for feeding a crowd. It might sound like a lot to pull off, but our make-ahead plan breaks everything down into simple, manageable steps. The result? A stress-free dinner that might just become your new Easter tradition.
The Menu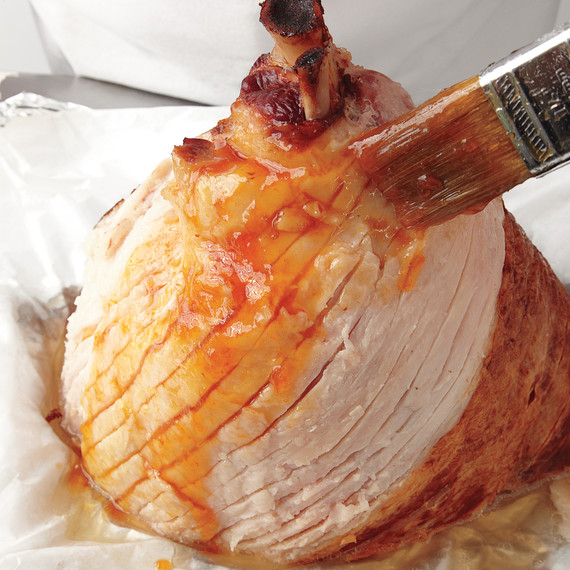 Main: Apricot-Bourbon Glazed Ham
Scoring the fat with a sharp knife allows the ham to absorb the sweet-and-savory flavors of the glaze.
Get the Apricot-Bourbon Glazed Ham Recipe
Bread: Cheese-and-Chive Biscuits
Feel free to experiment with different combinations of cheese and fresh herbs for these fluffy buttermilk biscuits. We went with cheddar and chives, but Parmesan and sage would also be delicious.
Get the Cheese-and-Chive Biscuits Recipe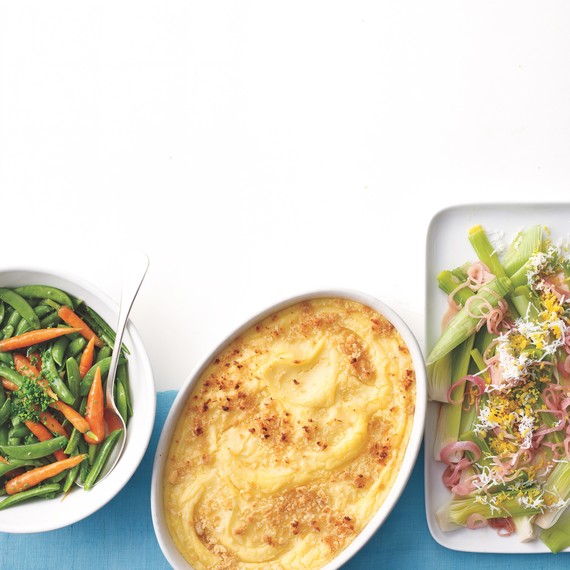 Sides: Snap Peas and Carrots + Mashed-Potato Gratin + Leeks Vinaigrette
Add color and crunch to the meal with three sides that complement the ham beautifully. First up are baby carrots and snap peas—they're quick-cooked in the same pan with a couple knobs of butter. Next, it's hard to improve on mashed potatoes, but baking them with a mustardy bread-crumb topping does the trick. A timeless classic completes the trio: leeks in vinaigrette. A hard-cooked egg (perhaps a leftover Easter egg?) grated over the top makes for a lovely presentation.
Get the Buttered Snap Peas and Carrots Recipe
Get the Golden Mashed-Potato Gratin Recipe
Strawberry-Rhubarb Slab Pie
A large-format version of everyone's favorite spring dessert! A sprinkling of sanding sugar before baking makes the pie sparkle, and freshly whipped cream serves as a wonderful foil for the sweet-tart fruit filling.
Get the Strawberry-Rhubarb Slab Pie Recipe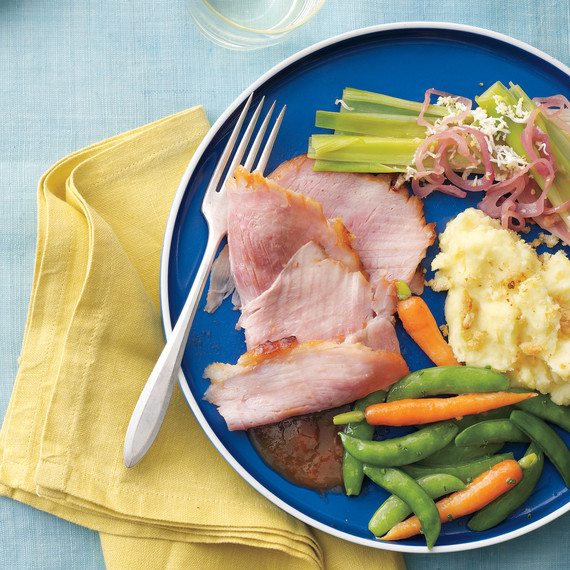 Prep Schedule
Up to 1 Week Ahead
Make apricot-bourbon glaze; cover and refrigerate.
2 Days Ahead
Make pie dough; refrigerate, wrapped well in plastic. Cut strawberries and rhubarb for pie; refrigerate in an airtight container.
1 Day Ahead
Make mashed potatoes; transfer to a baking dish, cover, and refrigerate. Make breadcrumb mixture; cover and refrigerate.
Clean and steam leeks; cover and refrigerate. Make vinaigrette; cover and refrigerate. Cook egg and refrigerate in an airtight container.
Prep carrots and snap peas; cover with damp towels, then wrap tightly in plastic and refrigerate.
Assemble and bake pie; let cool completely, then tent with foil and keep at room temperature.
4 Hours Before
Make biscuits; let cool, cover, and keep at room temperature.
3 Hours Before
Bake ham.
Bring leeks and vinaigrette to room temperature; peel egg.
30 Minutes Before
Tent ham loosely with foil and let rest 30 minutes.
Sprinkle breadcrumbs over mashed potatoes and bake.
Wrap biscuits in parchment-lined foil and reheat in oven.
Finish snap peas and carrots.
Assemble leeks vinaigrette.
Watch Everyday Food host Sarah Carey whip up the showstopping glazed ham: