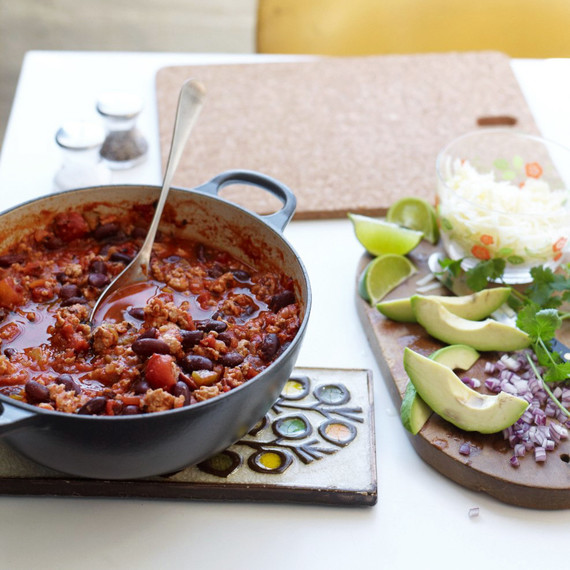 After a chilly day hiking outdoors, unbundle and prepare a family dinner centered around a pot of hearty chili. Warm up from the inside out with a hydrating mug of mulled cranberry cocktail (it's nonalcoholic!) and a post-hike popcorn snack that tides everyone over until dinner but doesn't ruin their appetites. Prepare a pot of chili that comes together in 30 minutes—just enough time for the side, whole-wheat cornbread, to bake. For dessert, transform three of everyone's favorite trail mix ingredients into bar cookies that are drizzled with chocolate for a healthy finish that feels like a treat.
(GET: Our Healthy, Kid-Friendly Snack Recipes That Are Just Right to Take on a Hike)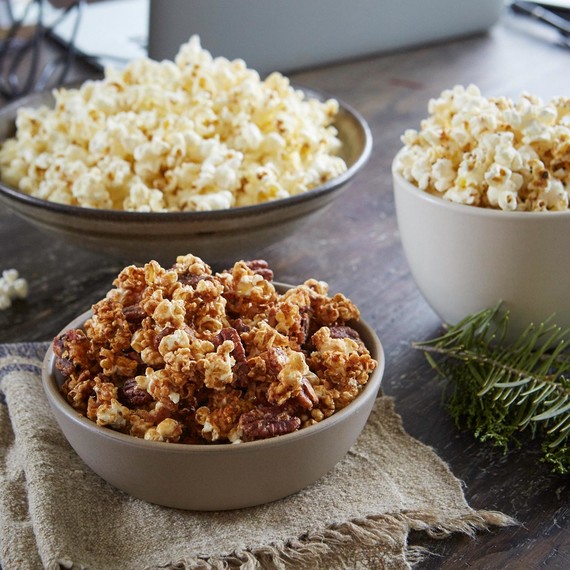 To Snack: Seasoned Popcorn and a Warming Drink
Hiking works up an appetite, so have a quick-energy source ready at home to keep hungry kids from becoming hangry kids. Our suggestion: seasoned popcorn and a cozy mug of mulled cranberry juice (it's called a cocktail, but there is no alcohol). With six different seasoning suggestions in this one recipe, there will be something for everyone. Pick one seasoning that will please the group or select a few.
Use your time wisely: preheat the oven and an 8-inch cast-iron skillet while you snack, to prepare for the cornbread.
Get the Mulled Cranberry Cocktail Recipe
Get the Seasoned Popcorn Recipe
Main: 30-Minute Chili
Chili is a great make-ahead dish, but as this recipe comes together in a half hour, you can make it after you get home if you prefer. (Prep ahead: have the garlic and onions chopped and the other ingredients set out and ready for when you get home.) Serve the chili in oversized mugs or deep bowls that leave enough room for the toppings. Sour cream, shredded cheddar cheese, sliced avocado, and scallions are classics.
Get the 30-Minute Chili Recipe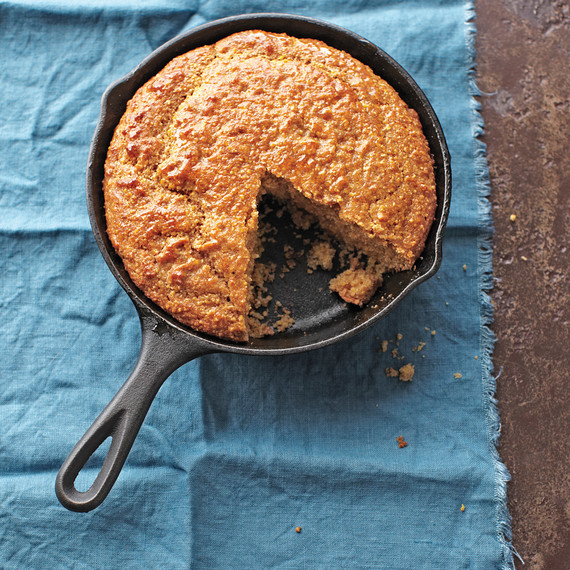 Side: Whole-Grain Skillet Cornbread
Homemade cornbread is surprisingly easy to make and swapping all-purpose for whole-wheat flour makes for better baking and better nutrition. Our secret to the perfect crunchy crust: preheat the skillet in the oven, then add the batter. If you don't have a cast-iron skillet, bake the cornbread in an 8-inch cake pan.
Get the Whole-Grain Skillet Cornbread Recipe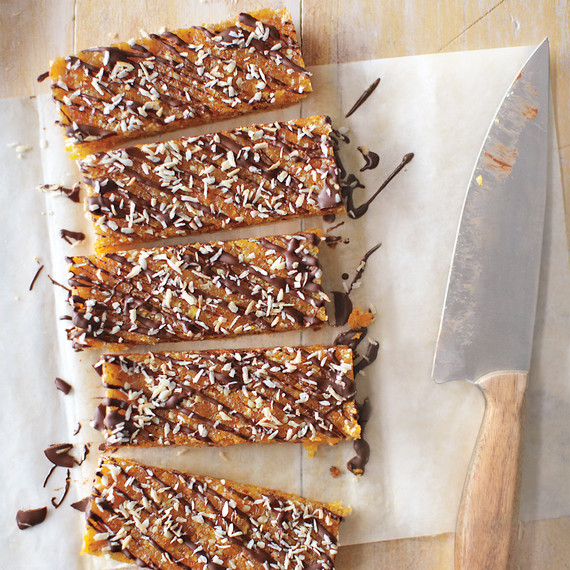 Dessert: Chocolate-Apricot Nut Bars
Bring out a plate of homemade snack bars you made earlier (or the day before). They're packed with luscious coconut and almonds and sweetened with apricots rather than sugar. A chocolate drizzle on top has everyone thinking they're a decadent dessert. These portable snacks are also great mid-hike fuel.
Get the Chocolate-Apricot Nut Bars Recipe