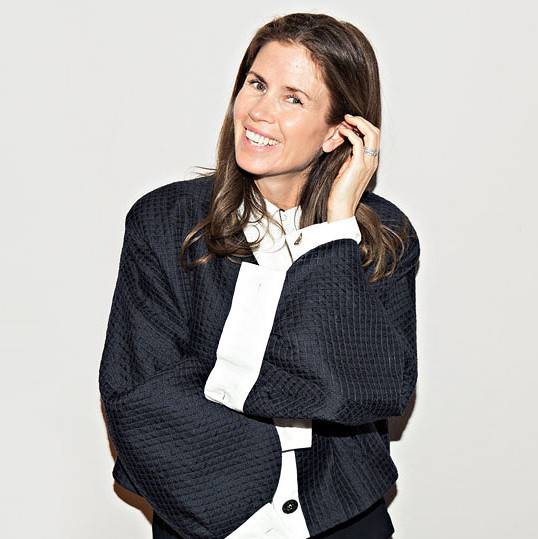 Born in California and raised in Sweden, Gucci Westman got her start doing makeup as a little girl on probably her most patient client: her mom. She studied the art in France, then took her talent to Hollywood, where she got a break un-beautifying the very beautiful Cameron Diaz for "Being John Malkovich."
Fashion found her next, and designers tapped into her uncanny ability to create wearable trends for runways—from defined eyes at Rag & Bone to pink-kissed faces for the Brock Collection.
While she loves to play with unexpected shades on eyes and lips, her signature look is fresh, flawless skin.  In fact, this spring, the legendary makeup artist is launching a "no makeup" makeup brand featuring non-toxic products. 
The six piece collection is in line with Westman's holistic lifestyle. The mom of three meditates each morning, does yoga, and rides horses.
On clients, she exfoliates, hydrates, perfects, and then experiments, adhering to a single guiding principle: "Stay far from your comfort zone," she says, "and try new things."
[CLEAR SKIN: Learn How to Get Rid of Adult Acne]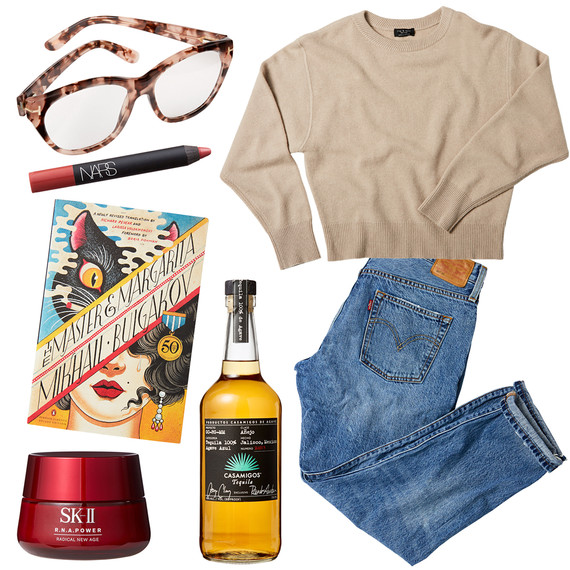 Westman's Essentials
Her Specs: Tom Ford soft squared optical frames, in Dark Havana, $385, tomford.com.
"My outfit can't interfere with my job, so I wear something comfortable, like a sweater and jeans."
Go-To Pullover:  Rag & Bone Sutton cashmere sweater, $450, rag-bone.com.
Trusty Denim: Levi's 501 jeans, from $65, levi.com.
Unforgetable Read: "I first read this novel when I was 18. I loved the nostalgia and beautiful storytelling." "Master and Margarita," by Mikhail Bulgakov, $17, mcnallyjackson.com.
"For dressing up, Chanel, Céline, and Balenciaga are some of my favorite designers."
Coolest Cream: "It's soothing and extremely hydrating." SK-II R.N.A.Power Cream, $230, sk-ii.com.
Surefire Lip Shade: "This pencil in Bahama has the perfect texture and color for me." Nars Velvet Matte Lip Pencil, $27, narscosmetics.com.
Skin Savior: "The entire skin-care line really helps my rosacea." Mother Dirt Face and Body Cleanser, $15, motherdirt.com.
Top Tipple: "On weekends I'll have a glass of this with soda and a squeeze of lime." Casamigos tequila añejo, $55, casamigos.com.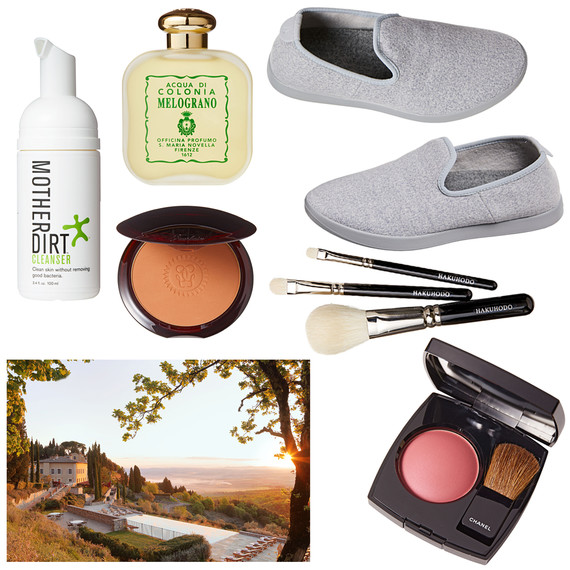 Best Blush: "The Rosewood shade gives me just the right rosy complexion." Chanel Joues Contraste Powder Blush, $45, chanel.com.
Better Bronzer: "A little bit makes even the most tired person look fresher!" Guerlain Terracotta Bronzing Powder, $53, sephora.com.
Must-Have Tools: "These handcrafted makeup brushes have the best quality out there." Hakuhodo Basic three-piece brush set, $90, hakuhodousa.com.
Signature Scent: "I've been wearing it for 20 or so years now. I love how clean it smells." Melograno Aqua di Colonia, $125 for 100 ml, smnovella.com.
Dream Destination: "I hope to stay next at this resort in Siena, Italy." Castiglion del Bosco, castigliondelbosco.com.
Everyday Shoe: "These slip-ons are so cozy. You don't need socks, and you never sweat in them. They're perfect!" All Birds wool loungers, $95, allbirds.com.