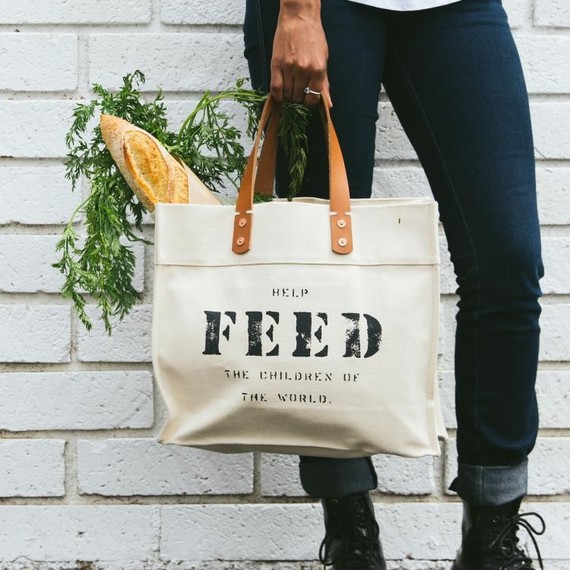 Introducing #ChangetheDay
We'll offer simple ways you can have a positive impact on your health, your home, and even the world. Get inspired by our Change Makers and the companies that are making a difference in the way we live. Join us!
"Paper or plastic bag?" We're hoping that one day this will be an obsolete question #BYOB. But until then, consider opting out of single-use bags and bringing your own reusable tote (or two!) next time you go shopping. Did you know Americans use 100 billion plastic bags a year? Whether you're looking for something that complements your outfit, folds up and can be stowed in your purse, or that's durable enough for a big grocery run, we've got an eco-friendly tote for you.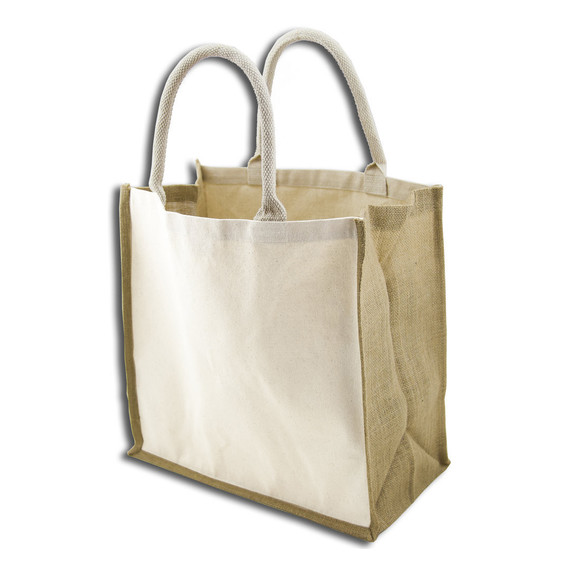 While many synthetic bags are made from oil — often not sustainable or biodegradable — this tote is crafted from certified organic cotton canvas and jute (also known as burlap). Larger than your average paper grocery bag, this minimalist tote is also heavy-duty enough to carry your largest farmer's market haul. Padded straps keep you extra comfortable while carrying.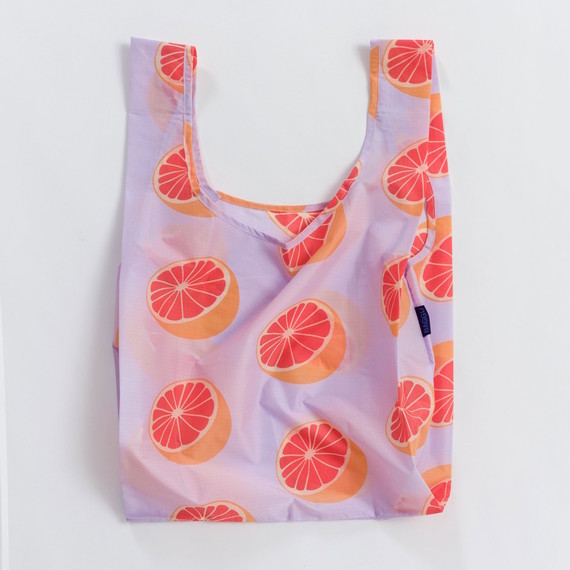 One of our favorite go-to companies for totes, stylish carriers, and purses, Baggu, started with their (now signature!) nylon reusable shopping bag. The shape is an exact replica of your regular plastic grocery bag, but it's made from more sustainable materials and can hold two to three times as much. The best part: they're so lightweight and conveniently fold up into a tiny pouch that you can easily stash one in a purse or pocket. Not to mention their many fun shades and patterns —like this adorable grapefruit print.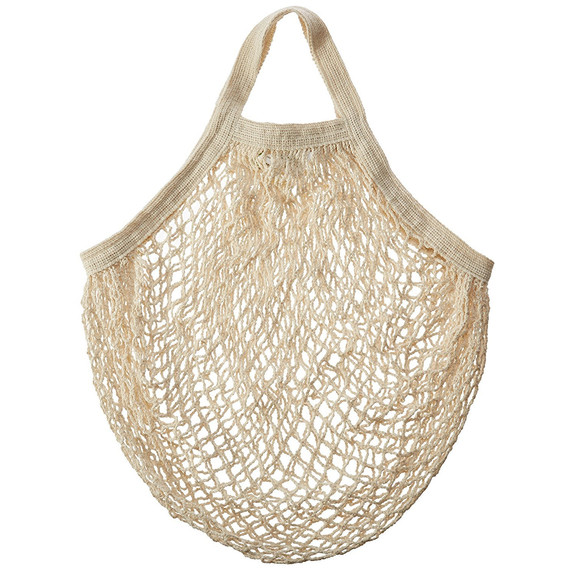 We admit, this net bag makes us wish we were cycling around around Paris with a baguette and fresh flowers in tow, but it can work just as well carrying goods at your local grocer or weekend farmers' market. Made from natural cotton, the netted material easily stretches to fit whatever you need to carry and can be thrown in the wash when needed. The 5-bag sets are available in various colors themes, like this dreamy pastel and a bold tropical, and are colored with lead-free dyes. At the end of their toting power, these bags can also be recycled as textiles.
[SEE: More Ways to Be Sustainable at Home]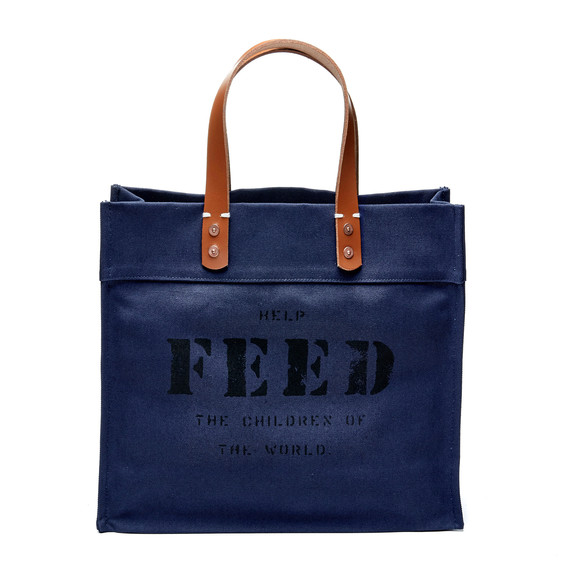 These structured canvas bags by FEED have thick sturdy sides to keep things neatly stacked, plus outside pockets for stashing your phone and keys. Created in 2007 by Lauren Bush Lauren, a spokesperson for the United Nation World Food Programme, FEED's various efforts and do-good products help fight world hunger. When you purchase this tote, a portion of the cost goes to the UN World Food Programme, which not only provide meals, but education to children around the world.
[TIPS: From Lauren on Hosting Your Own FEED Supper!]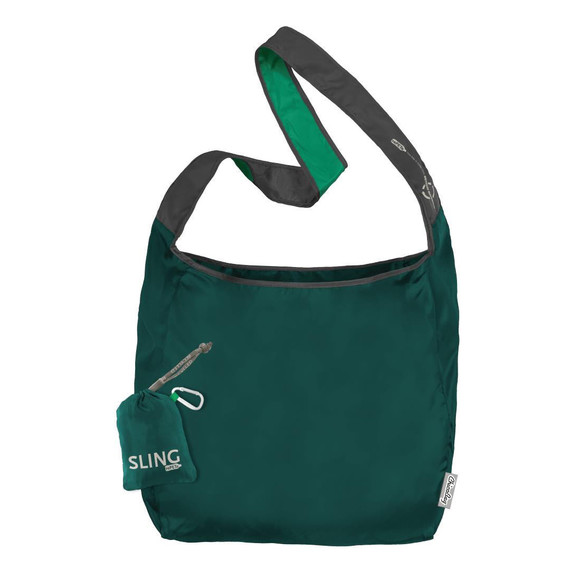 From composting and recycling to nixing single-use lunch containers and paper towels, zero-waste company ChicoBag is on a mission to make their business and the planet as clean and as healthy as possible. Their Sling rePETe cross-body tote offers the best of both worlds when it comes to convenience and durability (it can hold up to 40 pounds!). Made from 100% post-consumer recycled plastic bottles, it also folds up and fits into a small pouch making it easy for you to always keep on hand for impromptu shops.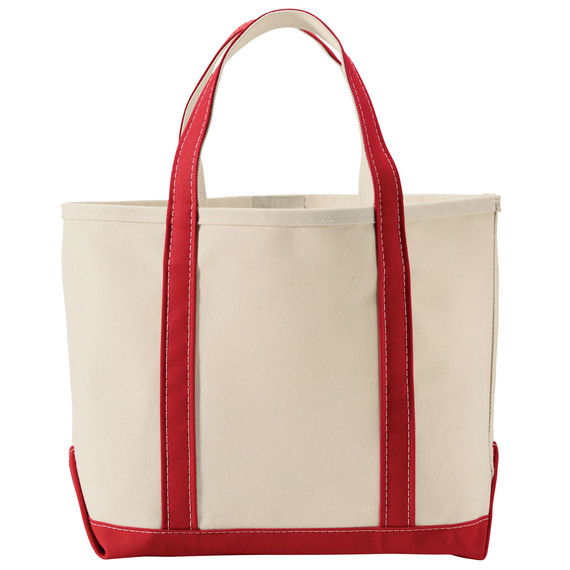 Handcrafting their totes since 1944, the Maine-based retailer, specializing in all your outdoor living needs, has been making environmentally-friendly products since before it was cool; proof that these totes are the epitome of classic! With their double layer base and canvas bottom, they're also built to last a long time. Use them for everything from your heaviest of groceries to packed lunches and car games for your next family road trip. Plus, they come in four sizes and ten colors with optional monogramming for ultimate personalization. 
[SHOP: More American-Made Makers We Love]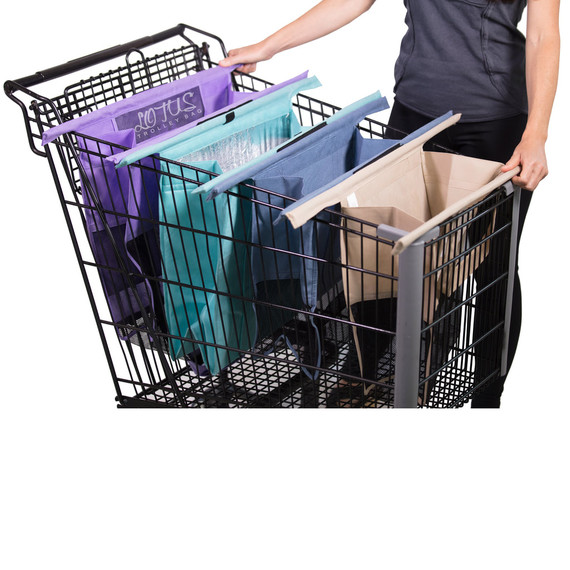 Made from a California-based, family-owned company, the hyper-organized Lotus Trolley Bag will change the way you get your groceries. Thanks to the husband and wife duo behind the brand, this tote (more of a bagging system!) was created to be both eco-friendly and make the shopping experience a more convenient one. Designed to sit neatly in your cart and help sort groceries while you shop — there's special pockets to hold glass bottles and egg cartons — these bags also keep items cold and lift out easily for loading into your car. Once empty, the bags roll up neatly and store away until your next use. Who said saving the planet couldn't be easy?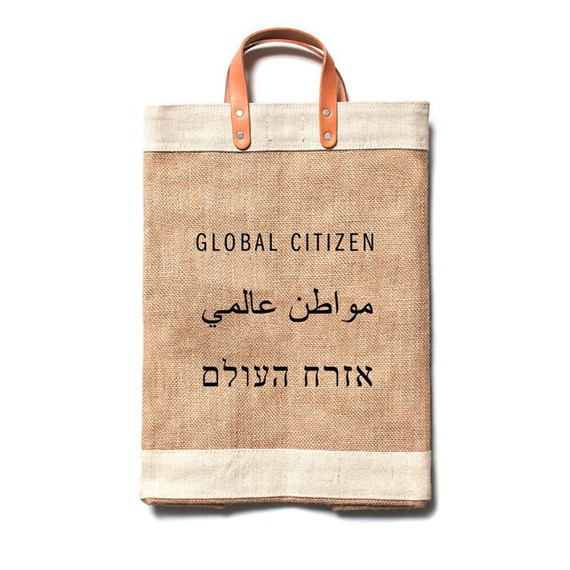 Don't let this bag's simple exterior fool you; it's as durable as they come holding up to 135 pounds and built with a waterproof interior. Each tote is made-to-order with natural jute fiber by female artisans in Bangladesh. Apolis not only pays their makers fair trade wages, but also sources and manufactures all their products locally in places like Bangladesh, Uganda, and Peru. Translating to "Global Citizen" in Greek, Apolis also offers bag personalization, printing the phrase in any three languages of your choice. And topped with stylish leader carrying handles? Talk about a dream tote.