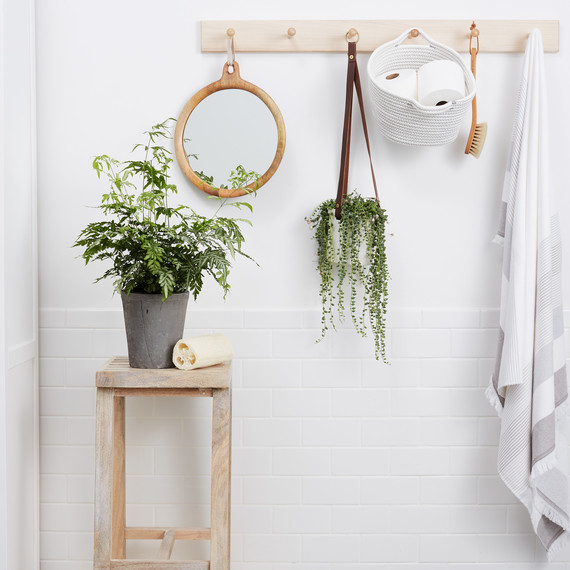 We've talked about our love for the versatile Shaker peg rail before. Sure, it's brilliant in an entryway and on the inside of closets, but have you ever thought about using this simple organizing tool in the bathroom? We're looking at you, small space dwellers. Turns out the peg rail is perfect to streamline—and add some calm—to your personal sanctuary. Here's how to pull off this look.
Hang Your Rail
Don't have space for a vanity? No problem. The peg rail acts as a catch-all for your necessities, from wet towels to baskets filled with toiletries and hair tools. And the best part is how easy it is to mount. We used a maple rack from the Container Store, which can be drilled into a wall or even tile in a matter of minutes. The beauty of using unfinished wood is that it can easily be stained or painted to match the aesthetic of any room. But if you're looking to add some warmth, leave the wood unstained for that soothing Scandinavian feel that's so popular right now. 
Select Artful—And Useful—Objects
Using a peg rail means everything is on display, so the key is to select objects that are functional and also attractive (e.g. a beautiful wooden bath brush instead of a neon plastic one). For those unsightly items, the trick is to house them in visually appealing containers. For example, removing toilet paper from its plastic packaging and placing it in a pretty cloth basket makes it display-worthy. 
The Must-Haves
To complete the look, add some greenery. Not only do plants bring a bit of the natural world indoors, but they also purify the air. Some varieties that do well in high humidity areas include ferns, pothos and Martha's favorite begonias. Another multiuse item we love for the bathroom: the all-important stool. They're perfect for children who need an extra boost to reach the sink, hold your towel or change of clothes, and act as a plant stand.