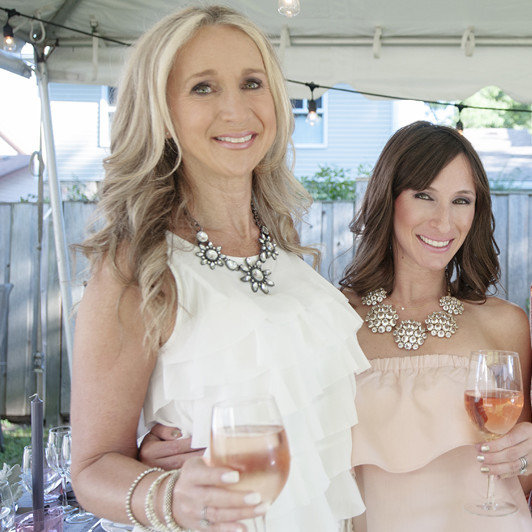 Editor's Note: In the spirit of Galentine's Day, we're profiling powerful women duos in the creative industry — party planners, stylists, designers, makers, and more — who demonstrate innovation and embody entrepreneurial empowerment. In other words, they're #SoMartha.
You might say talent runs in the family, or at least, a flair for entertaining. Debi Traub of Simply Beautiful Eating and Seri Kertzner of Little Miss Party are not just a powerhouse hostess team — they're aunt and niece, respectively. "Technically, I've known Seri for 39 years," Traub says, "and remember holding her in my arms when she was born."
[DON'T MISS: Debi's Galentine's Day Parfait and Paint Party]
Both of their stories begin in Toronto, Canada, where they both lived up until 2001. At that time, Kertzner moved to New York City to pursue a 10-year career in the fashion industry with high-profile brands such as Kate Spade, Club Monaco, and J.Crew. After her first son was born, she made the decision to leave the corporate world and start Little Miss Party, fulfilling her dream of styling and coordinating events as well as offering a one-stop party shop online.
Back in Toronto, Traub was busy fulfilling a dream of her own: Simply Beautiful Eating. The blog was a means of sharing her own recipes and entertaining tips. While she enjoyed a successful career in the public sector, and family life with her husband Steve and three sons, cooking was a passion left waiting to be pursued.
[CHECK OUT: Seri's Dazzling New Year's Eve Disco Party]
Together, they clicked. "Seri and I make a great team," Traub says. "We brainstorm together, compile mood boards and love working towards the end result. Best of all? We tend to get silly and continually laugh while we are working. No matter what the project entails, we always have fun doing things together."
They've since co-hosted several events including Traub's niece Mandy's baby shower and her sister's (Seri's mom's) 70th birthday celebration. "Seri was the first one who taught me the word 'tablescape,'" Traub remarks. "It's one of our favorite things to do."
For other women, they advise two things above all: respect and encouragement. "Seri and I are so genuinely happy for each other when we get a feature, big client, sponsorship, any kind of success really," she says. "We celebrate each other with pride and love. It's so important to encourage other woman in the space giving them confidence and courage to do what they love and fulfill their dreams."
Feeling inspired? Watch how to host a Valentine's Day kiss-themed party with these easy DIY ideas: