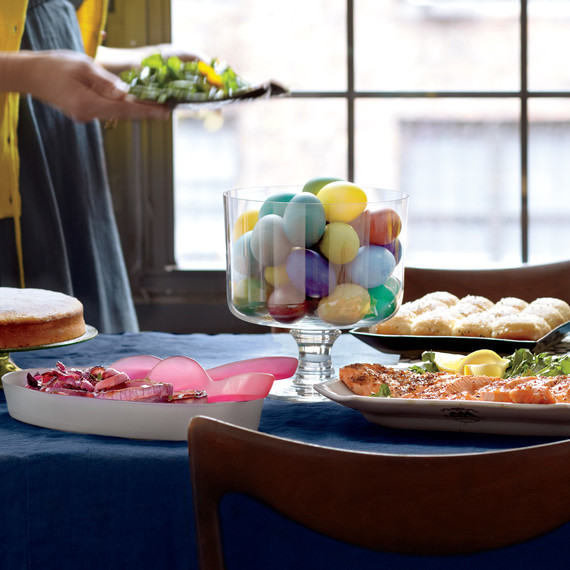 The trick to easy Easter entertaining? Make dinner a buffet and let your guests help themselves. Our marvelous menu is comprised of dishes that taste equally delicious warm or at room temperature, and many of the steps can be completed in advance. The main event is a whole side of salmon, cut up into eight succulent fillets and broiled with a four-ingredient glaze: shallots, red-wine vinegar, Dijon mustard, and brown sugar. The recipe is super versatile—it can easily be doubled if you're expecting more guests, and the glaze works just as well with other kinds of fish, such as striped bass or halibut.
Supporting players include crisp-tender asparagus and green beans tossed with homemade chili-orange oil and fresh basil, fuss-free dinner rolls made with store-bought pizza dough, and sweet red onions broiled with balsamic vinegar. And for a lovely understated Easter finale, serve a bright lemon cake with raspberries and freshly whipped cream. Follow our make-ahead schedule, and pulling off the meal will be a breeze. Bonus tip: We've even got your centerpiece covered—simply pile all those eggs you dyed into a beautiful glass trifle dish.
The Menu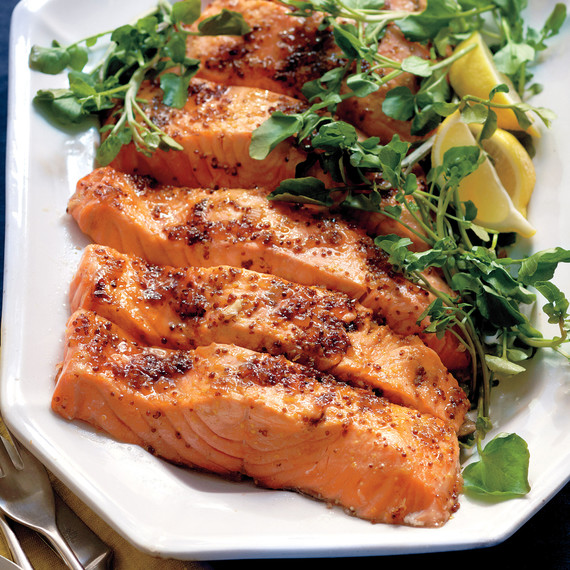 Main: Salmon with Brown Sugar and Mustard Glaze
The broiler works wonders on salmon, turning the fillets succulent in a flash. Serve alongside peppery watercress and lemon wedges.
Get the Salmon with Brown Sugar and Mustard Glaze Recipe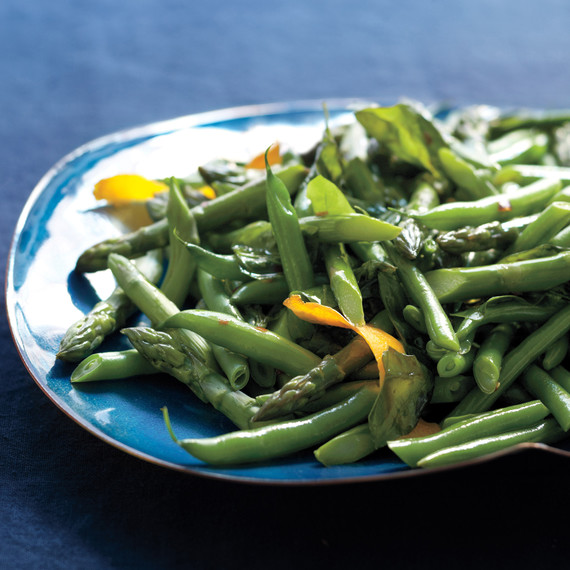 Side: Asparagus and Green Beans with Chili-Orange Oil
Make the flavored oil and the blanch the vegetables in advance, and this dish comes together in minutes on the day of.
Get the Asparagus and Green Beans with Chili-Orange Oil Recipe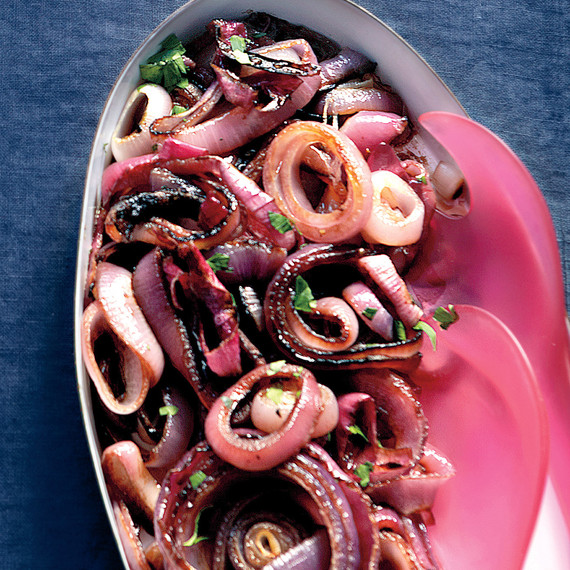 Side: Balsamic Red Onions
Yes, the broiler is the MVP in this meal. The high heat gives thick rounds of red onions a nice char, while balsamic vinegar amps up their natural sweetness. A sprinkling of fresh parsley adds the perfect pop of green.
Get the Balsamic Red Onions Recipe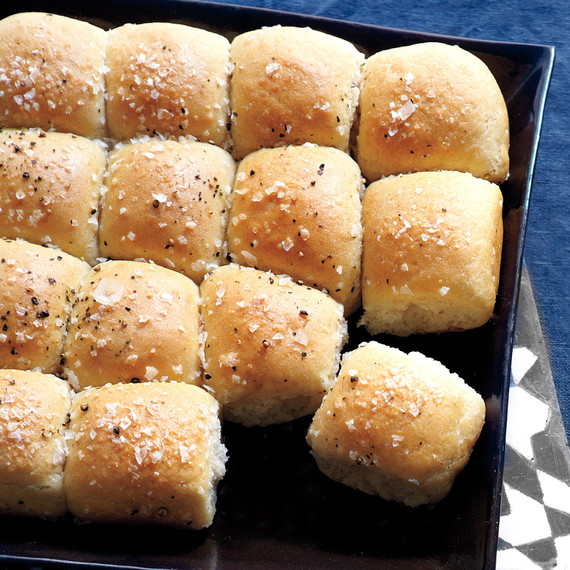 Bread: Salt and Pepper Rolls
The shortest ingredient list for dinner rolls ever: pizza dough, olive oil, salt, and pepper. The results: phenomenal. You can also play with different seasonings here, like crushed fennel seeds or red-pepper flakes.
Get the Salt and Pepper Rolls Recipe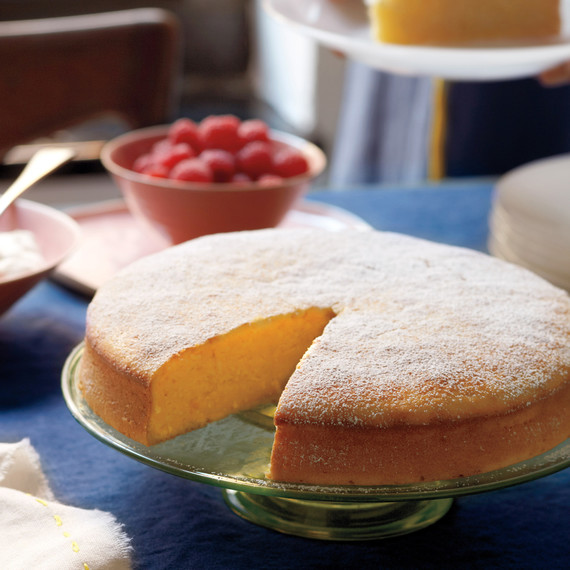 Dessert: Simple Lemon Cake
Whole lemons are the base of this rich, citrusy batter. Precooking the fruit removes the pucker and makes for an intensely flavored cake.
Get the Simple Lemon Cake Recipe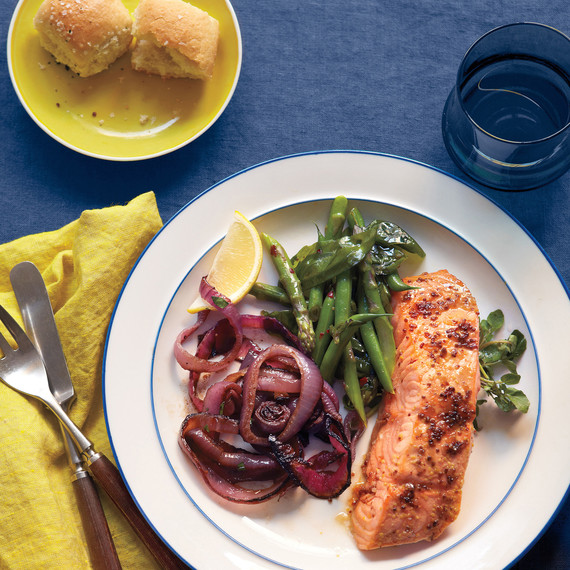 The Schedule
Up to 1 Day Ahead
Prep and blanch asparagus and green beans. Arrange in a single layer on a rimmed baking sheet, cover, and refrigerate.
Make salmon glaze and chili-orange oil. Let cool and refrigerate separately in airtight containers.
Form rolls, cover, and refrigerate.
Make lemon cake; let cool, wrap tightly in plastic, and store at room temperature.
3 Hours Before
Bring salmon glaze and chili-orange oil to room temperature.
Bring rolls to room temperature and let rise, then season and bake.
Dust cake with confectioners' sugar.
30 Minutes Before
Broil onions; let sit at room temperature.
Glaze and broil salmon. Meanwhile, cook green beans and asparagus.
Watch Everyday Food host Sarah Carey make the glorious glazed salmon: