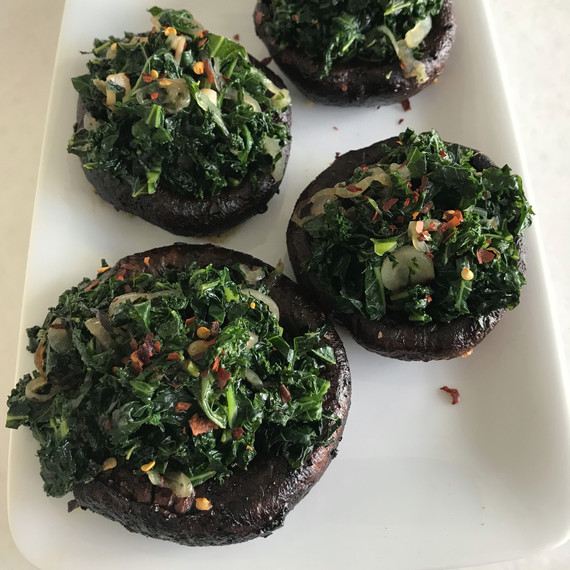 Three easy steps and you'll land with a totally satisfying meatless main. Garlicky kale and earthy roasted portobellos buddy up in this simple dish that you can have on the table in half an hour.*
Get the Roasted Portobellos with Kale Recipe
1. Marinate the mushrooms in a pungent vinaigrette made with apple-cider vinegar, chopped garlic, honey, and extra-virgin olive oil. Let stand 30 minutes or overnight. (*This is the secret to a 30 minute dinner!)
2. Chop and saute the kale in olive oil, garlic, onion, and red-pepper flakes. (This can also be done a couple days ahead of time.)
3. Roast the mushrooms for 30 minutes until they are tender and caramelized; transfer to a rimmed baking sheet, top with the kale, and heat until nice and toasty. (P.S. It's a great idea to line your baking sheet with parchment paper: the honey in the marinade can make the pan drippings a bit dark. My advice is to trade in a few minutes of scrubbing the sheet in the sink for using a sheet of parchment.) 
1-2-3 and you've got a nourishing entree. Plus you've got delicious options for leftovers:

• Top with a slice of mozzarella and pop in the oven until melted. It's all the cheesy goodness of a slice of vegetarian pizza, minus the crust!
• Sandwich a whole roasted portobello with kale in a hamburger bun for a superb veggie burger. (Use your favorite fixings for the bun. I'd go with Dijon.)
• Cut the mushroom into thick slices and load into a toasted split-top bun for a wholesome vegetarian "hot dog." This tastes great with a little dill relish on top.
• Tacos: Chop the mushroom and kale and serve with toasted corn tortillas, avocado, and sour cream.
• Pair mushrooms and kale with leftover cooked grains for a healthy bowl. Short-grain brown rice, quinoa, and farro all play nicely with the mushroom's earthy flavor. Throw in a handful of tender greens and season with fresh lemon juice, extra-virgin olive oil, salt, and pepper.
Get the Roasted Portobellos with Kale Recipe
Tune in every Sunday for a new Healthy Appetite video from Shira Bocar.
Watch Shira make this satisfying, versatile vegetarian entree: